Chaldal Year in Review 2022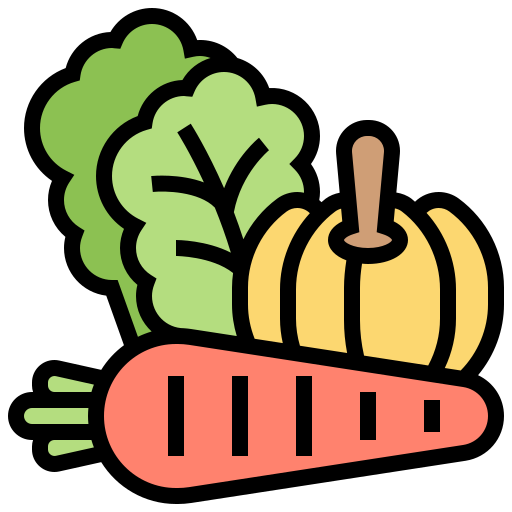 3.6M ORDERS
Every day in 2022, on average we delivered more than 9,700 orders.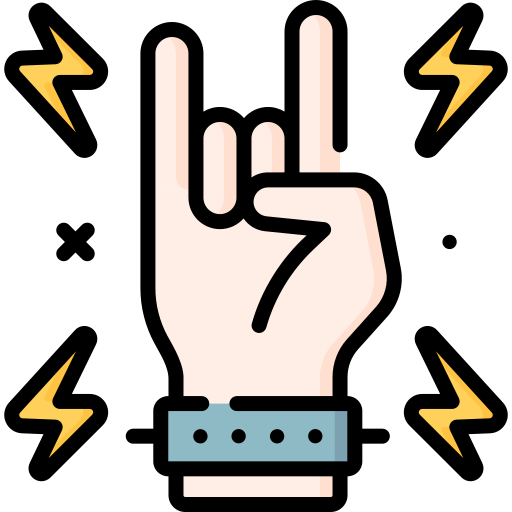 JASHORE ROCKS!
We got most orders from Jashore after Dhaka and Chattogram.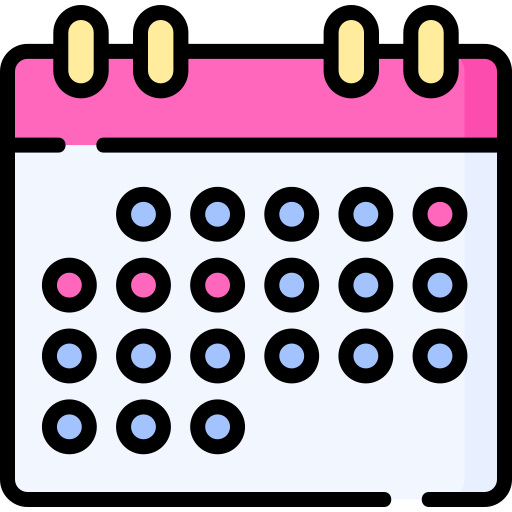 01 JAN 2022
We delivered the highest number of orders on the 1st day of the year.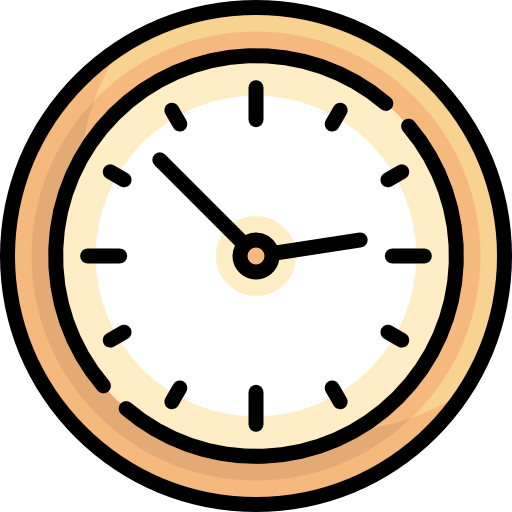 SALT AT NOON
Our customers love daylight shopping; more precisely at around 12PM.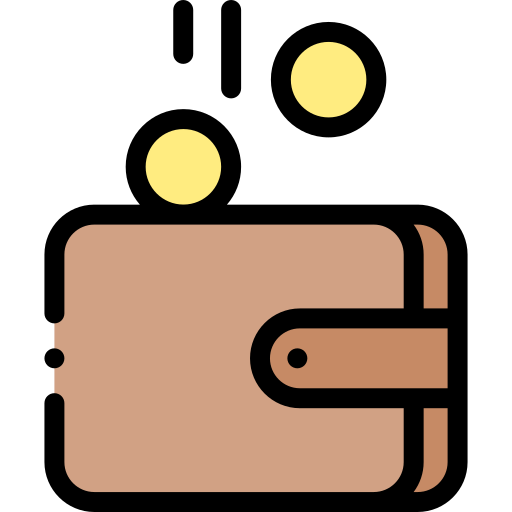 ৳323M SAVED!
We helped our customers to save an amount bigger than us. We won.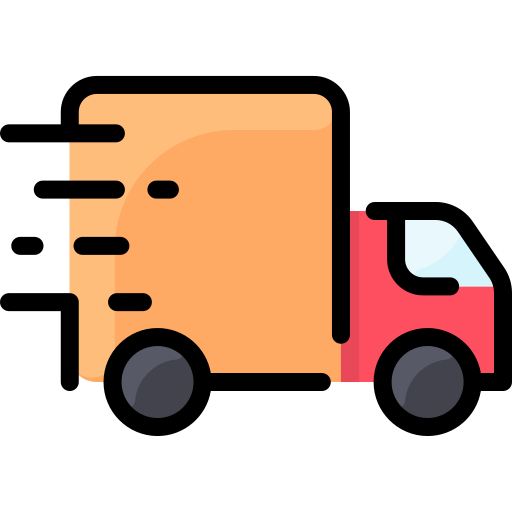 16 MOON TRIPS
In 2022, our logistic team traveled more than 15 million kilometers.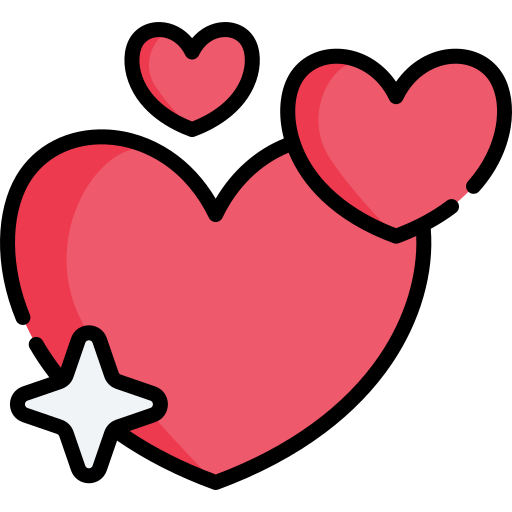 AKHER CHINI
More people liked Akher Chini (Sugar) than any other products.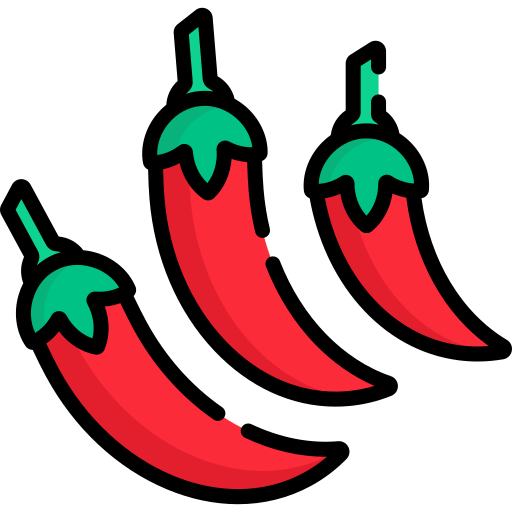 CHILI LOVERS
Our customers have shown their love for chilies more than 5 million times.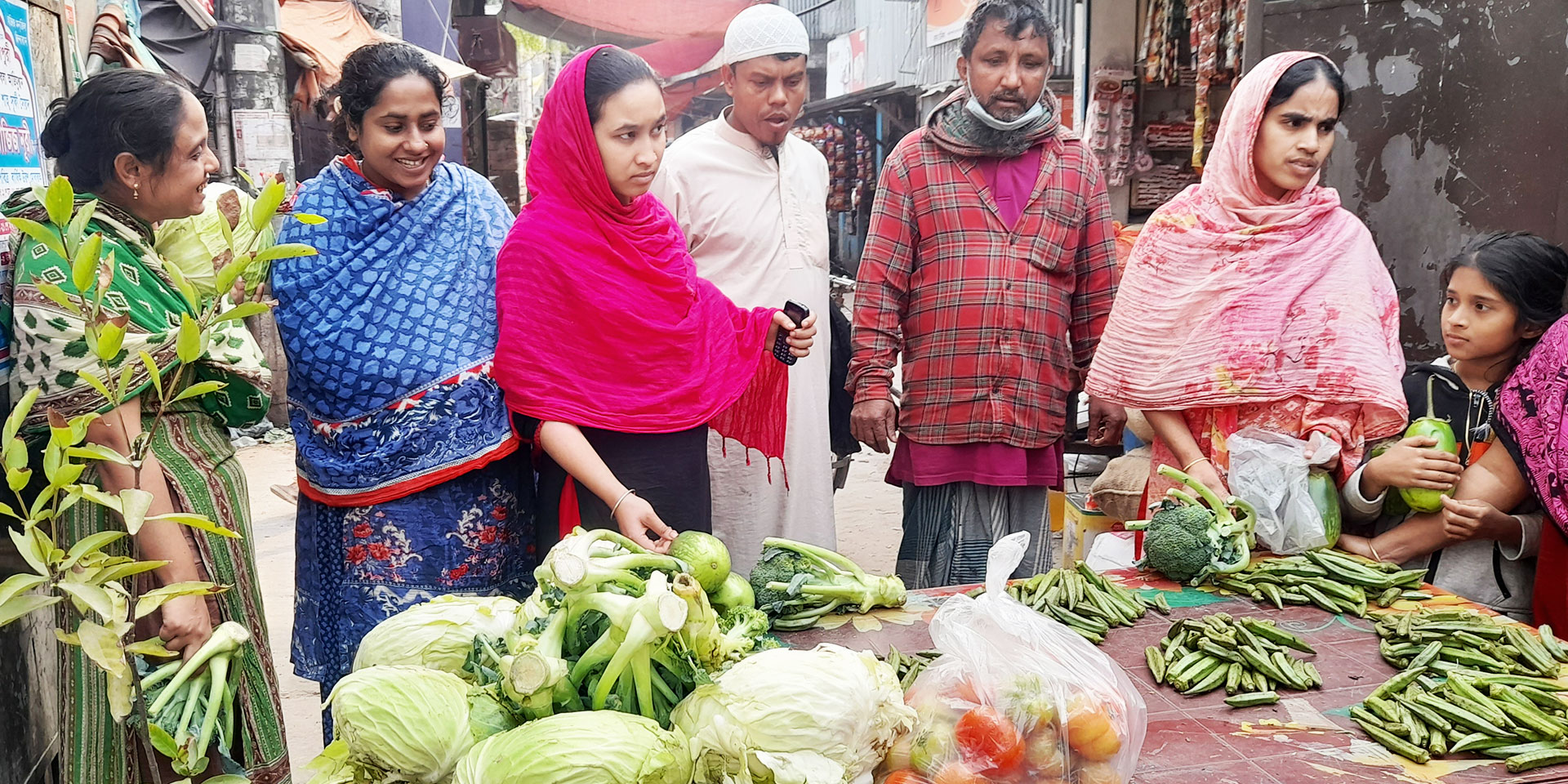 Project Dream Bazar

1 January, 2022
Project Dream Bazar is a joint initiative of Chaldal & JAAGO. The goal of this project is to provide vegetables to members of the underprivileged community on a regular basis so that they have the access to a wide variety of vegetables for nutrition.
---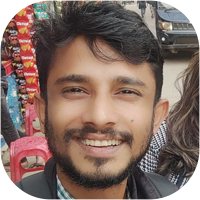 For me, this project is a fantastic opportunity to learn about the needs and demands of the underprivileged community, and I am grateful to be a part of such an inspiring initiative.


—
Saif Sagar
Deputy Director
Chaldal Became a Member of BACCO

6 January, 2022
Chaldal became the General Member of the Bangladesh Association of Call Center & Outsourcing (BACCO). Through this membership, Chaldal will be able to take services from BACCO as an ally of the government to contribute to the Prime Minister's Digital Bangladesh Vision.
Chaldal Stories on Golpo Kotha

13 January, 2022
Zia Ashraf, COO of Chaldal, was featured in an exclusive interview on Golpo Kotha of SATV, where he shared the stories of building Chaldal and how rapidly expanding its operations with the goal of serving all across the country.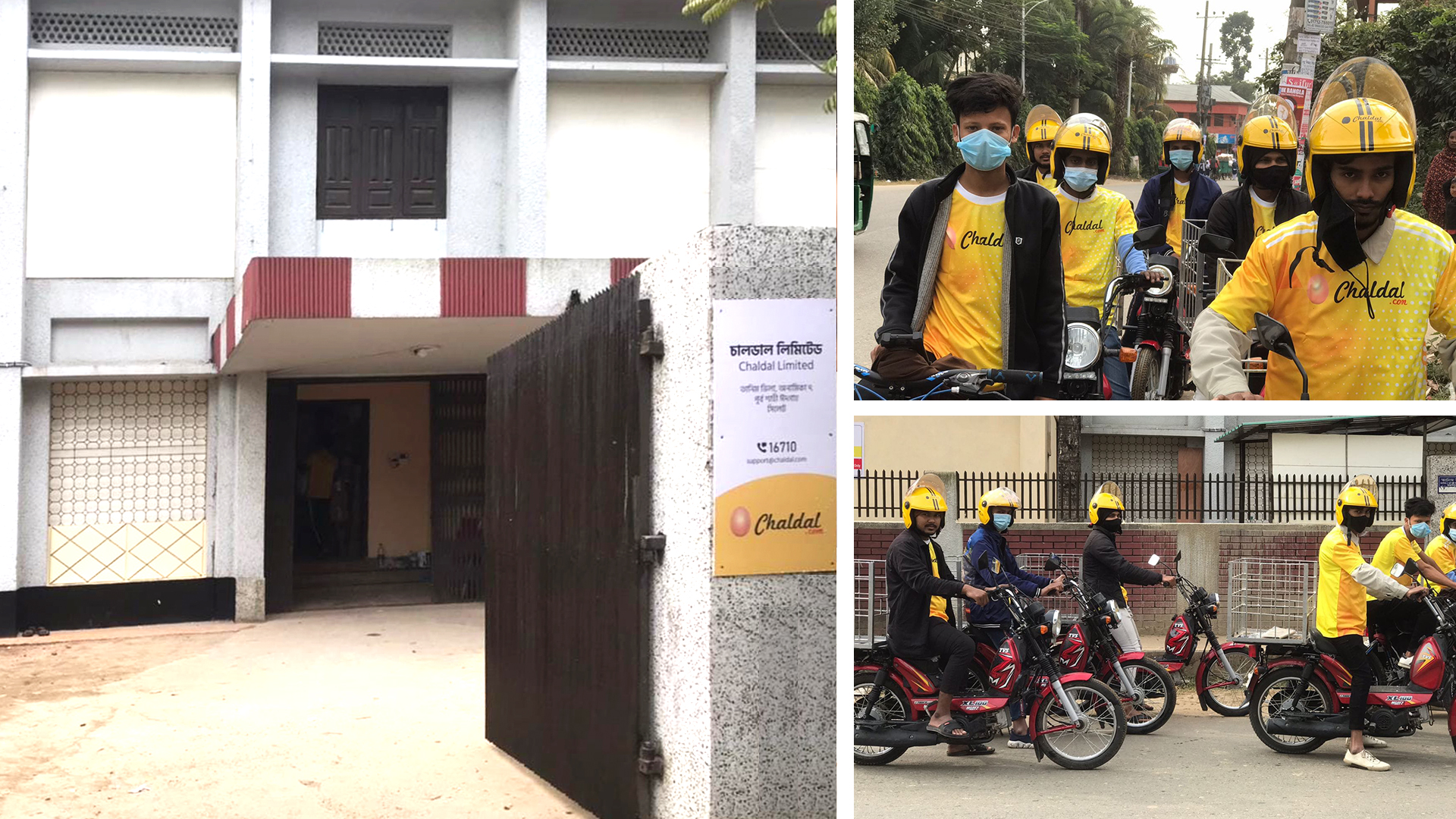 Sylhet Launch

18 January, 2022
Chaldal began operations in Sylhet with high expectations and received positive feedback from the residents. Chaldal expects to improve and simplify the grocery shopping experience of the residents of Sylhet through fast and convenient service.
---
Launching Chaldal in Sylhet was an exciting experience since it is one of the most populated cities in Bangladesh, with its own culture, language, and food habits. I personally believe that we can provide fast and high-quality service to the residents to meet their demands.


—
Md Kamruzzaman Sabuj
Joint Director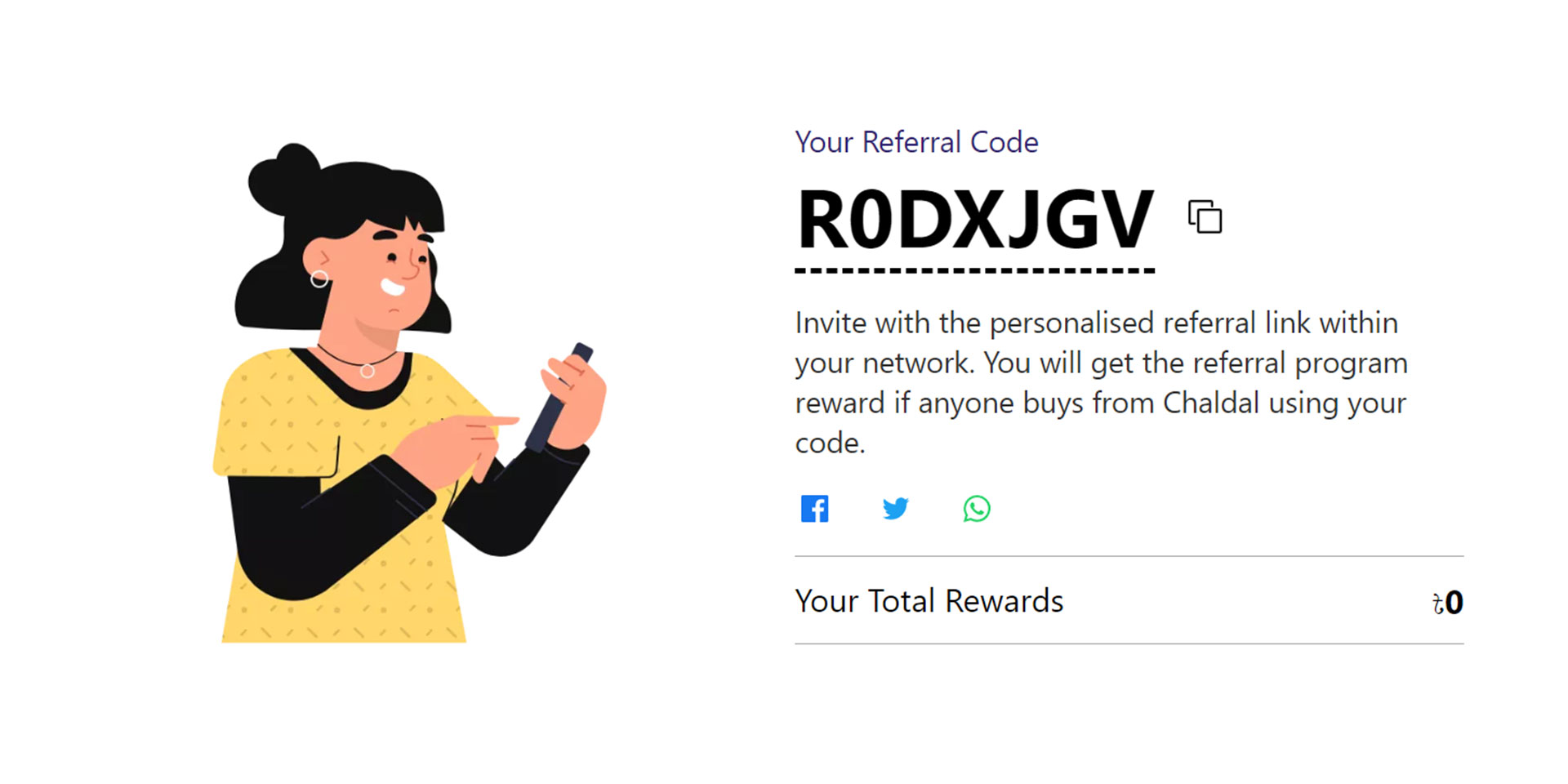 Launched the Chaldal Referral Program

23 January, 2022
Chaldal launched the Referral Program to reach out and facilitate more new customers. The purpose of this program is to provide the customer the opportunity to earn Chaldal credit by referring our services to their friends, family, and the people they care about.
---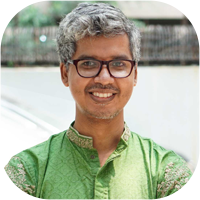 The aim of this well‐planned feature was to deliver the best product experience to users, despite it being a complex mechanism that ensured both customer safety and the safety of the business. It was a single-page feature that was carefully designed to meet this goal.


—
Muhammad Nazimuddaula
Head of Brand & Communication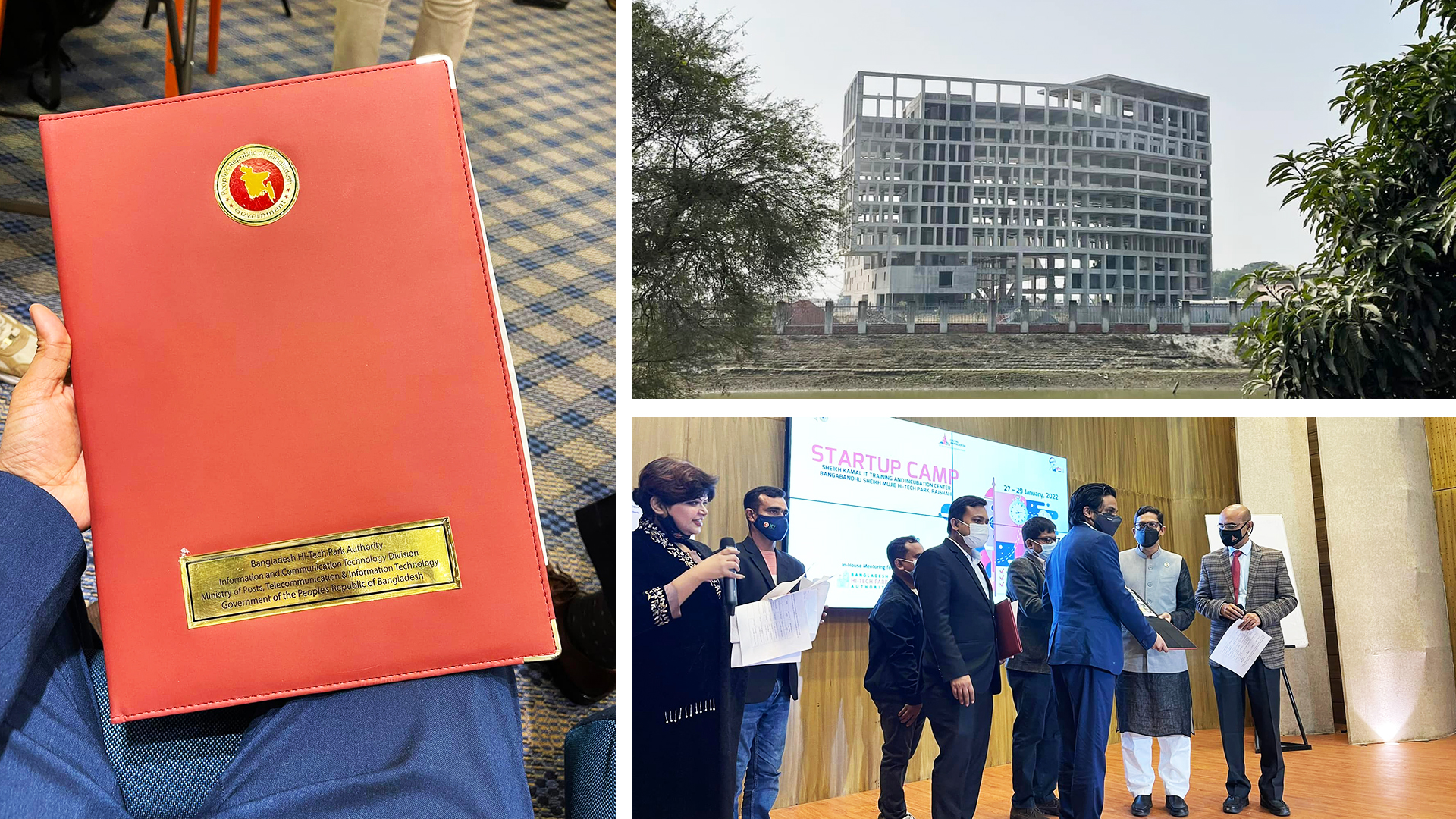 Agreement Signing for Joy Silicon Tower at Bangabandhu Sheikh Mujib Hi-Tech Park, Rajshahi

27 January, 2022
Chaldal signed an allotment and confirmed the top floor at Bangabandhu Sheikh Mujib Hi-Tech Park - Joy Silicon Tower. It's going to be the biggest tech premises in Rajshahi creating opportunities for new entrepreneurs and professionals. Rajshahi is known for its hospitality and clean environment. This new addition will create business opportunities to attract domestic and foreign investors.
---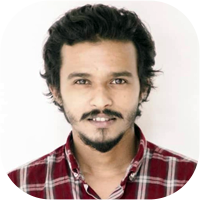 It was an extraordinary way to explore a new city. I was overwhelmed to experience the massive development of an ecosystem that will not only benefit Chaldal but also the whole community. I'm counting on starting work from Rajshahi.


—
Khalid Bin Helaly
Senior Visualizer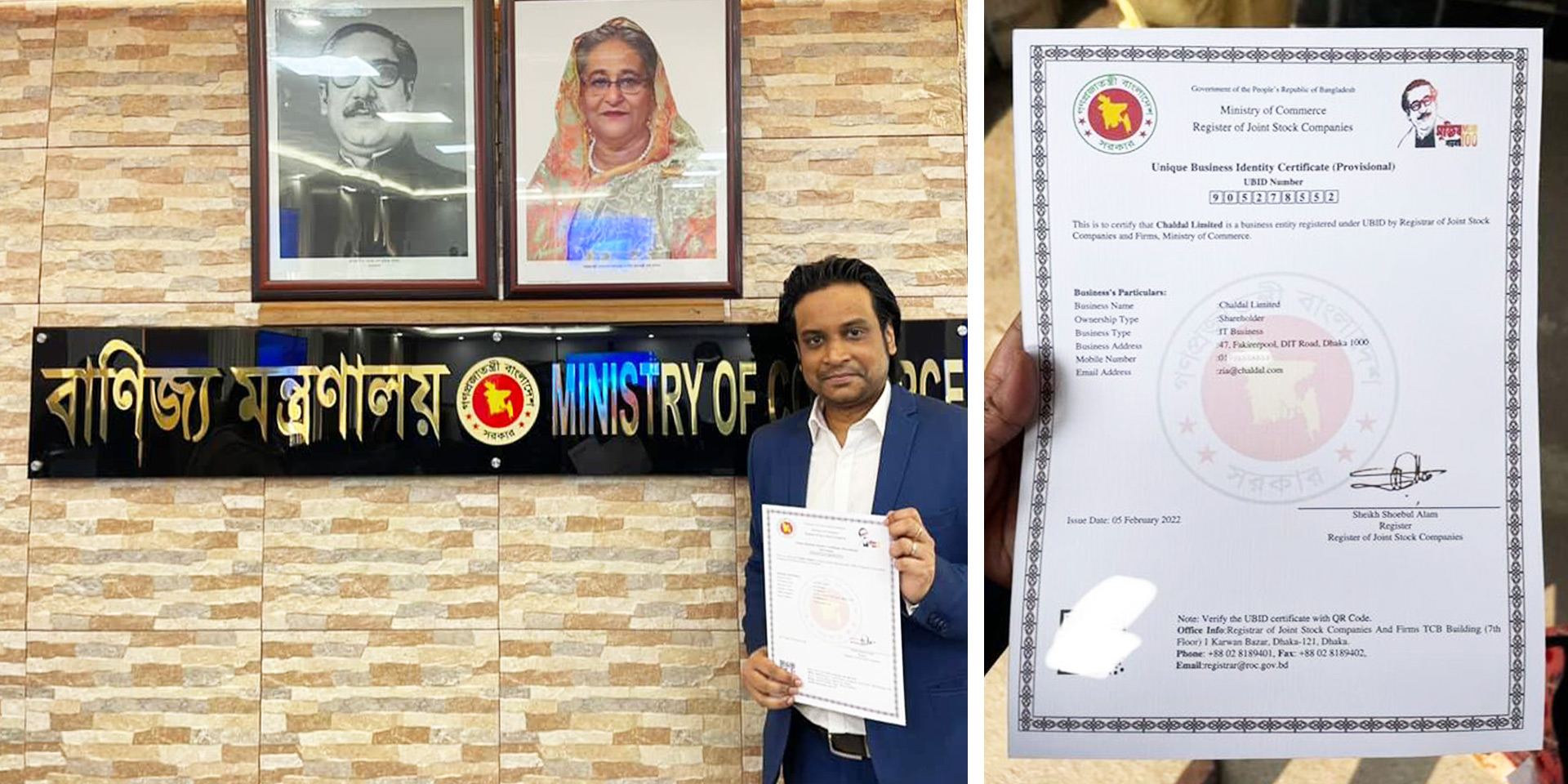 Certified with the First DBID/UBID in Bangladesh

6 February, 2022
Chaldal has received the distinction of being the first recipient of the DBID/UBID certification, presented by the Ministry of Commerce, ICT Division, a2i, and e-CAB. The launch of the Digital Business Identification (DBID) initiative by the Ministry of Commerce aims to regulate and address irregularities within the e-commerce sector. As a result, all companies operating in e-commerce are now required to obtain the DBID/UBID certification in order to conduct business.
---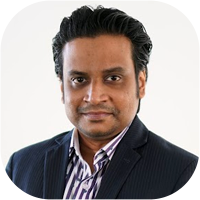 Chaldal and I were honored to have Chaldal receive the first DBID/UBID certification in Bangladesh. This recognition signifies compliance and safety for customers and suppliers, and we are grateful to the Ministry of Commerce and ICT, a2i, and e-CAB for their dedicated work in making the e-commerce industry safer.


—
Zia Ashraf
Founder & COO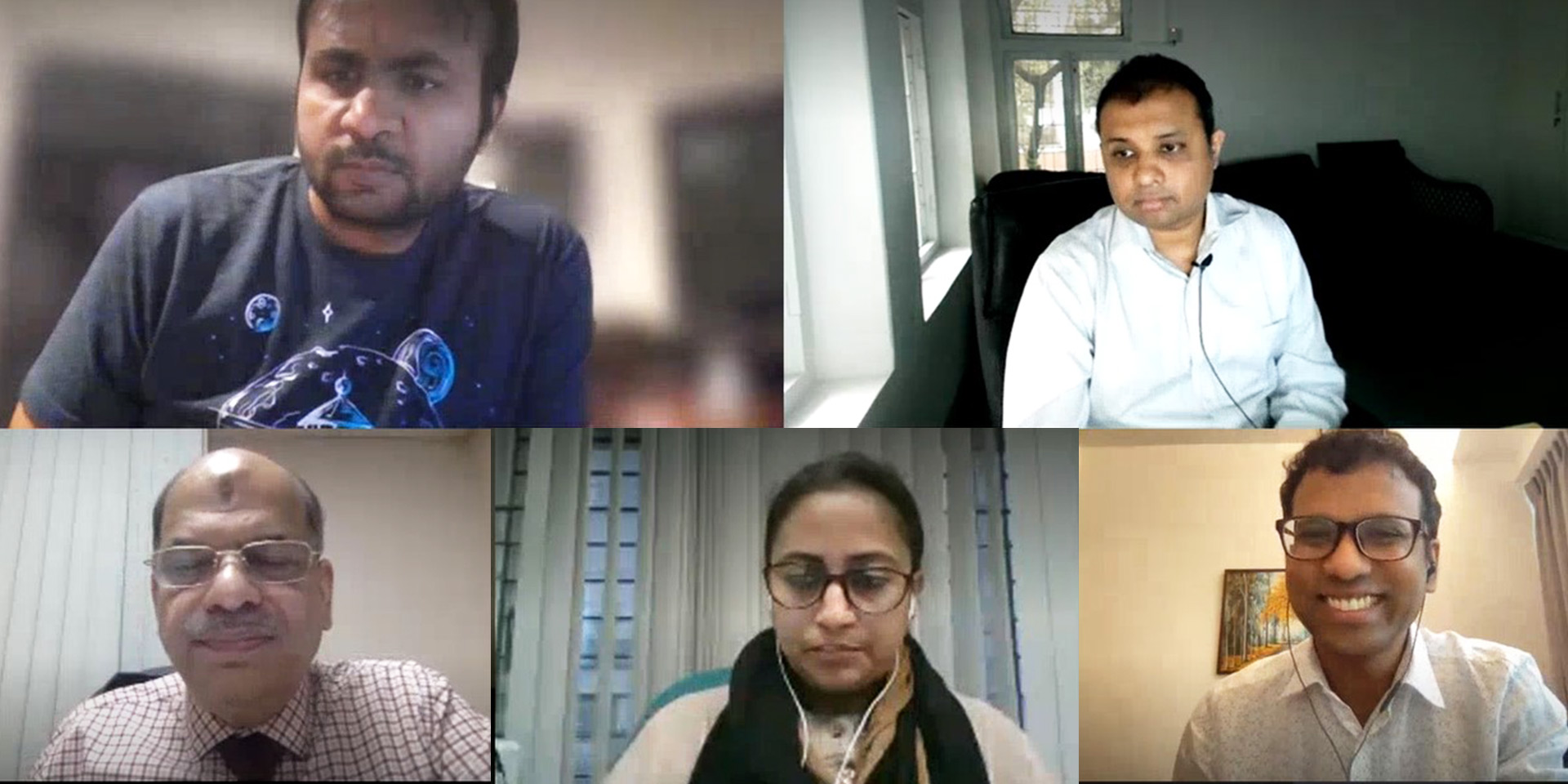 Meeting of Minds

10 February, 2022
The collaboration between Chaldal and Independent University, Bangladesh (IUB) called "Meeting of Minds" aimed to bridge the gap between academia and industry by identifying and understanding the differences, and restructuring the student curriculum to align with the needs of the job market for better student placement post-graduation.
---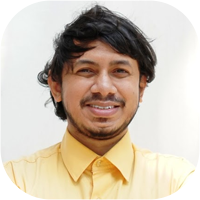 It was a productive discussion as it highlights the importance of collaboration between academia and industry to better prepare students for successful careers and bridge the gap between the two. It is important to keep this kind of collaboration continuing to help students make a smooth transition from academic to professional life.


—
Md Emrul Kayes
Director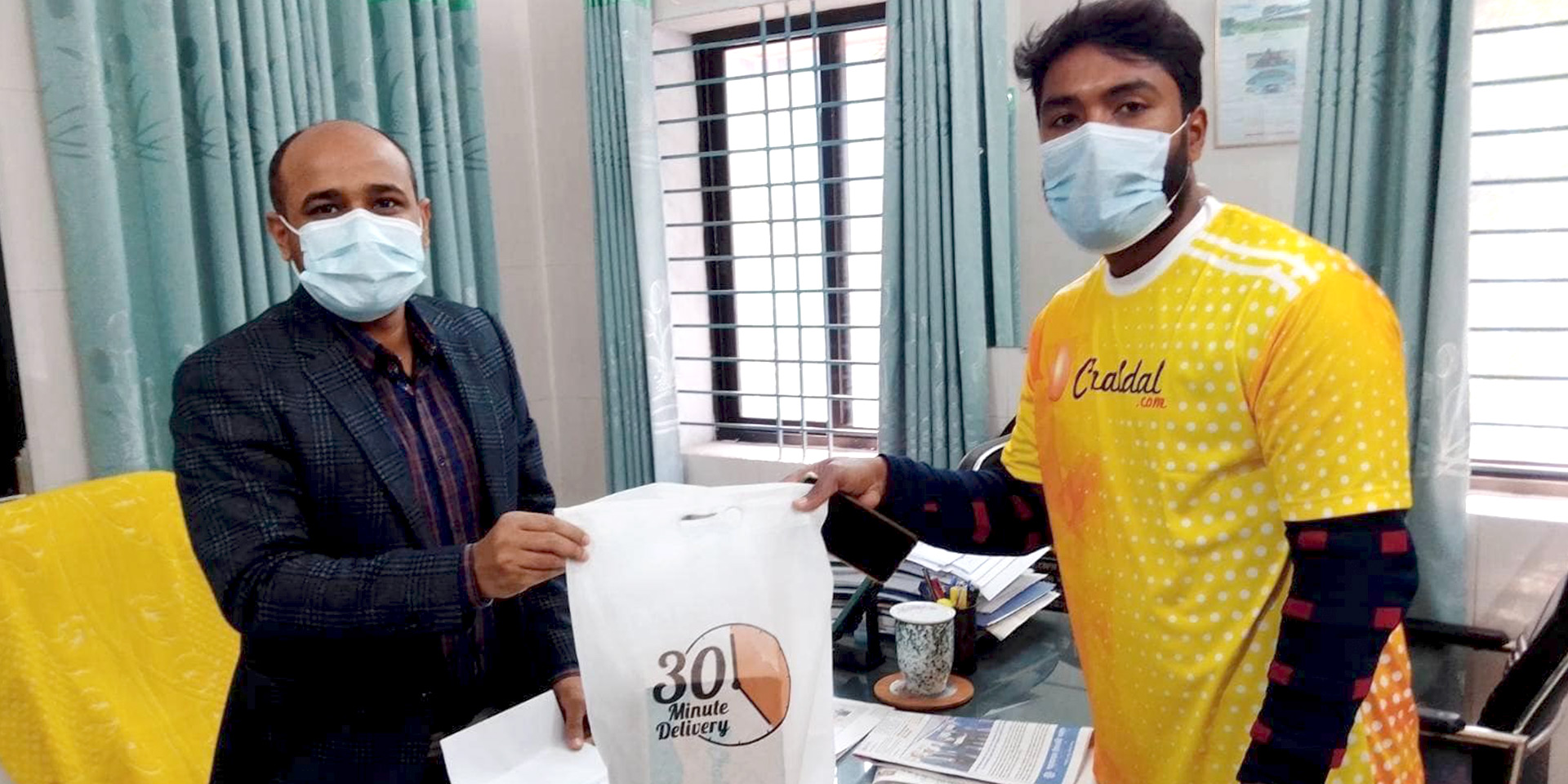 1st Delivery in Rajshahi

14 February, 2022
Chaldal has begun delivering to Rajshahi, one of the most highly populated cities in Bangladesh. This will provide the residents with the convenience of ordering a wide variety of products such as groceries, protein items, household essentials, and personal care items and having them delivered to their doorstep.
Chaldal Pay Received NOC from Bangladesh Bank

20 February, 2022
Chaldal has received approval from the Bangladesh Bank in the form of a no objection certificate (NOC) to establish its subsidiary, Chaldal Payments, as a Payment Service Provider (PSP) under the name Chaldal Pay. This project aims to increase Chaldal's presence in the rapidly growing fintech industry by capitalizing on the increasing demand for digital payments. With the launch of this service, Chaldal is dedicated to enhancing its current operations and attracting new customers.
---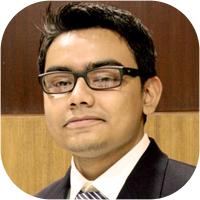 Achieving this milestone marks the culmination of a long‐standing effort and represents a significant step forward for Chaldal. By introducing this innovative service, Chaldal is poised to make a meaningful impact on the ecosystem. Our hard work over the years has earned the trust of our customers and with this new validation, we feel a heightened sense of responsibility to continue delivering impactful solutions.


—
Riaz Rahman Bony
Director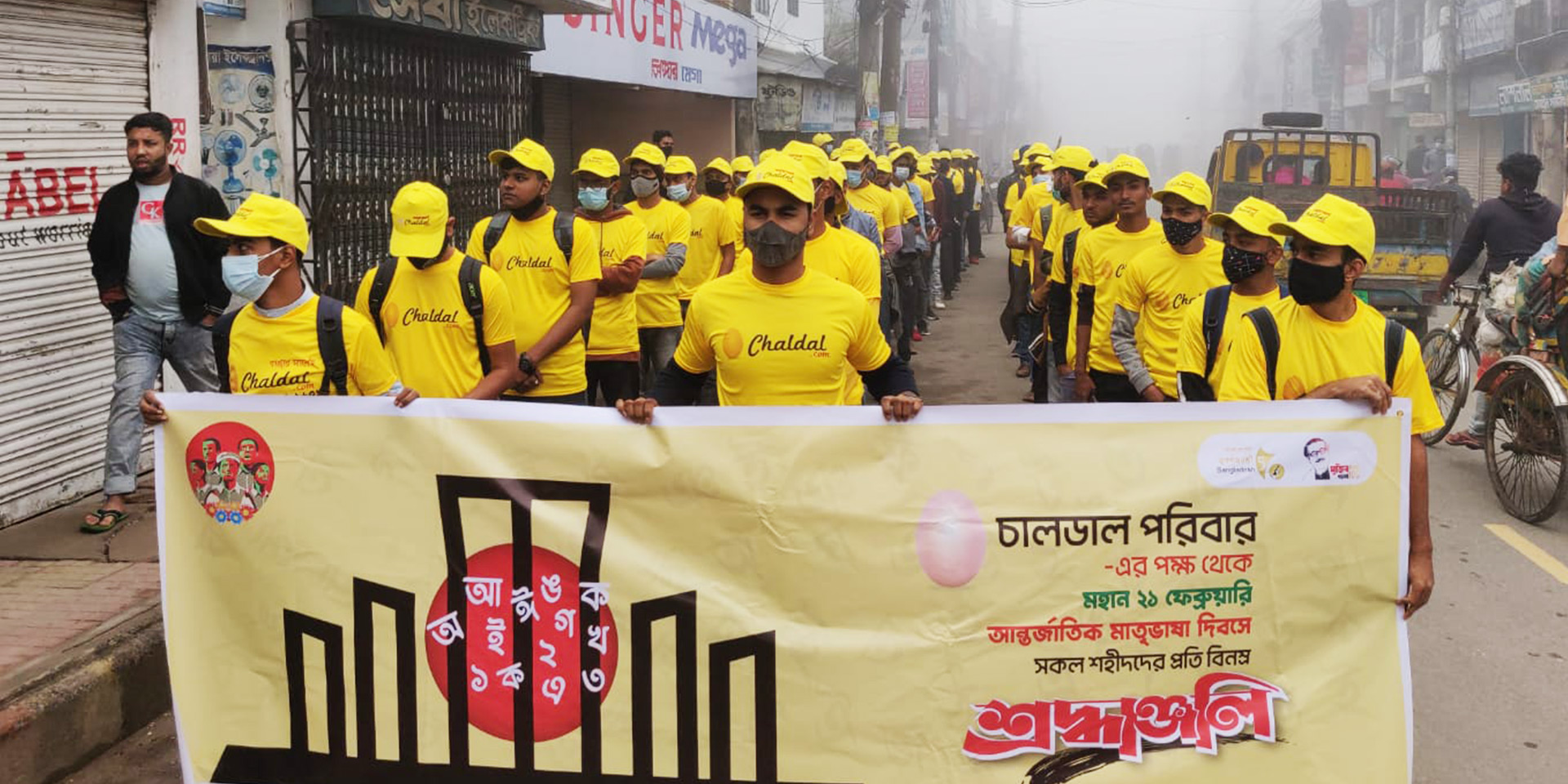 International Mother Language Day Rally at Jashore

21 February, 2022
In a gesture of tribute, Chaldal organized a morning rally in Jashore on the 21st of February to observe International Mother Language Day. The rally was held during a Customer Outreach Event of Chaldal to convey respect for the significance of the day and the sacrifices of the martyrs.
---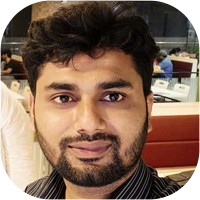 Organizing and participating in such an outdoor event was a brand new experience for me. We used to do it in our school days. Thanks to the management for letting me get back to my childhood and recreate such a memory on this important day.


—
Azizur Rahman Jiko
Assistant Director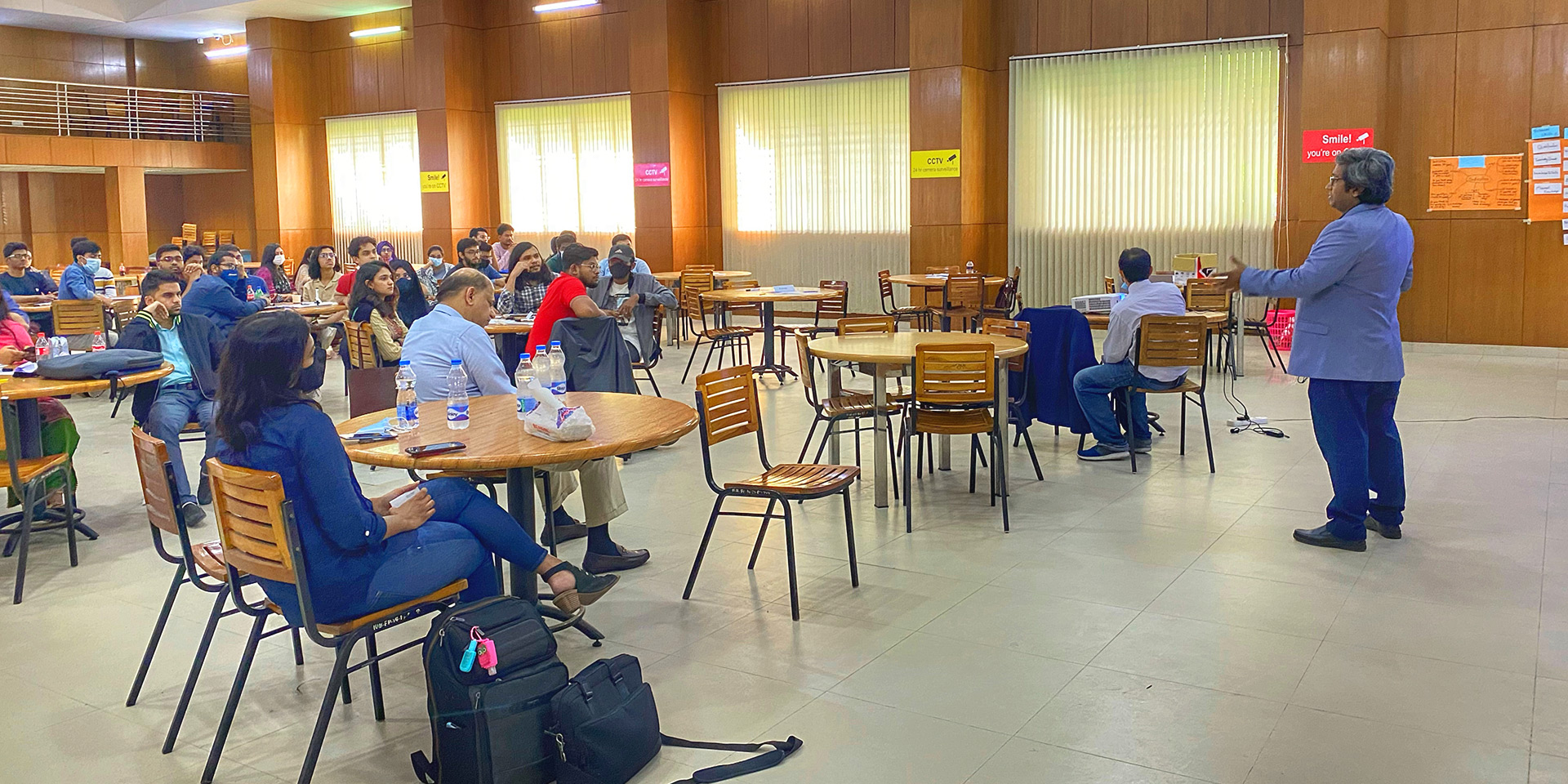 Workshop with IUB

26 February, 2022
Chaldal was invited as the guest speaker at a workshop organized by Independent University, Bangladesh to help undergraduate students prepare for the current job market. The workshop focused on evaluating students' ideas on the recruiting system and providing them with proper training to improve their chances of getting suitable employment.
---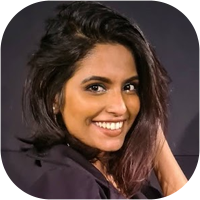 The workshop was a terrific opportunity to connect with young and enthusiastic minds, learn about their perspectives on the current job market and employment skills, and share our own ideas and possibilities to help them in their professional lives.


—
Nerissa Nashin
Deputy Director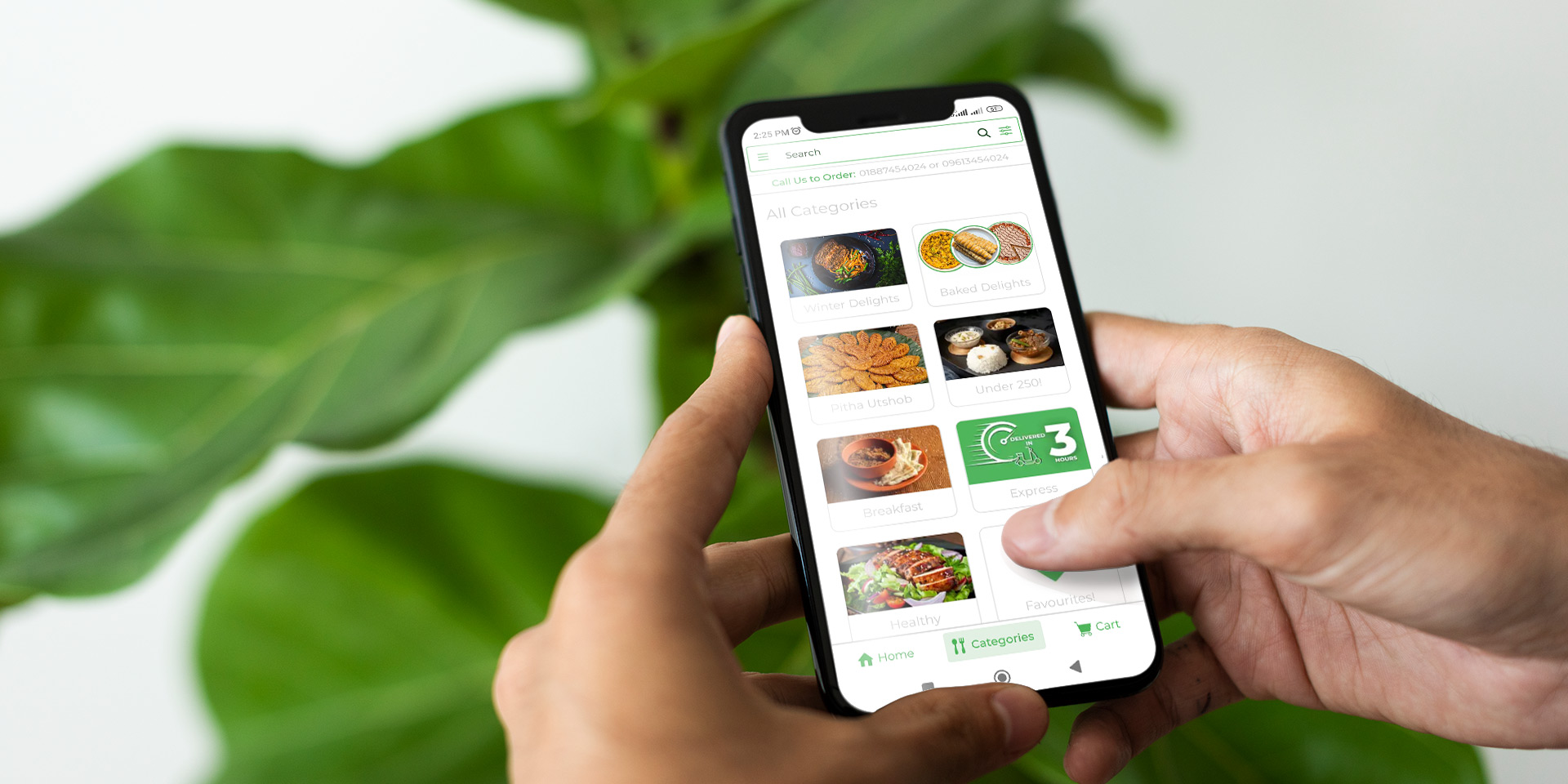 A Brand New App for Cookups Customers

2 March, 2022
Cookups is a platform that brings food lovers together, linking diners to home cooks. To enhance the ordering experience for its customers, Cookups has introduced a newly redesigned app that promises speed, ease, and excitement.
---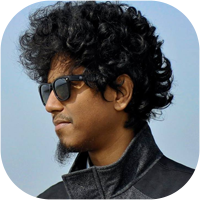 Designing the Cookups app was a labor of love. Our goal was to create a seamless and intuitive experience for users to discover and order their favorite meals. It's a true joy to see the end result and know that we're helping people enjoy delicious food every day.


—
Atifur Rahman
Deputy Director
TBS Face to Face with Zia Ashraf

4 March, 2022
The Business Standard had an exclusive interview with Zia Ashraf, the Founder & COO of Chaldal on their special segment called Face to Face. The interview focused on the stories behind the creation of Chaldal and how it became a household brand name in Bangladesh.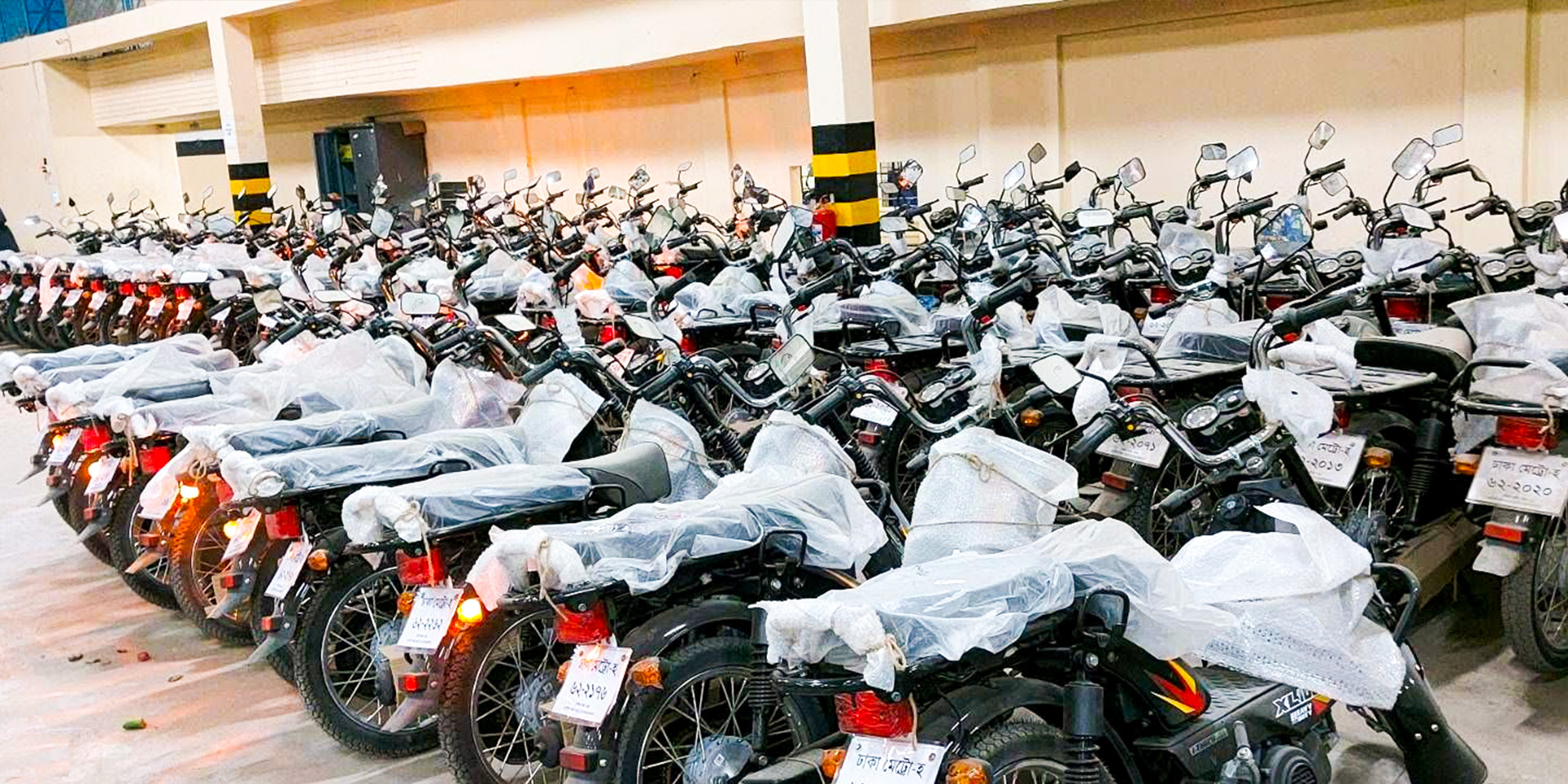 Chaldal Enhanced Logistics with a New Batch of Bikes

5 March, 2022
Acquiring 100 new bikes, Chaldal invests in its logistics operations, setting itself apart with faster and more convenient delivery options. This move demonstrates Chaldal's commitment to constantly improving and serving its customers with the goal of sustained growth.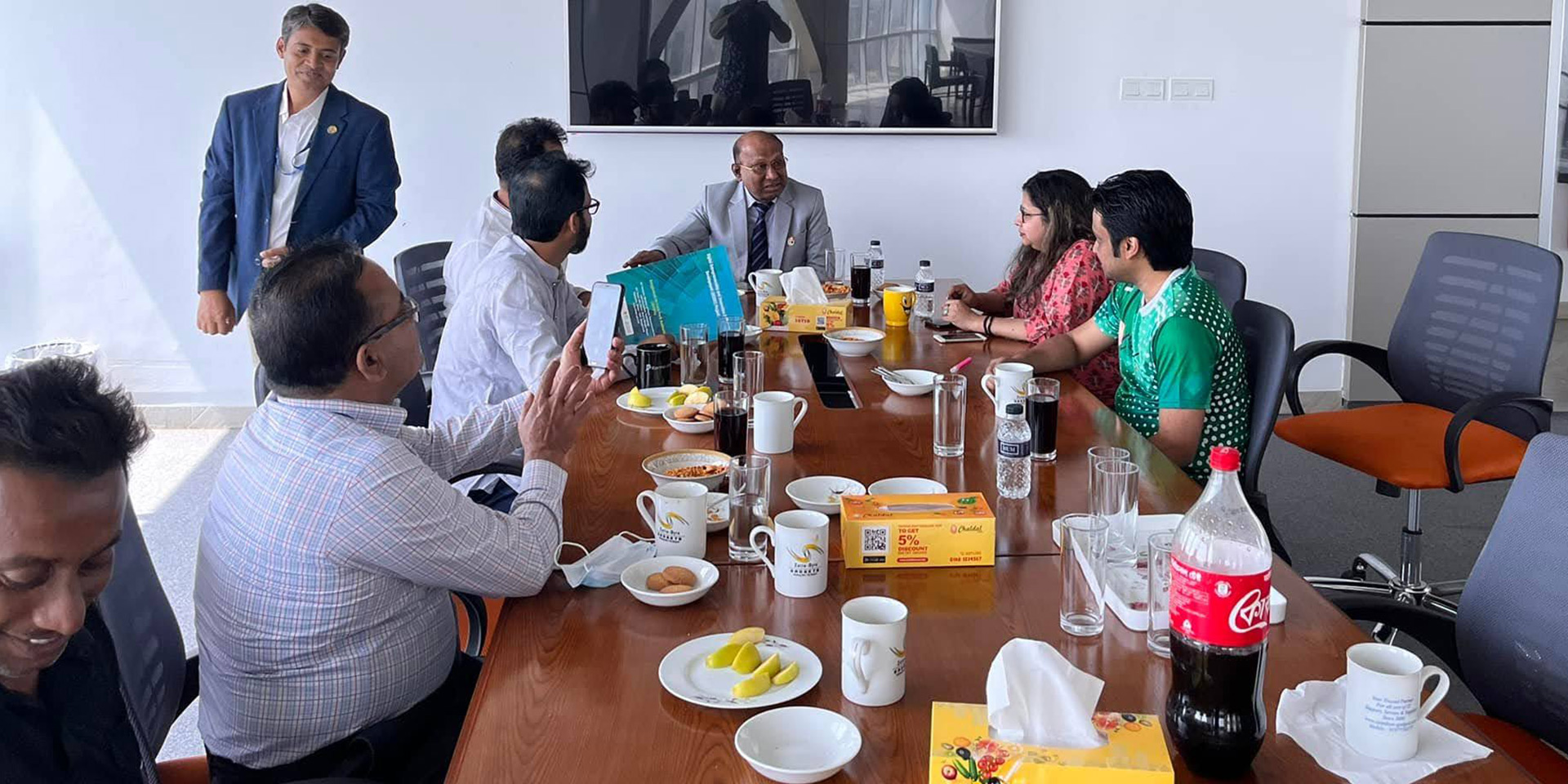 Discussion on Sustainable Ecosystem

11 March, 2022
A gathering was held at Chaldal's Jashore office between the Managing Director, Principal Officer and Manager of Bangladesh Development Bank Ltd., the Head System Analyst of ICB, DPD of the ICT Division, and Chaldal to explore ways of establishing a sustainable ecosystem for the company's growth and the country's overall economic progress.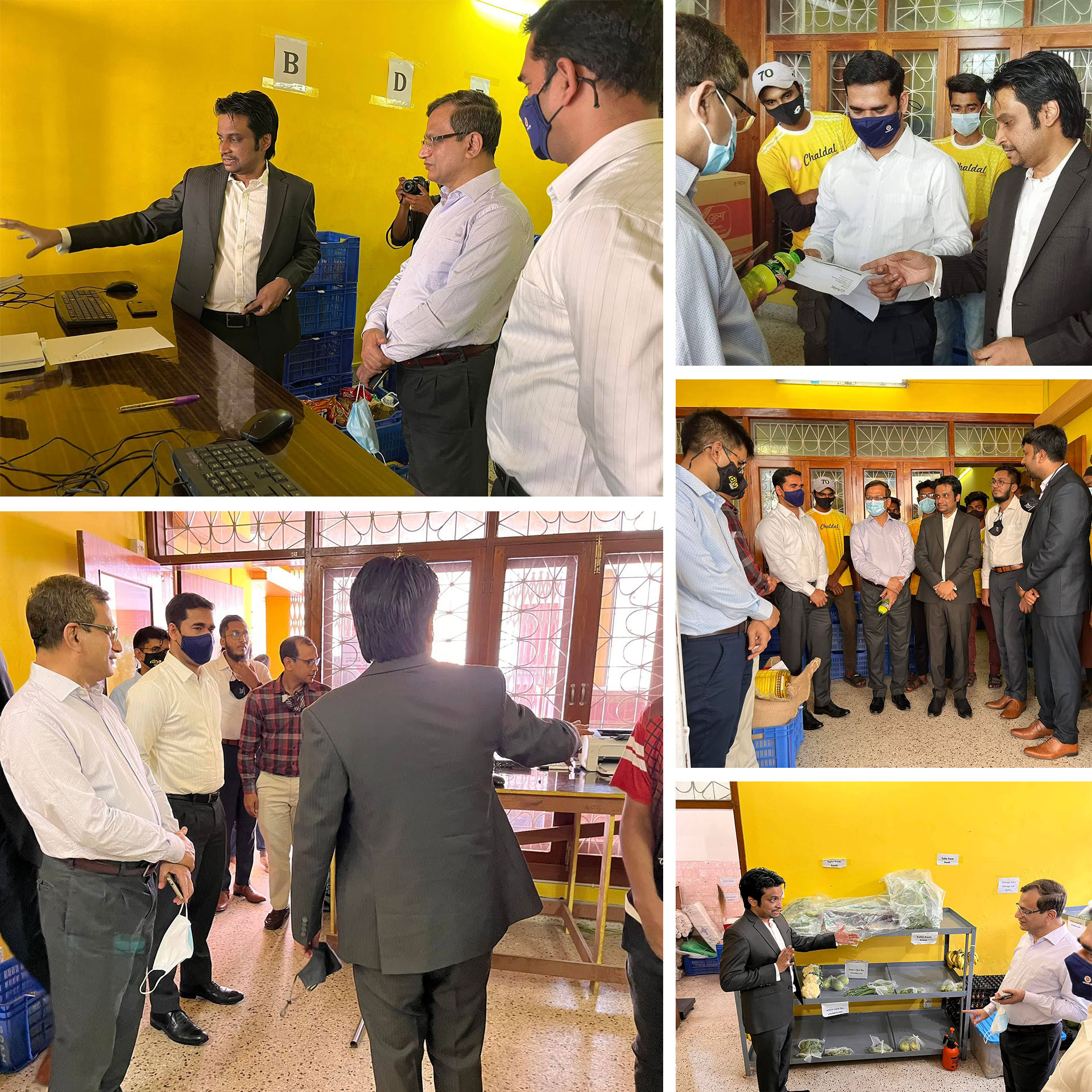 Khulna Warehouse Visit

16 March, 2022
The Senior Secretary of ICT Division, Mr. Zeaul Alam along with the Deputy Commissioner Mr. Md. Moniruzzaman Talukder, the Deputy Magistrate of Khulna, and the Senior Assistant Secretary of iDEA visited the Khulna warehouse of Chaldal to understand the whole warehouse process and experience the regular operation of Chaldal.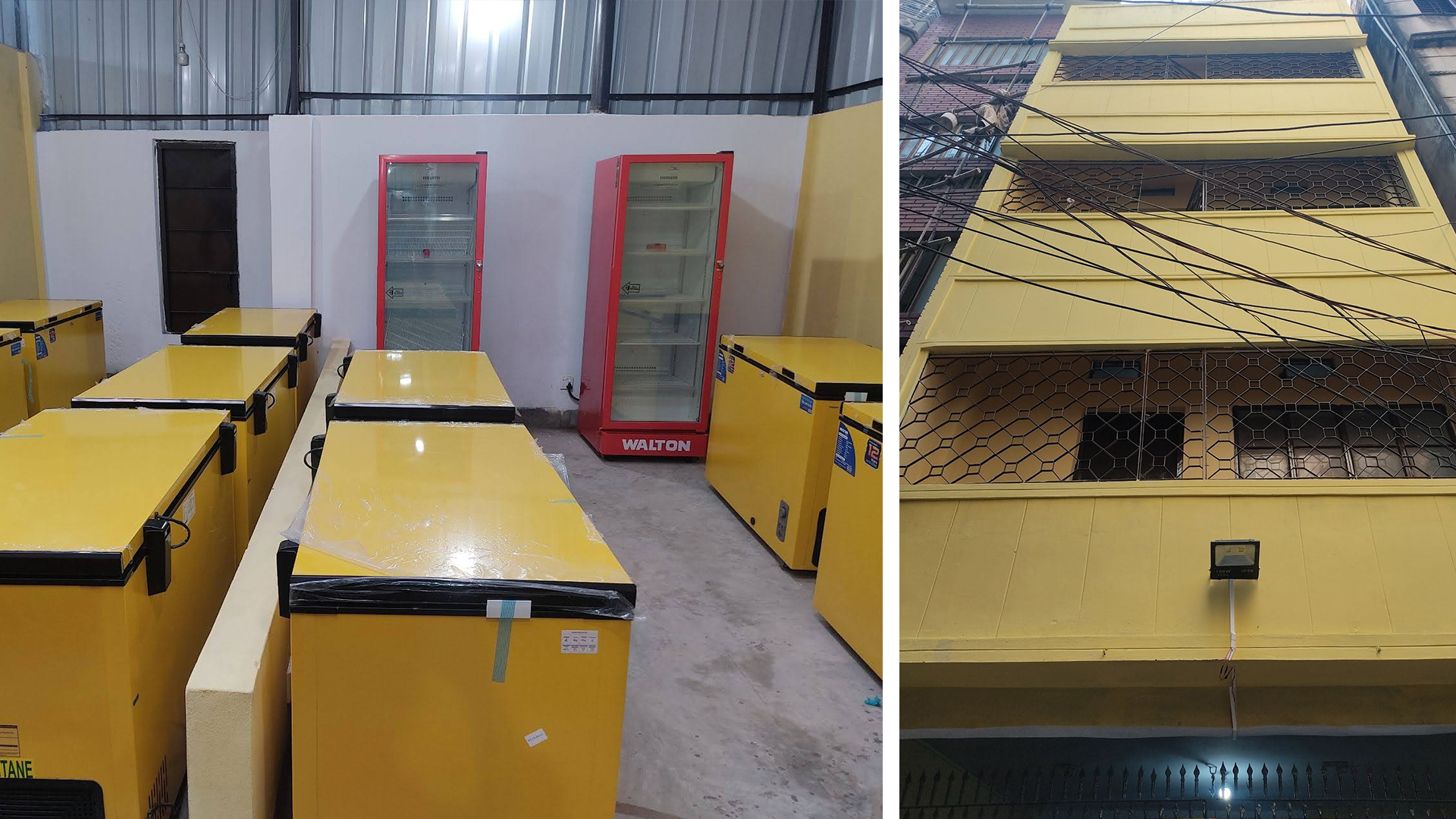 Lalbag Warehouse Launch

19 March, 2022
The Lalbagh warehouse is another addition to Chaldal warehouses of Dhaka city. It's a crucial addition for Chaldal to serve the community of Old Dhaka in a faster and better way. Old Dhaka is a melting pot of cultures and is famous for its delicious street food and traditional sweets. Despite the hustle and bustle of the city, Old Dhaka still manages to retain its old‐world charm and is a popular destination for both locals and tourists.
---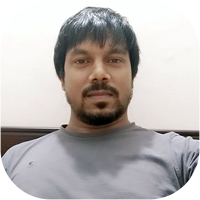 By establishing a warehouse in Lalbagh, Chaldal aims to enhance the customer experience by reducing delivery times and increasing convenience. This move will also enable better inventory management, which will improve operational efficiency. The goal is to increase customer acquisition and satisfaction.


—
Sumon Mallik
Director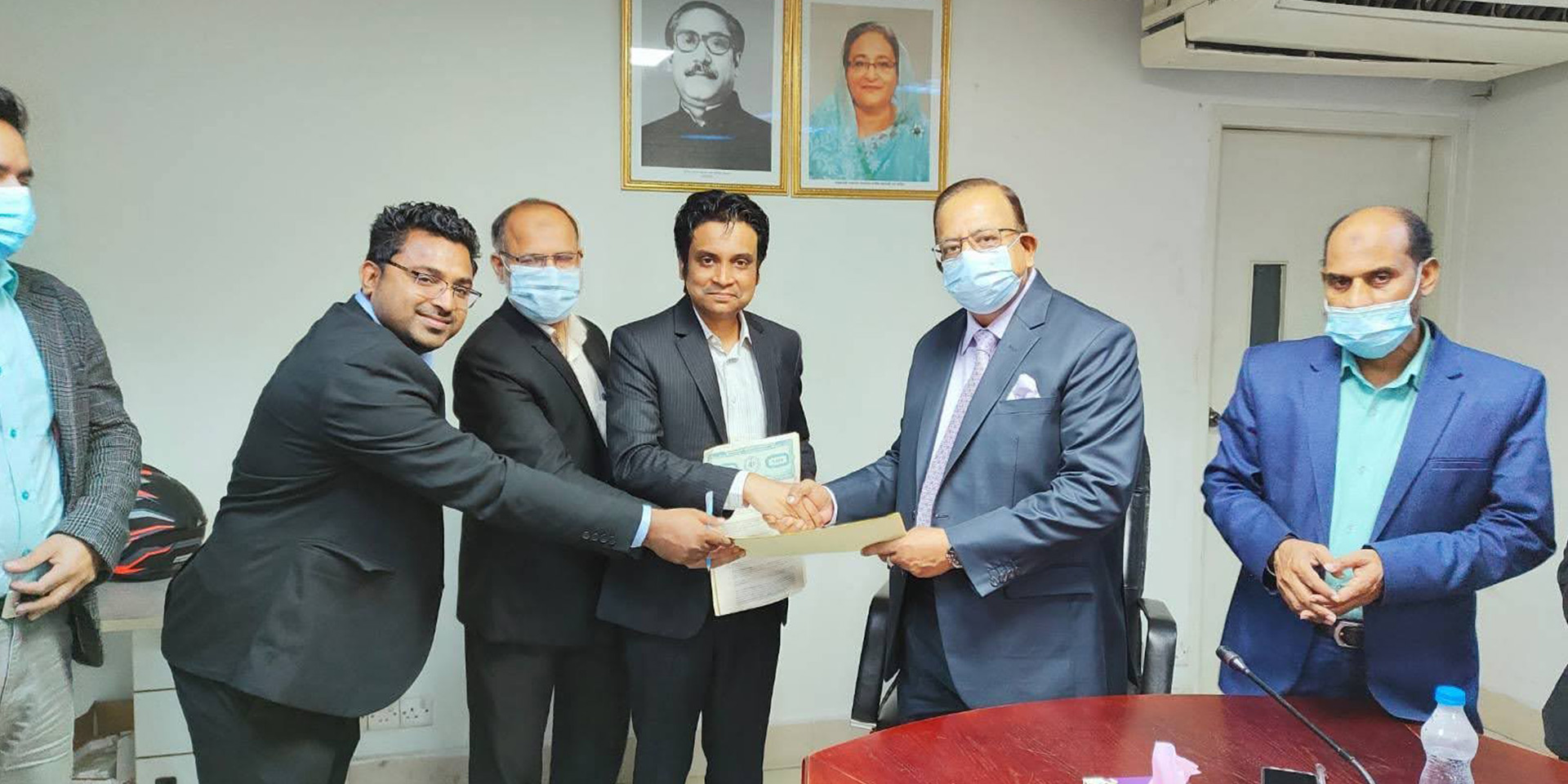 Partnership with Islami Bank Foundation

23 March, 2022
Chaldal entered into a partnership with the Islami Bank Foundation, in which all the foundation's headquarters and hospitals will be considered corporate customers of Chaldal. Through this partnership, Chaldal became the official service provider for Islami Bank Foundation to deliver all the daily necessities required.
---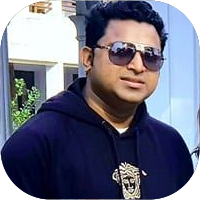 Collaborating with the Islami Bank Foundation, a socially conscious organization dedicated to improving the lives of marginalized members of society, presents a valuable chance to reach a new customer base and potentially enhance customer satisfaction and business growth.


—
Asad Nour
Director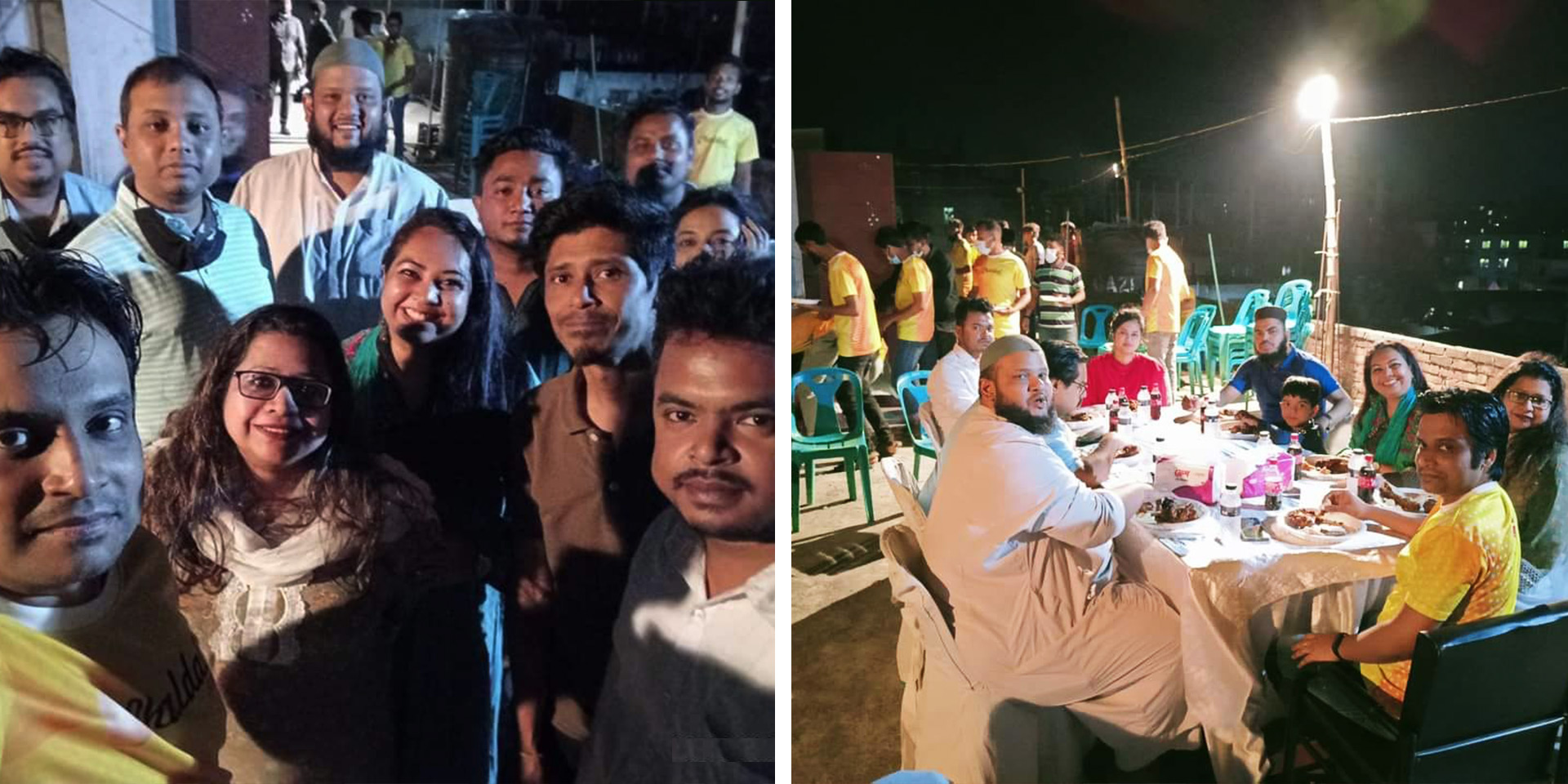 BBQ Night at Dhalibari Warehouse

25 March, 2022
A BBQ Night was held at the Chaldal Dhalibari warehouse to show gratitude for the teams who drive regular operations with their hard work and commitment. The goal was to inspire and motivate the tireless team members who strive to enhance customer service.
---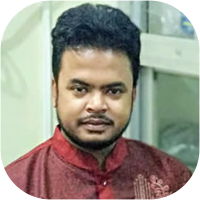 The team earned this celebration through their unwavering effort and hard work. Despite facing difficult weather conditions and traffic, they went above and beyond to bring joy to customers by delivering their orders to their doorstep.


—
Al Emran
Deputy Director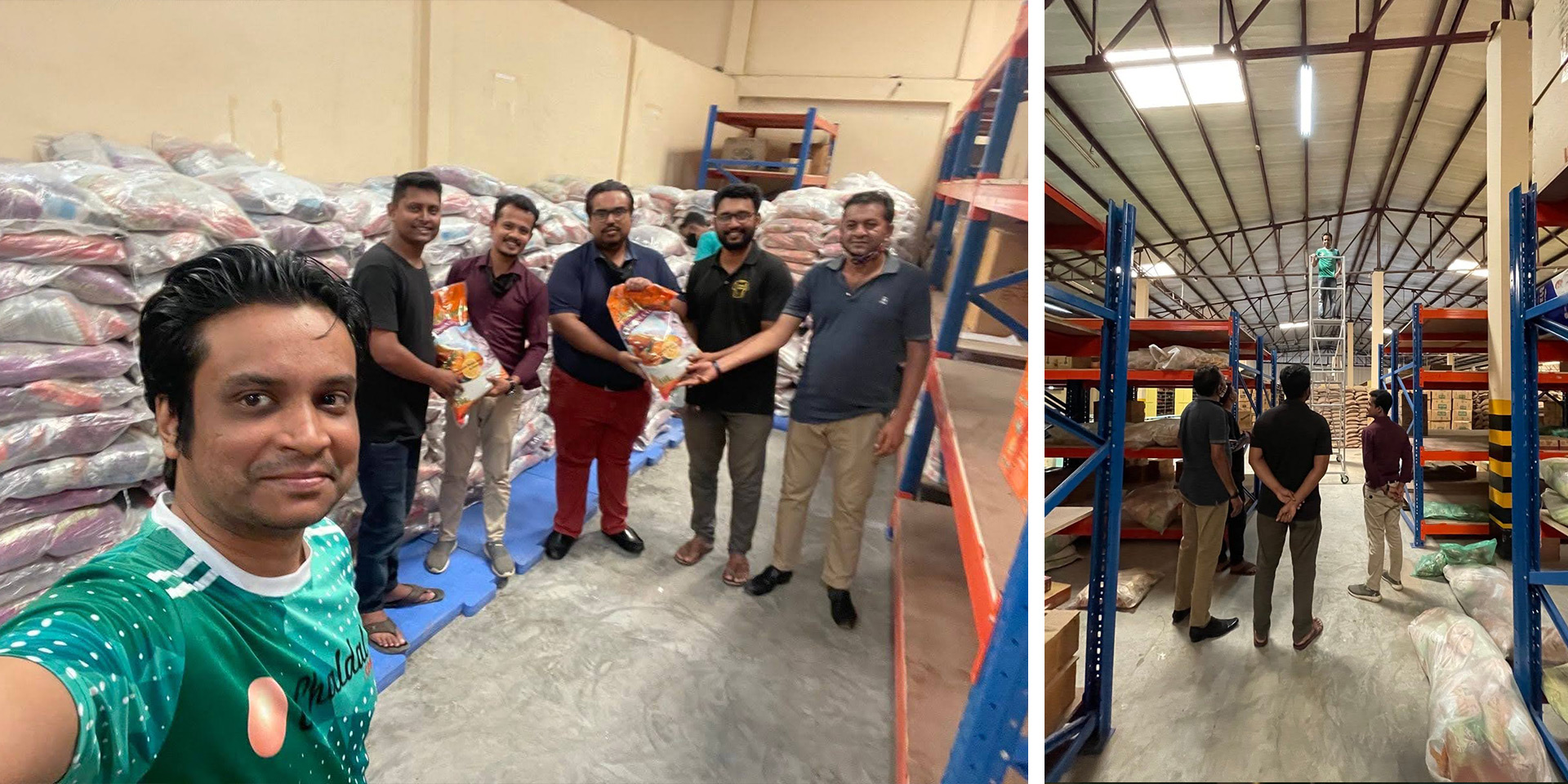 First Shipment from International Partner to Export Warehouse

26 March, 2022
Chaldal accomplished the importation of goods from a foreign country. The company's corporate team received their initial shipment from China, marking the first step towards sourcing products from an international partner with the goal of improving supply chain control and providing competitive prices to customers.
---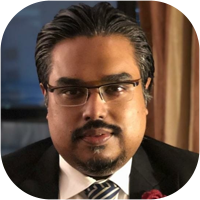 It was an exciting moment for my team as we successfully completed our first import from China. This experience has helped us gain a deeper understanding of the import process and supply chain, which we can utilize in future plans.


—
Mehboob Ashraf
Consultant
Launching of Iftekhar Khan Daulatpur Warehouse

27 March, 2022
To serve the customers of Khulna in a better and faster way, Chaldal launched the 2nd warehouse on the other side of the city. We named the warehouse in memory of Iftekhar Khan, one of our team members who helped us build this warehouse.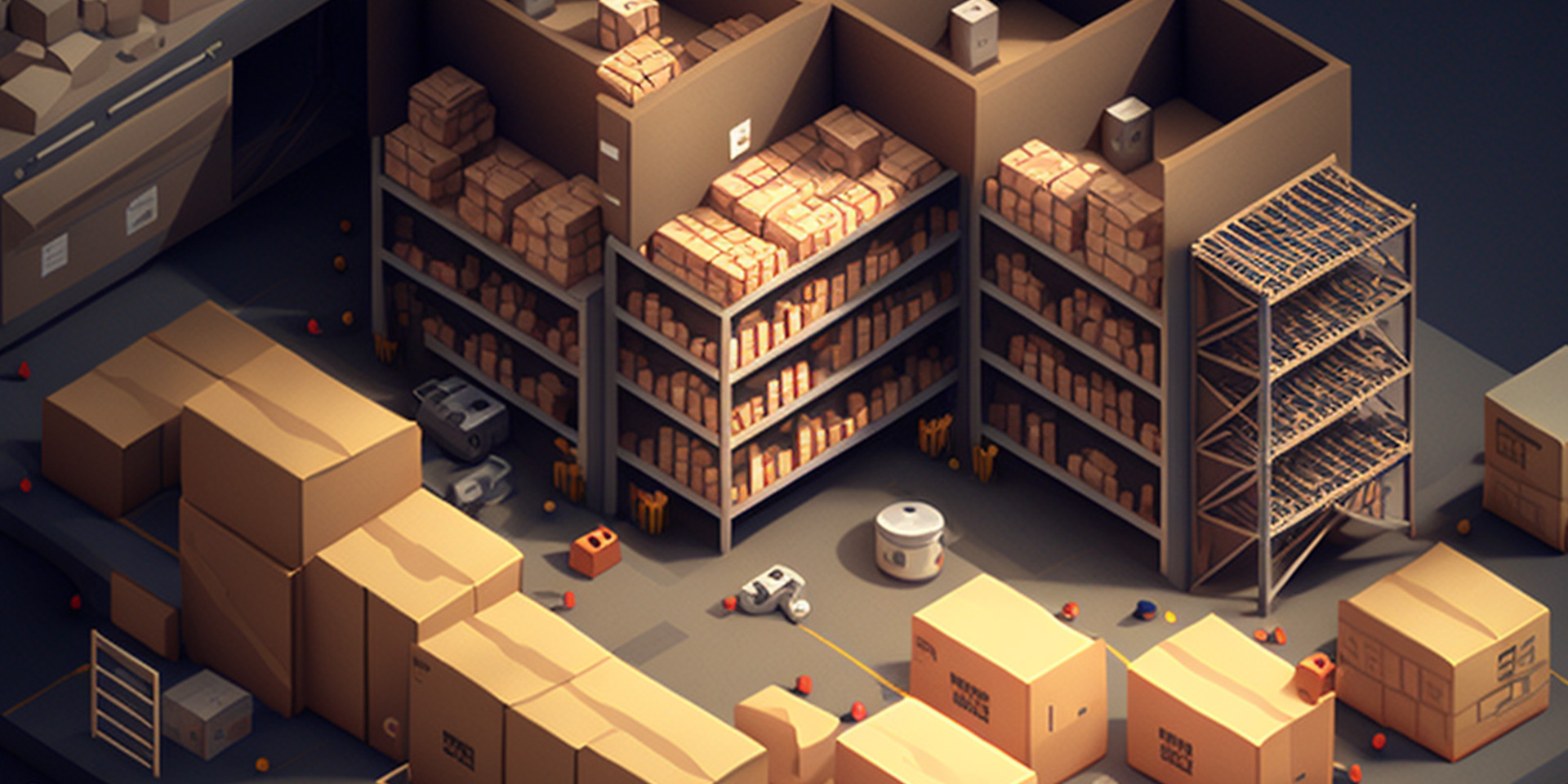 Aggregated PO and Cross Docking System

1 April, 2021
The introduction of the Aggregated PO and Cross Docking System has improved the supply chain in such a way that it is now much easier for the Chaldal warehouse to select and gather all of the ordered products based on each customer demand. Customers now have greater access to products as a result of the implementation of this system.
---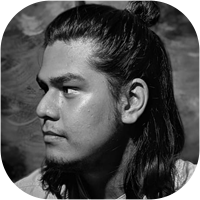 Creating and adding the Aggregated PO and Cross Docking System to the existing model was quite interesting. This system was added with the hope of improving the regular operation of Chaldal in order to make products easily available for the customers and ultimately make the delivery system faster.


—
Aquib Rashid
Joint Director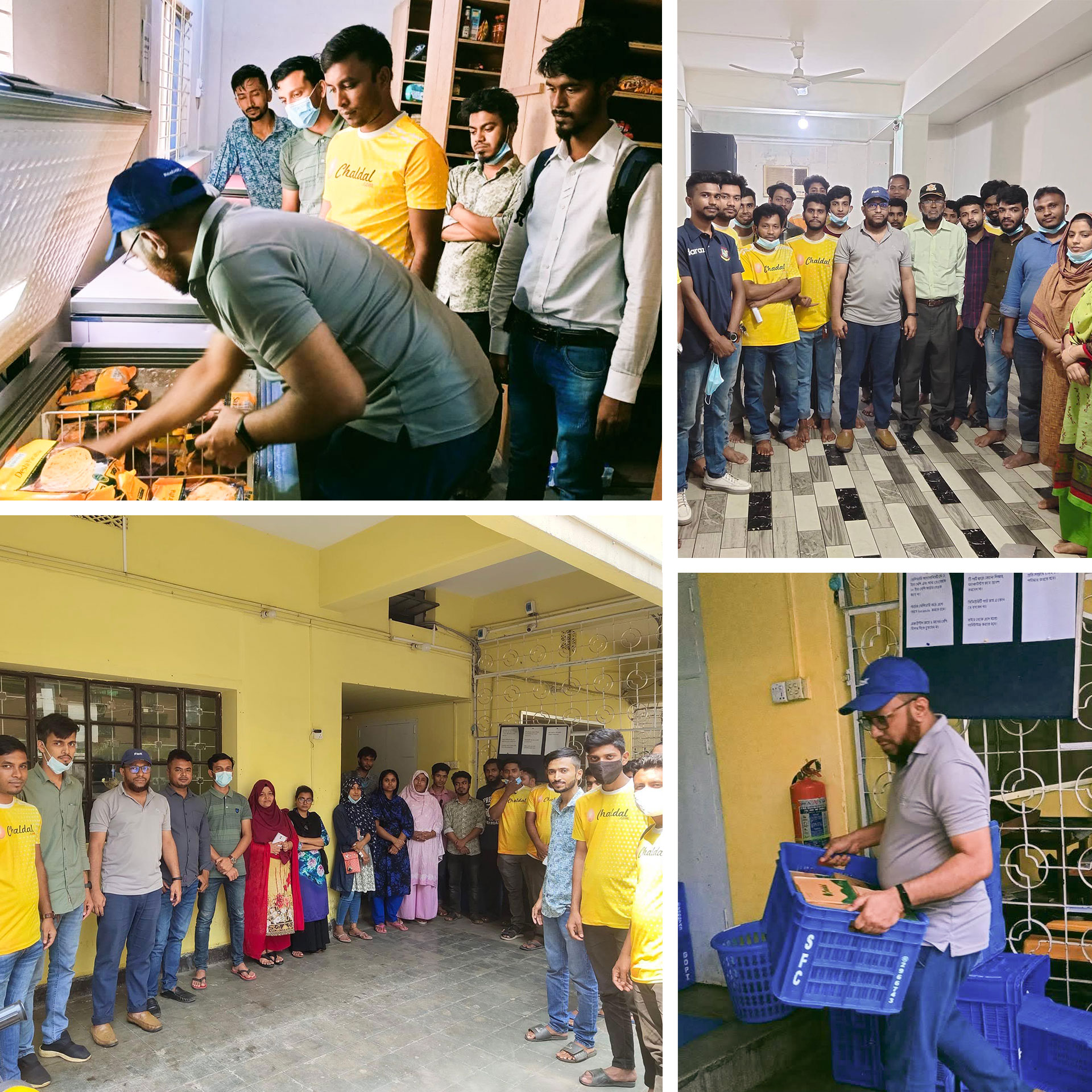 Let's Keep Our Warehouses Clean and Efficient!

10 - 17 April, 2022
Chaldal launched an initiative to guarantee hygiene and seamless operation with the management visiting all Chaldal warehouses. These visits were instrumental in identifying areas for improvement and making sure that the team adhered to top standards and safety measures, allowing Chaldal to continue offering exceptional products and services to its customers while preserving a secure and productive work environment.
---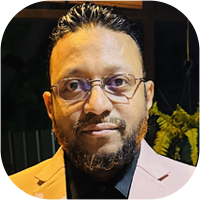 The recent initiative has made a considerable impact on the warehouse operations teams. These teams are the face of the company to the customers and it's crucial that they maintain a strong moral character and are motivated to provide the best possible service.


—
Mustafizur Rahman
Director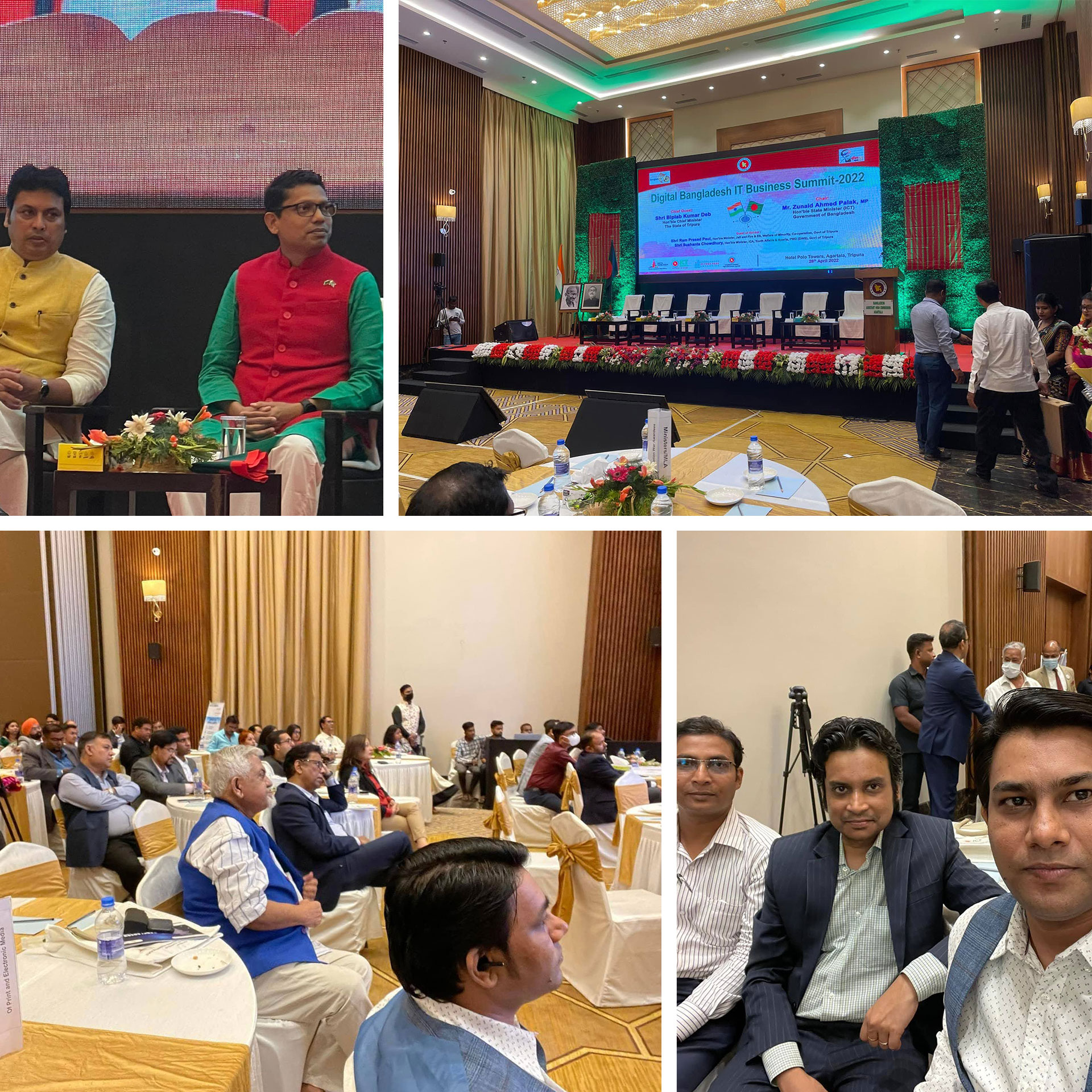 Digital Bangladesh IT Business Summit 2022 in Tripura

28 April, 2022
Chaldal was a participant in the 2022 Digital Bangladesh IT Business Summit held in Tripura, India, organized by the Bangladesh Hi-Tech Park Authority and Bangladesh's Assistant High Commission in Agartala. At the summit, Chaldal shared their insights on the potential for growth and the implementation of innovative concepts to advance Bangladesh's technology and position it as a leader on the global stage.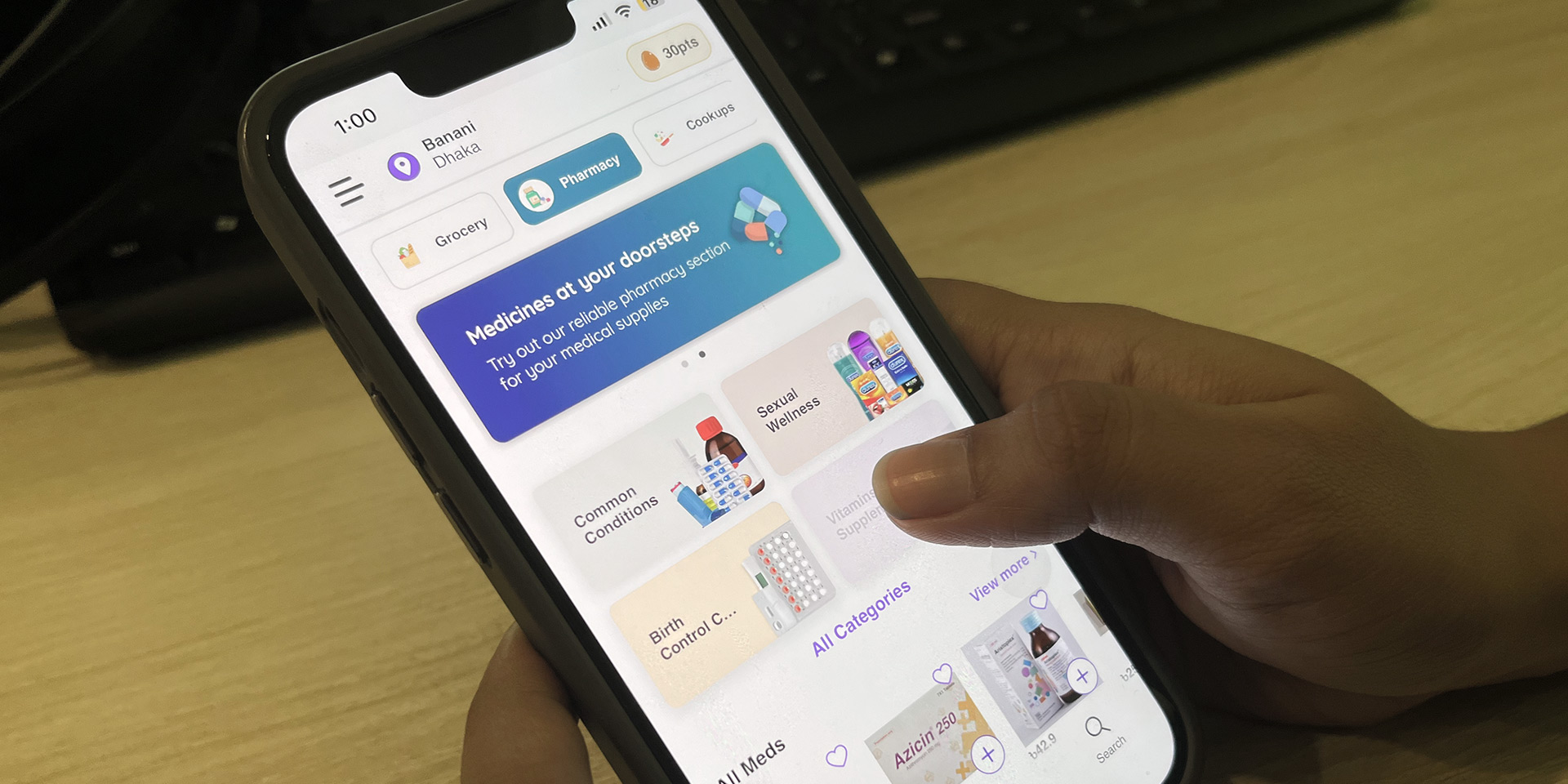 Launching of BanglaMeds as Chaldal Pharmacy

9 May, 2022
The integration of BanglaMeds into the Chaldal platform was completed, now operating under the name Chaldal Pharmacy. Last year, Chaldal acquired BanglaMeds to provide customers with the convenience of ordering essential medicines from the comfort of their home and have it delivered to their doorstep. It required time to establish the technical infrastructure, streamline the supply chain, and optimize logistics processes.
---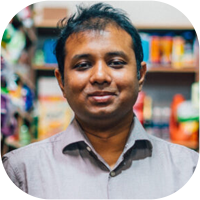 When we founded Chaldal, we wanted it to be a one-stop for necessities, a life‐saver. And you can't be a life‐saver without a pharmacy. The pandemic provided us the impetus to create the right pharma platform on Chaldal! We are already thinking of ways to improve the interface, ensure product availability, introduce great tech and service innovations, scale operations, and just make this seamless.


—
Waseem Alim
Founder & CEO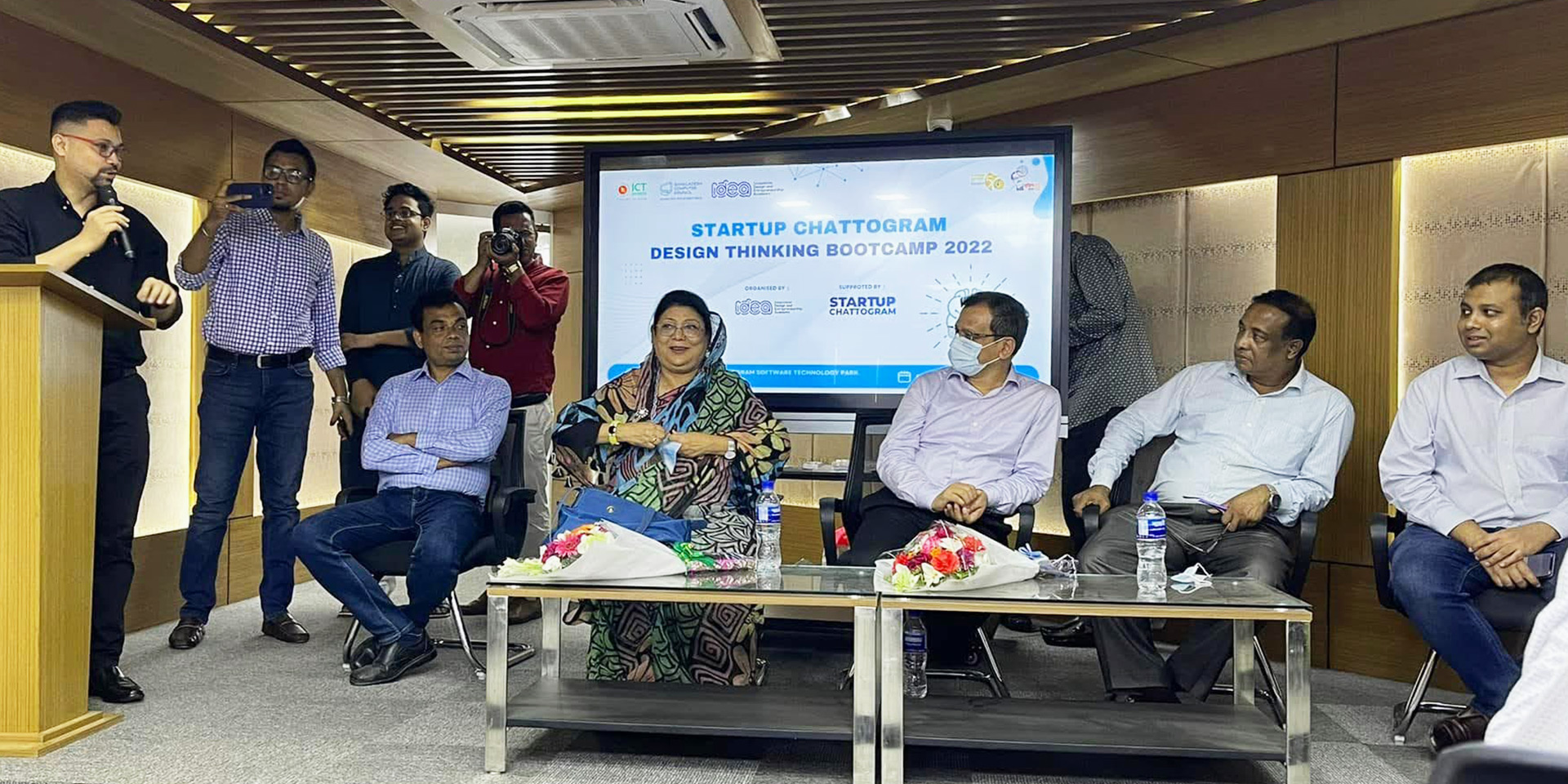 Startup Chattogram Design Bootcamp 2022

14 May, 2022
Waseem Alim, CEO and Zia Ashraf, COO of Chaldal were invited as special guests at the Startup Chattogram Design Bootcamp 2022. This event is an opportunity for students with unique ideas for business and entrepreneurship to gain valuable feedback and learn from successful and experienced professionals in their respective fields.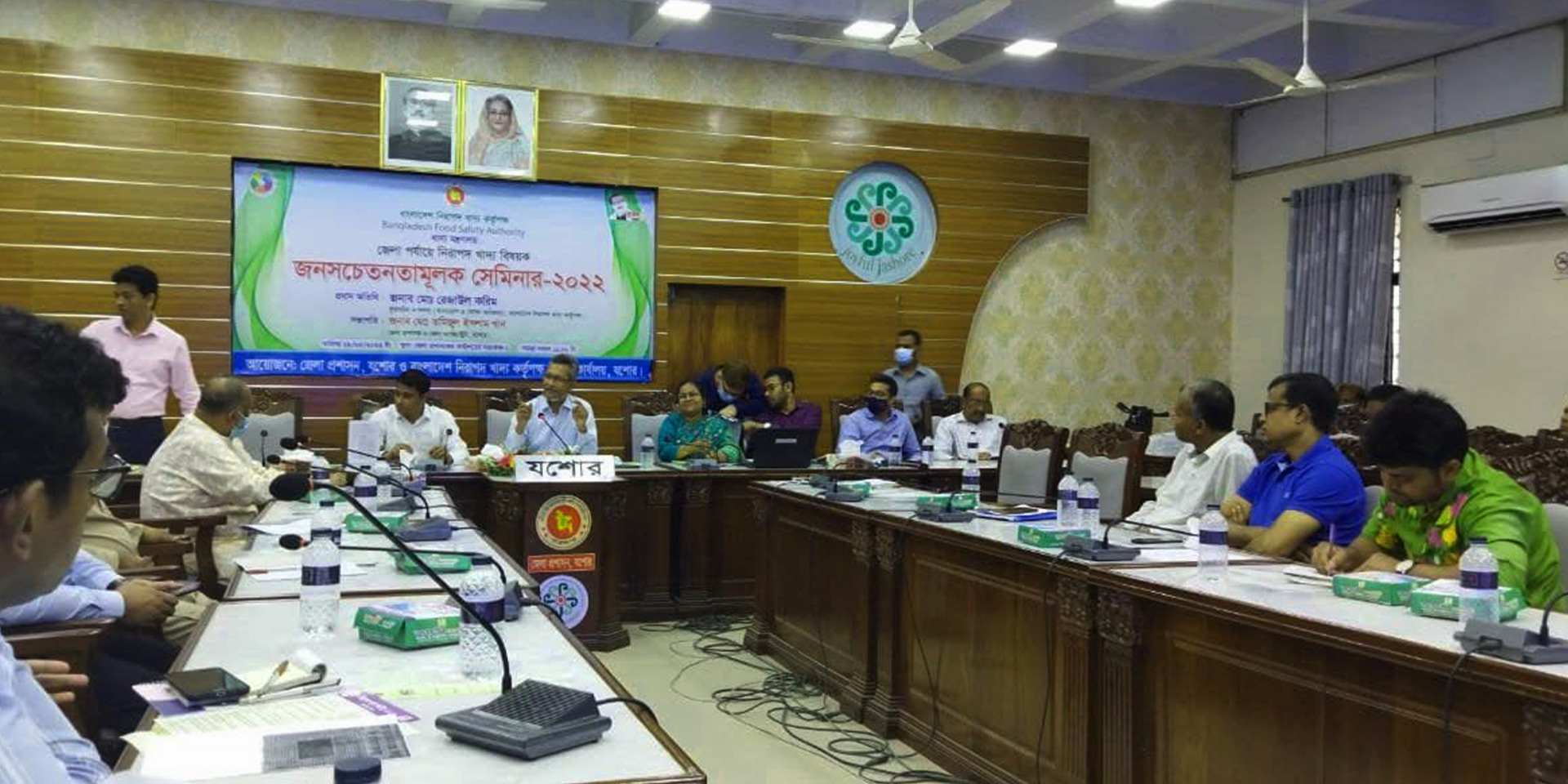 Seminar by Bangladesh Food Safety Authority

19 May, 2022
The Bangladesh Food Safety Authority organized a seminar at the Deputy Commissioners' office of Jashore. Creating awareness and promoting the essential steps for food safety and healthy food consumption habits among people and respected organizations for societal well-being was the main purpose of the seminar.
---
Attending this seminar was a learning experience since it provided us with information about food safety and habits that is important not only for the companies present there but also for the general public.


—
Shahadat Hossen
Joint Director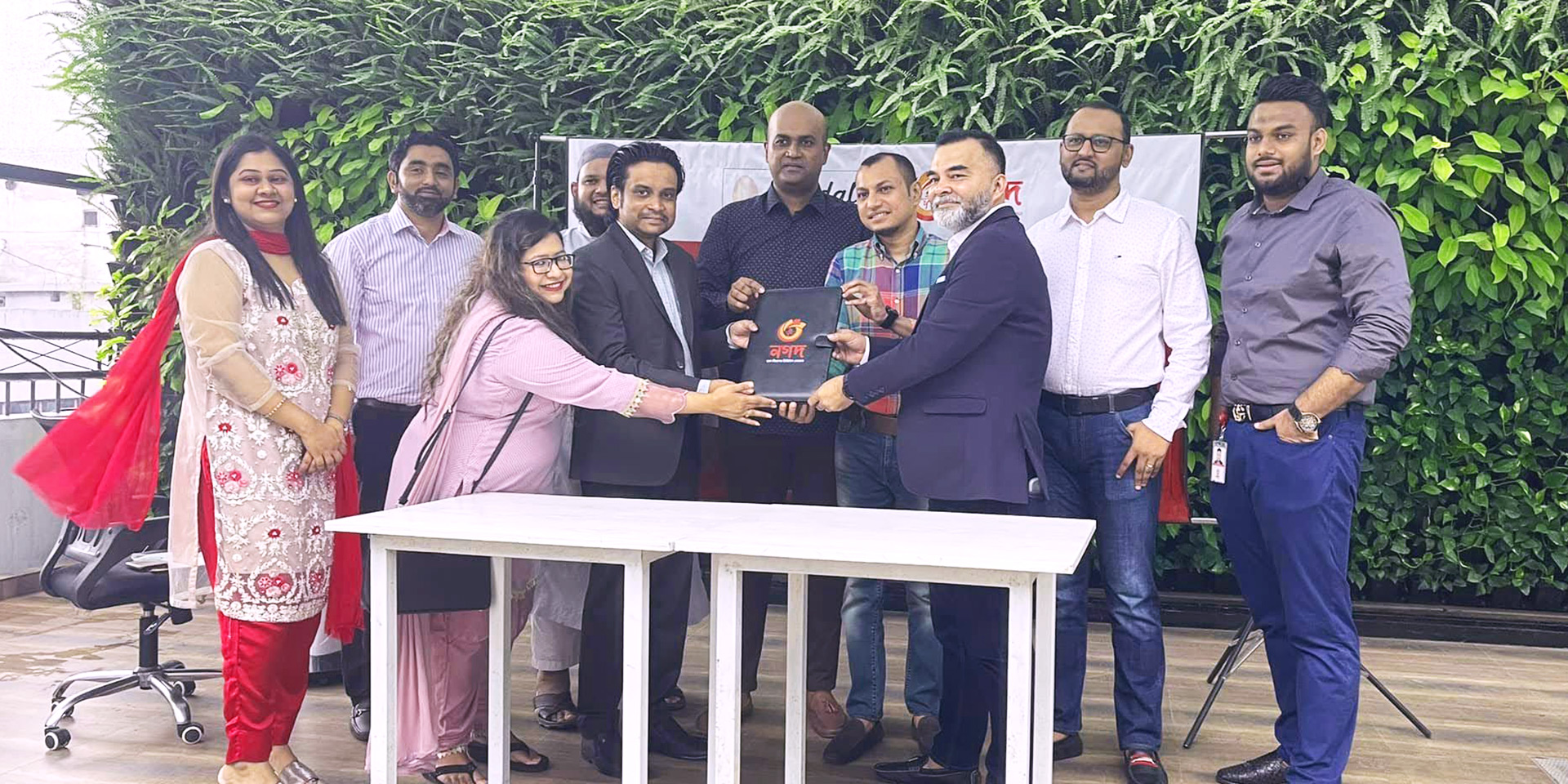 Nagad and Chaldal Signing Ceremony

25 May, 2022
Chaldal officially joined forces with Nagad through a partnership agreement signing ceremony, where Niaz Morshed Elite, the Executive Director of Nagad, discussed the opportunities for collaboration to enhance the digital landscape of the country.
---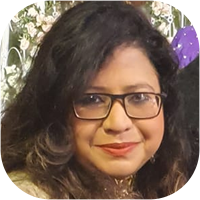 It was one of the anticipated collaborations. I am really pleased to work in this partnership as it is not only beneficial for both companies' customers but also a step toward future ventures that will contribute to the country's economic growth.


—
Ishrat Jahan Nabila
Chief of Staff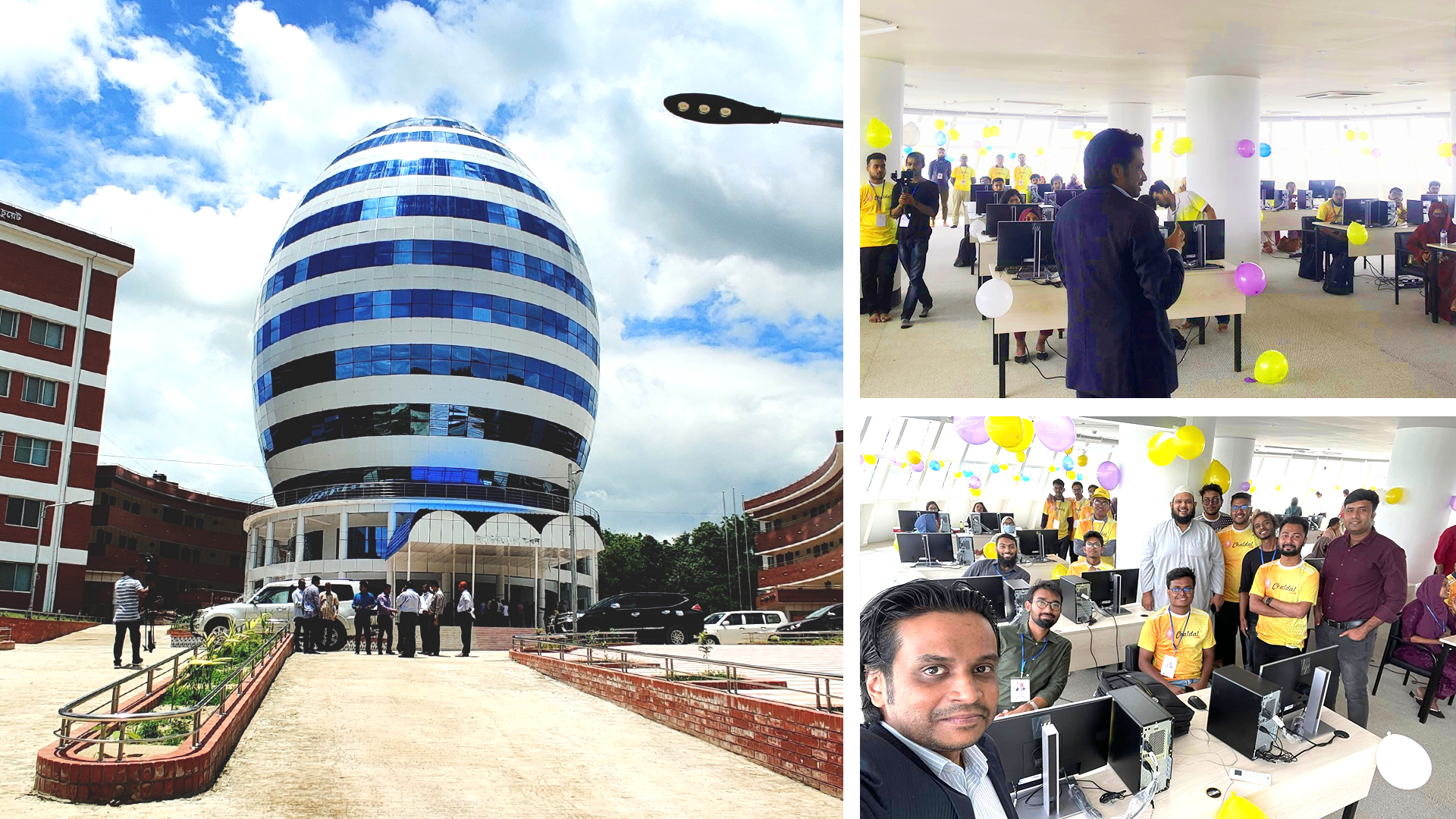 Chaldal Office in the Business Incubator in CUET

6 June, 2022
Chaldal launched one of the most anticipated offices inside the Sheikh Kamal IT Business Incubator of Chittagong University of Engineering and Technology (CUET). This office would provide access to a talented pool of potential employees and create more job opportunities for further development and expansion.
---
Launching this new office at CUET is an excellent opportunity to contribute to the job market and socioeconomic growth of the surrounding community. It will help to make a positive impact on both company and society.


—
Omer Sharif Ibney Hai
Head of Growth
e‐CAB Election 2022: Chaldal Leads The Change Makers

18 June, 2022
Waseem Alim, Director of BanglaMeds and CEO of Chaldal, led a group known as The Change Makers, to participate in the 2022‐24 e‐cab Executive Committee Election. The Chaldal Family extended their full support to guarantee a fair and successful election. The objective of The Change Makers was to empower industry members to choose their representatives for e‐CAB through a member‐driven election process.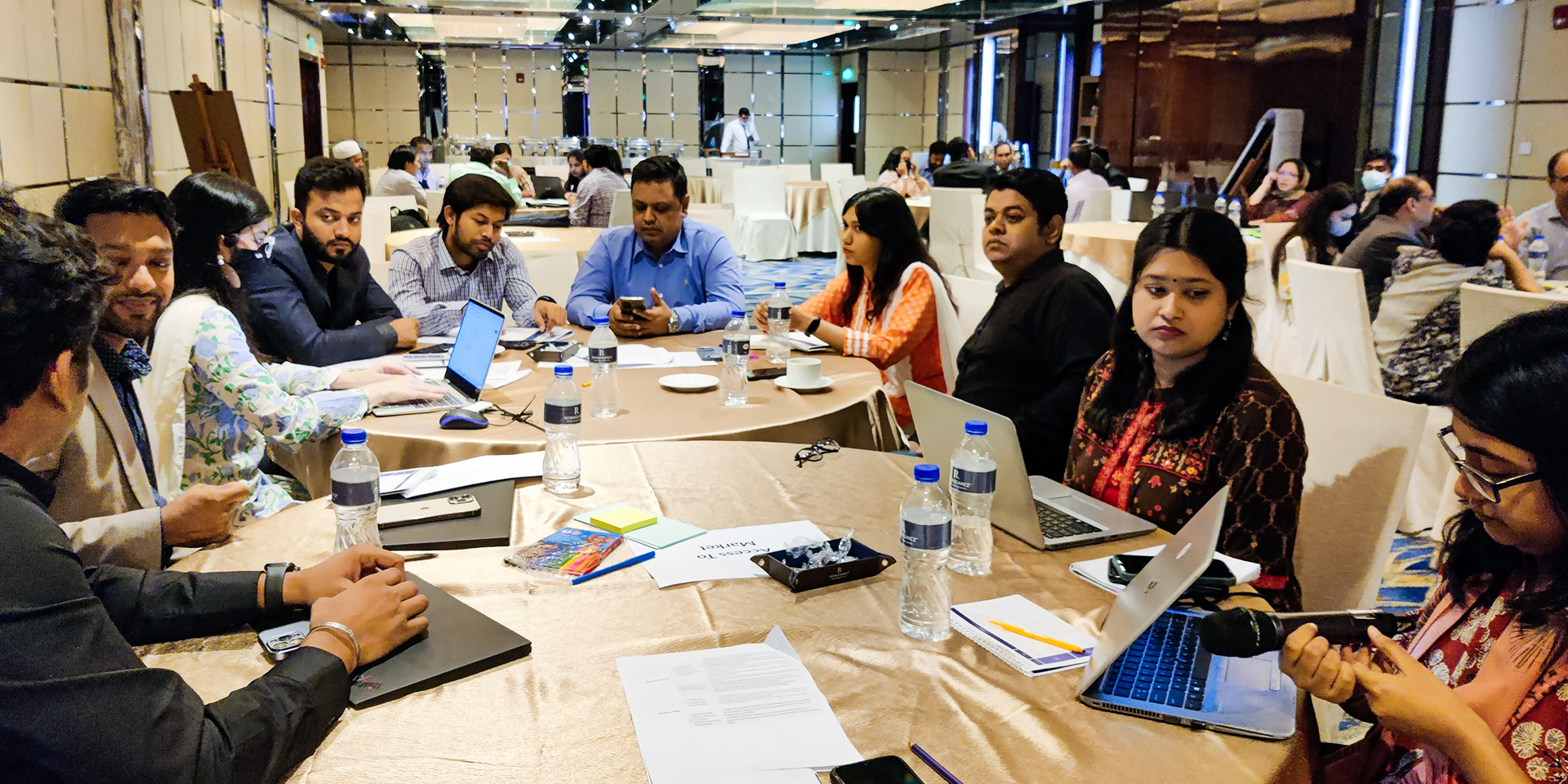 Frontier Technology Policy Experimentation and Regulatory Sandboxes for Sustainable Development

23 June, 2022
The Chaldal team participated in a workshop organized by UN DESA, UN ESCAP and a2i, focused on supporting and developing the e‐commerce policies for CMSMEs. The workshop aimed to identify potential frameworks and policies to establish a secure and reliable e‐commerce environment for all stakeholders, in order to foster sustainable development and support the growth of CMSMEs.
---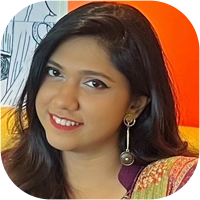 It truly was an interactive workshop. All the representatives from their respective organizations including me were given the opportunity to exchange recommendations for a constructive framework for e‐commerce that is better equipped to meet the needs of the various stakeholders involved, including customers, businesses, and regulators.


—
Anika Tahsin Jahan
Marketing Manager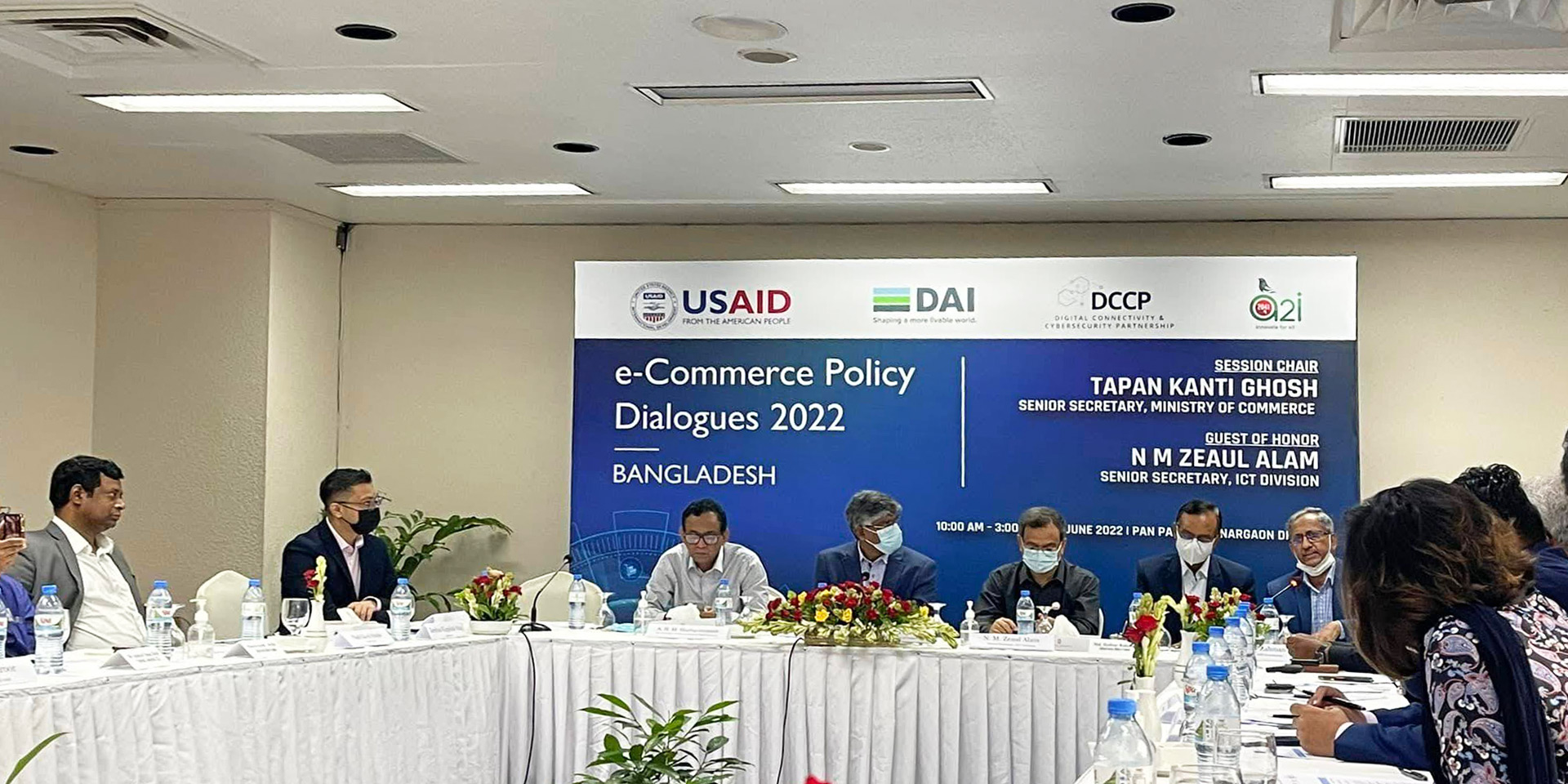 e‐Commerce Policy Dialogues 2022

30 June, 2022
Chaldal has participated in a round table seminar organized by USAID, DAI, DCCP and a2i to discuss the e‐commerce policies. As an avid contributor to this ecosystem, Chaldal shared their perspective on imposing necessary policies for the rapid development and sustainability of the e‐commerce industry.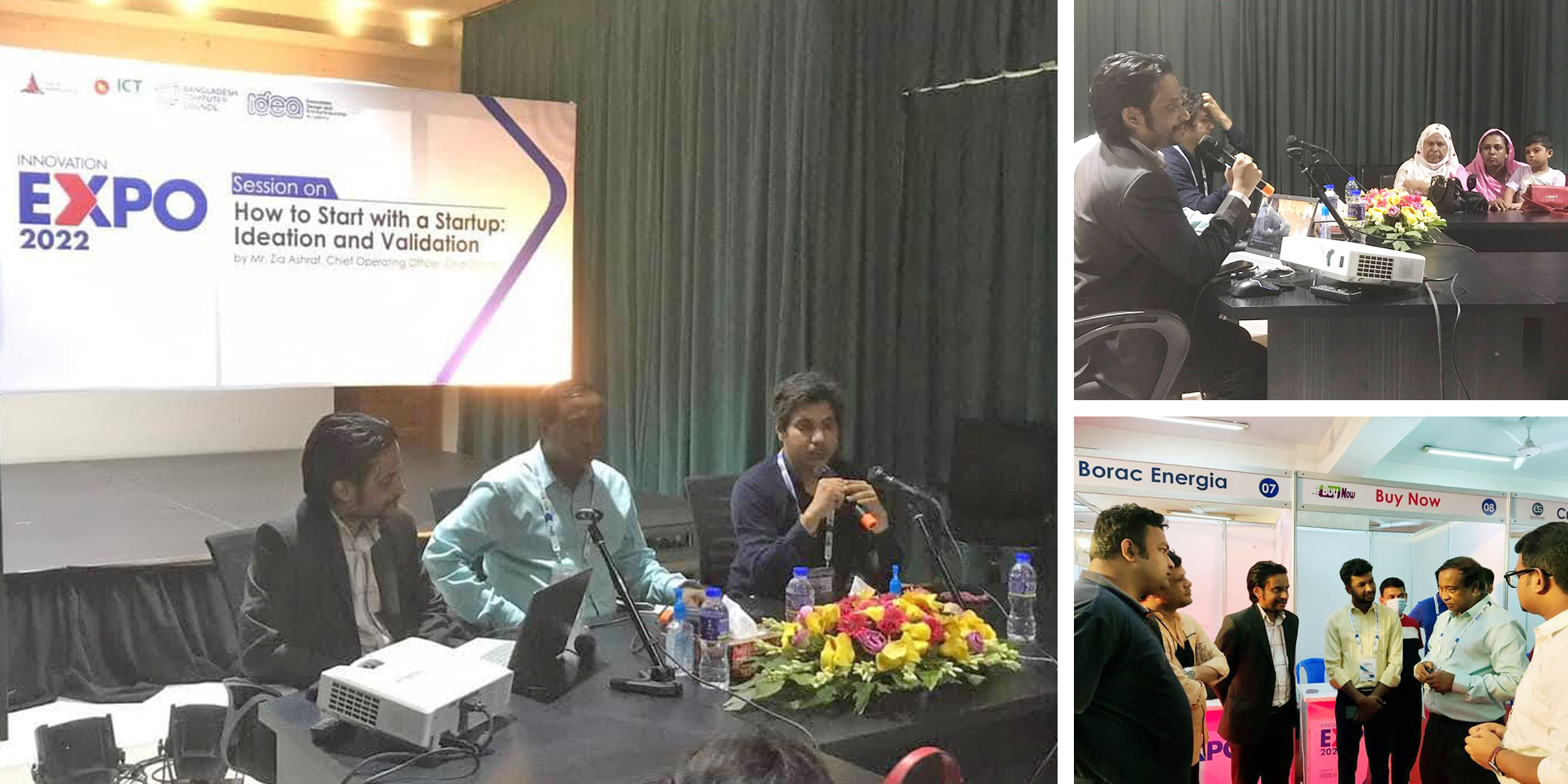 ICT Innovation Expo 2022

30 June, 2022
Zia Ashraf, COO of Chaldal was invited to ICT INNOVATION EXPO 2022 as one of the special guests. This event was an interactive discussion among many well‐known startups, companies, and governing bodies exploring new and innovative ideas in order to find solutions to different social issues.
Celebrating 9 Years of Chaldal

1 July, 2022
On this day Chaldal entered into its 9th year with tremendous support from the customers, well‐wishers, and years of tireless hard work. Through the years, Chaldal learned a lot from the customers and created a system based on their requirements to offer convenience in grocery shopping.
---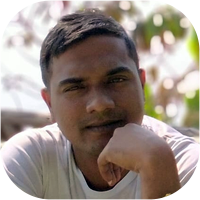 Being a part of the Chaldal team has had a profound impact on my life. Witnessing the company's growth and ability to overcome challenges has been truly inspiring. I have no doubt that Chaldal will continue to improve and enhance the lives of many in the future, just as it has for me.


—
Mustak Mia
Executive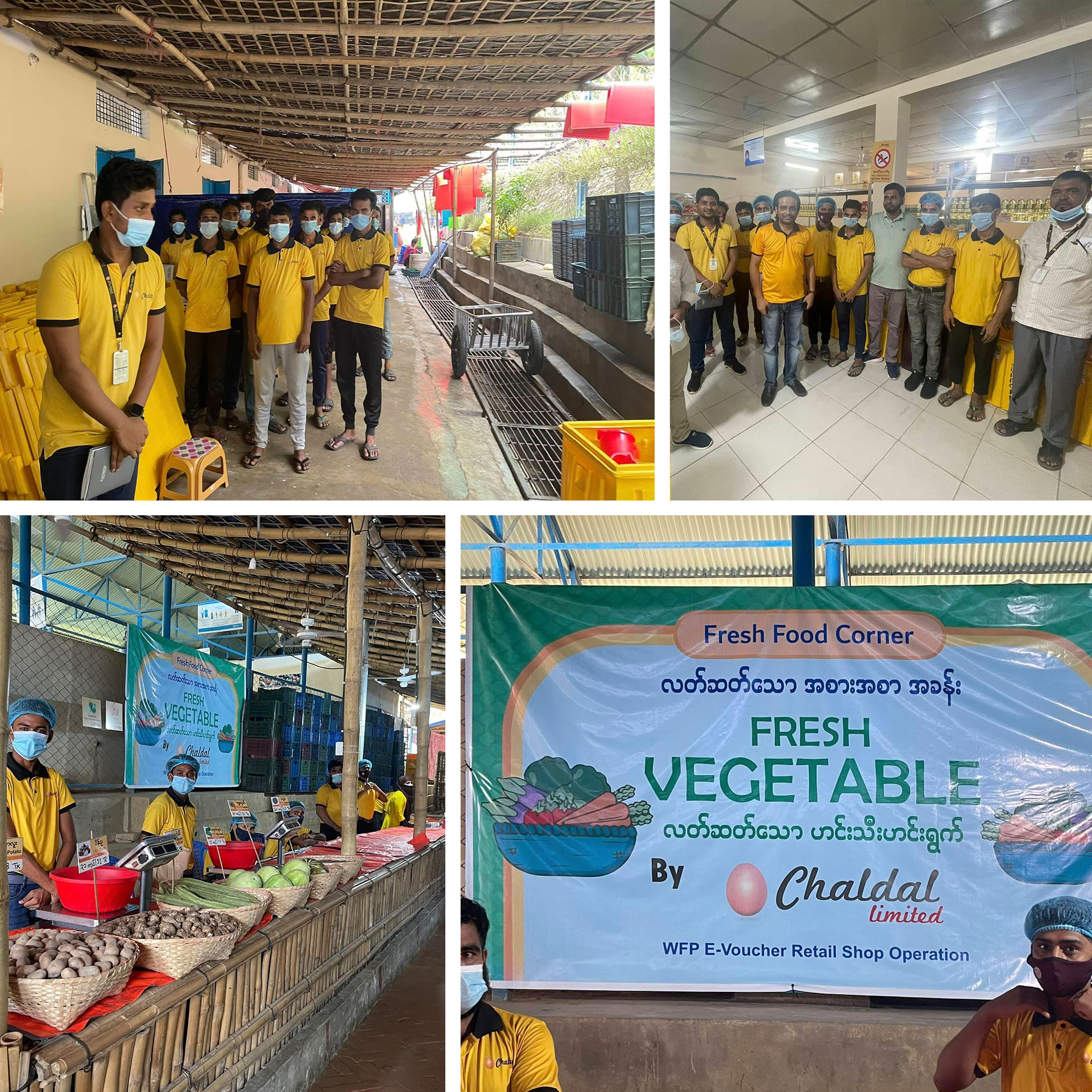 WFP Shop at Mainar Gona, Jamtali, Cox's Bazar

1 July, 2022
Chaldal opened a new grocery shop at the Rohingya Refugee Camp inside Gona, Jamtali, Cox's Bazar. This shop is a part of the affiliation project with the World Food Program (WFP), where Chaldal supplies daily essentials to the Rohingya families of Cox's Bazar.
---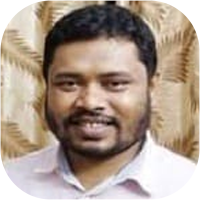 It is one of the humanitarian initiatives of Chaldal to offer everyday necessities to the Rohingya community of Cox's Bazar. I am delighted to be a part of this project that benefits the local communities in their day‐to‐day lives and the local businesses.


—
Md Hasanuzzaman
Director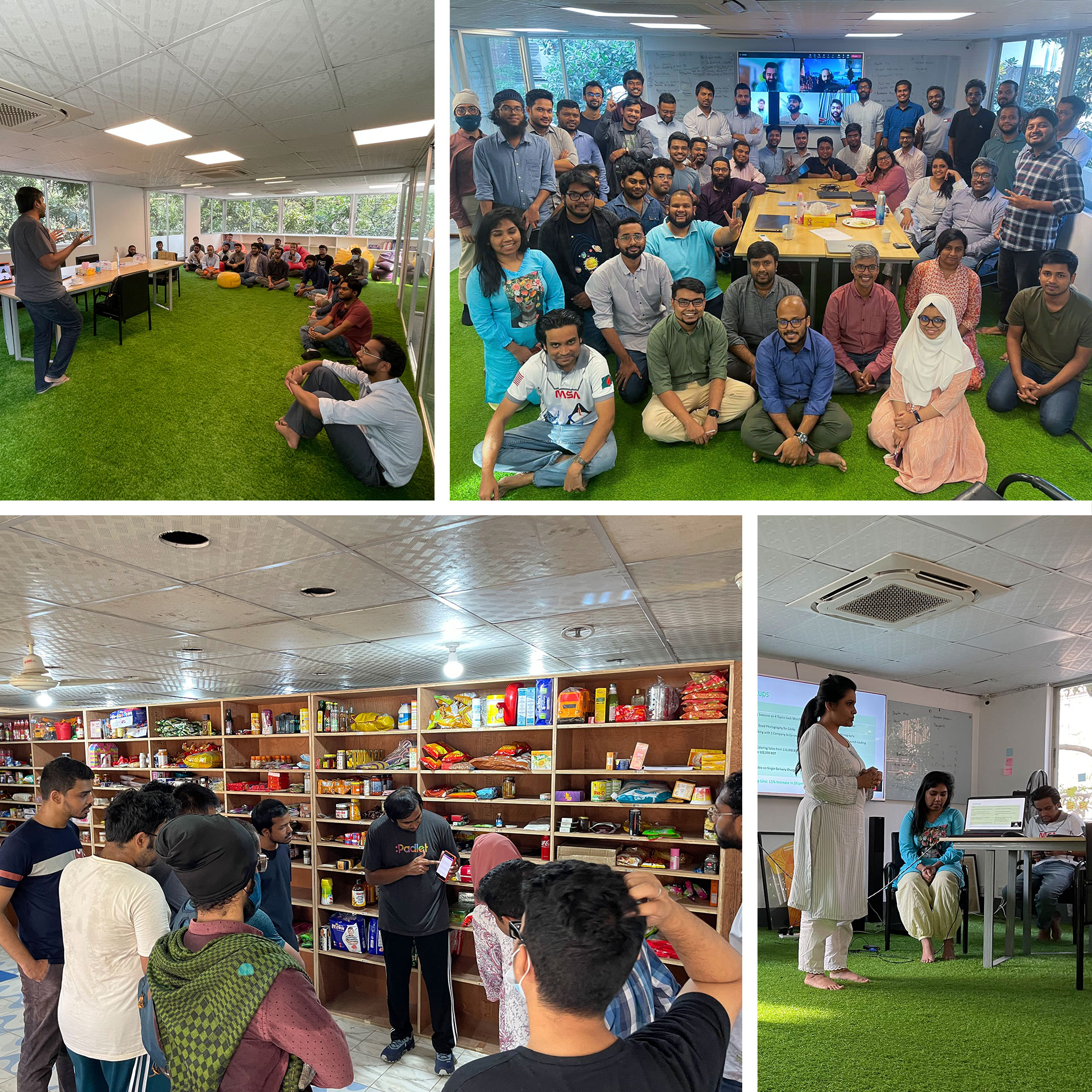 Kick Off of War Mode - It's a Battle to Survive

20 July, 2022
It's a new initiative to speed up internal processes and prepare for the challenges ahead in a rapidly changing world. With a focus on delivering tasks efficiently and effectively, we see it as a battle against limitations. By streamlining processes and using resources wisely, we aim to build a strong shield against the potential impact of global economic turbulence.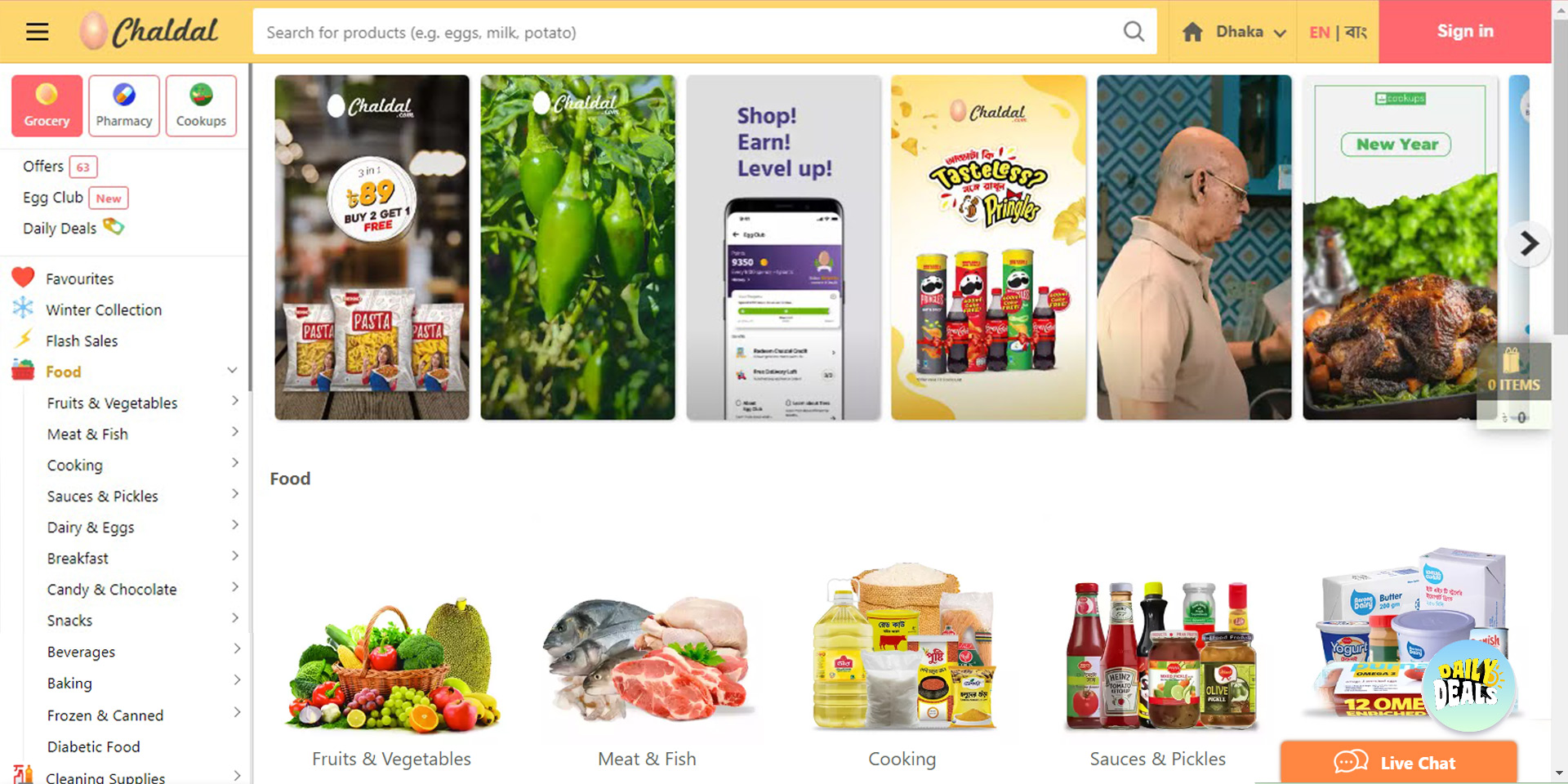 Launching of Chaldal Story

25 July, 2022
Chaldal Story is a new form of communication with customers. With an increasing demand for video content, we created this section to share our latest updates with customers. Additionally, our partners are using this platform to promote their products and offers.
---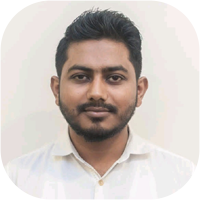 In this digital age, we wanted to connect with our customers in an interactive and enjoyable way. Launching the story section on the Chaldal website and app is a new experience for me, as it enables customers to easily access all our latest news and offers.


—
Abdullah Jahid
Senior Software Engineer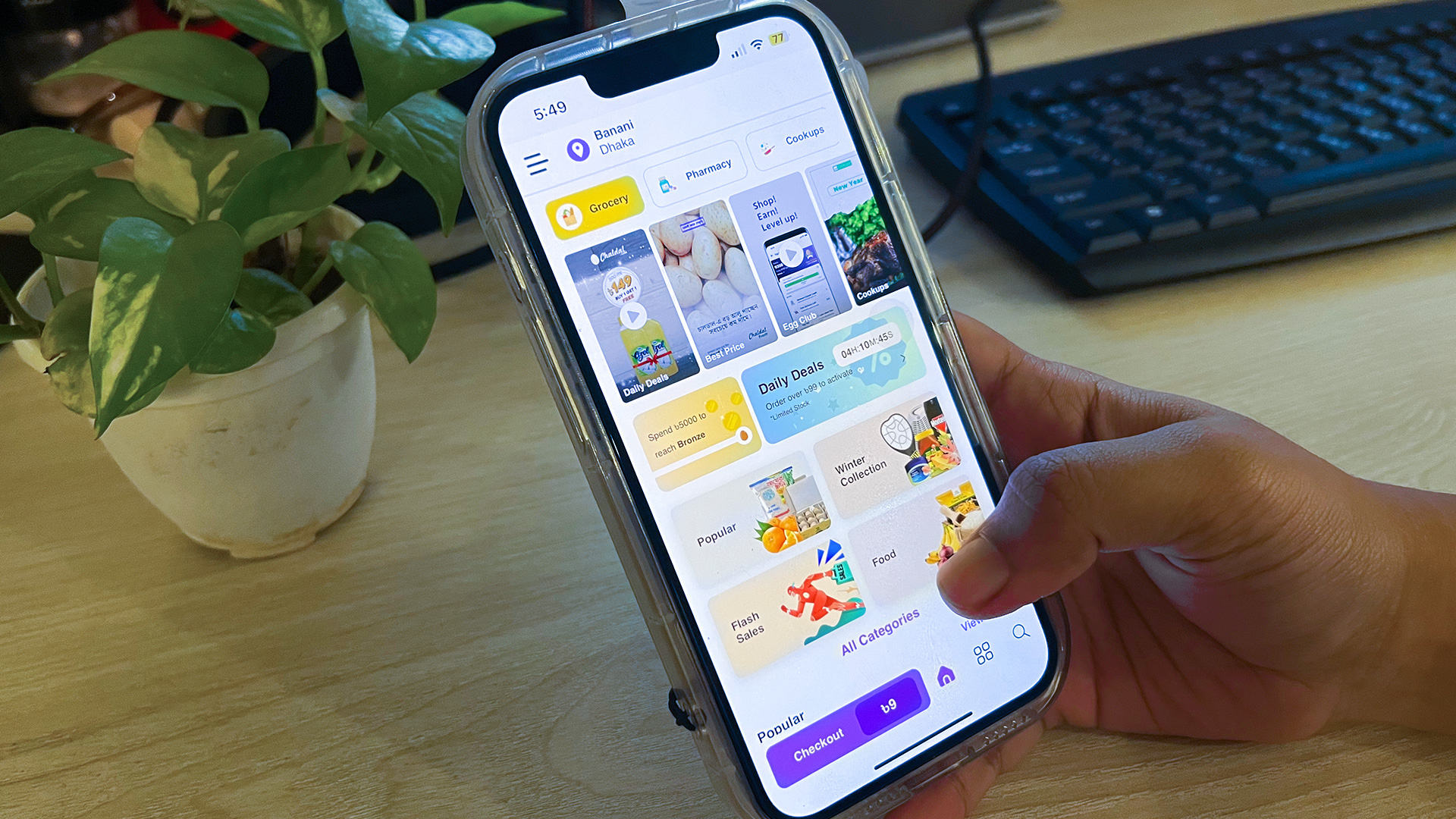 Launch of App Home and Bottom Bar

2 August, 2022
The Chaldal app has just added a new feature, the much‐anticipated home page, making it more user‐friendly for customers. With this new addition, customers can now easily navigate to the products they need without having to search through multiple pages or menus. The bottom bar contains convenient links, allowing customers to quickly find what they need. The design and development of this feature required a significant effort to ensure a seamless user experience.
---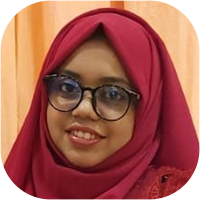 The addition of a bottom bar and a home page to the Chaldal app is a major accomplishment. The Chaldal Product Team has a deep understanding of the effort required for such an implementation, as they have worked with multiple versions and prototypes for months. The goal was to seamlessly connect all the services offered by Chaldal and present them in a user‐friendly way, allowing users to quickly access what they need.


—
Sinthia Ahmed
Assistant Director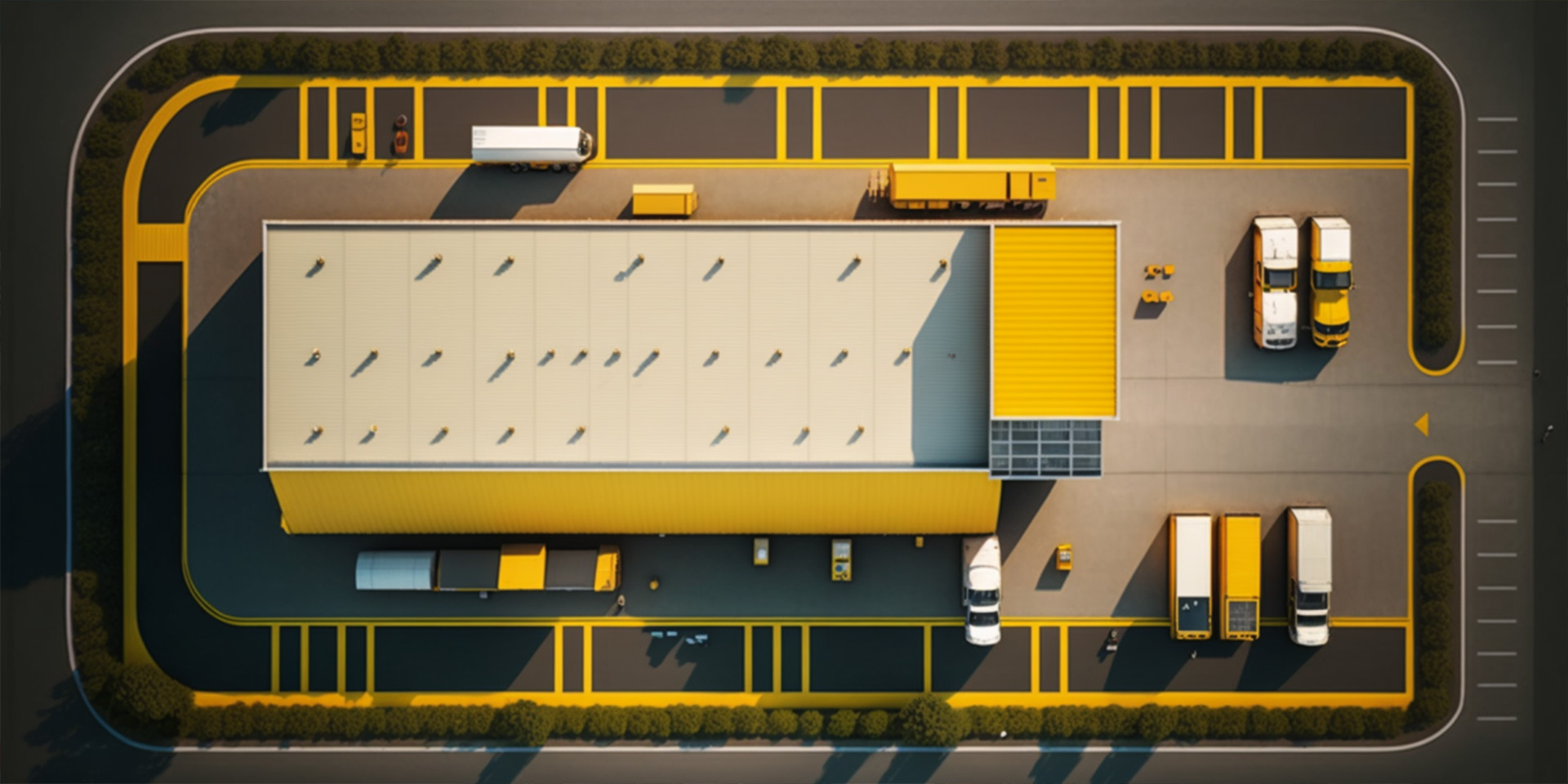 Launching of Dispatcher, the OS of Warehouse

4 August, 2022
Dispatcher is a long awaited warehouse operating system for us. It revolutionizes already existing software which manages the movement of goods within and outside the warehouse. In addition to the software, the Dispatcher Project is about bringing warehouse efficiency, obsessing about every little process which would impact a shipment or item before it reaches safely to hands of customers ‐ from perishable room redesign to automatic route formation for a delivery executive.
---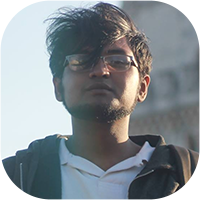 Introducing the future of grocery shopping — our cutting‐edge delivery system. Say goodbye to the hassle and embrace convenience like never before. Our AI‐driven technology ensures reliable, efficient, and timely delivery of your groceries. Freshness, safety, and speed are at the heart of our system, and our algorithms guarantee the best possible results. With us, you can sit back, relax, and let the technology work for you. Our delivery system sets a new standard in the grocery industry, delivering peace of mind straight to your doorstep.


—
Swadhin Shahriar
Software Engineer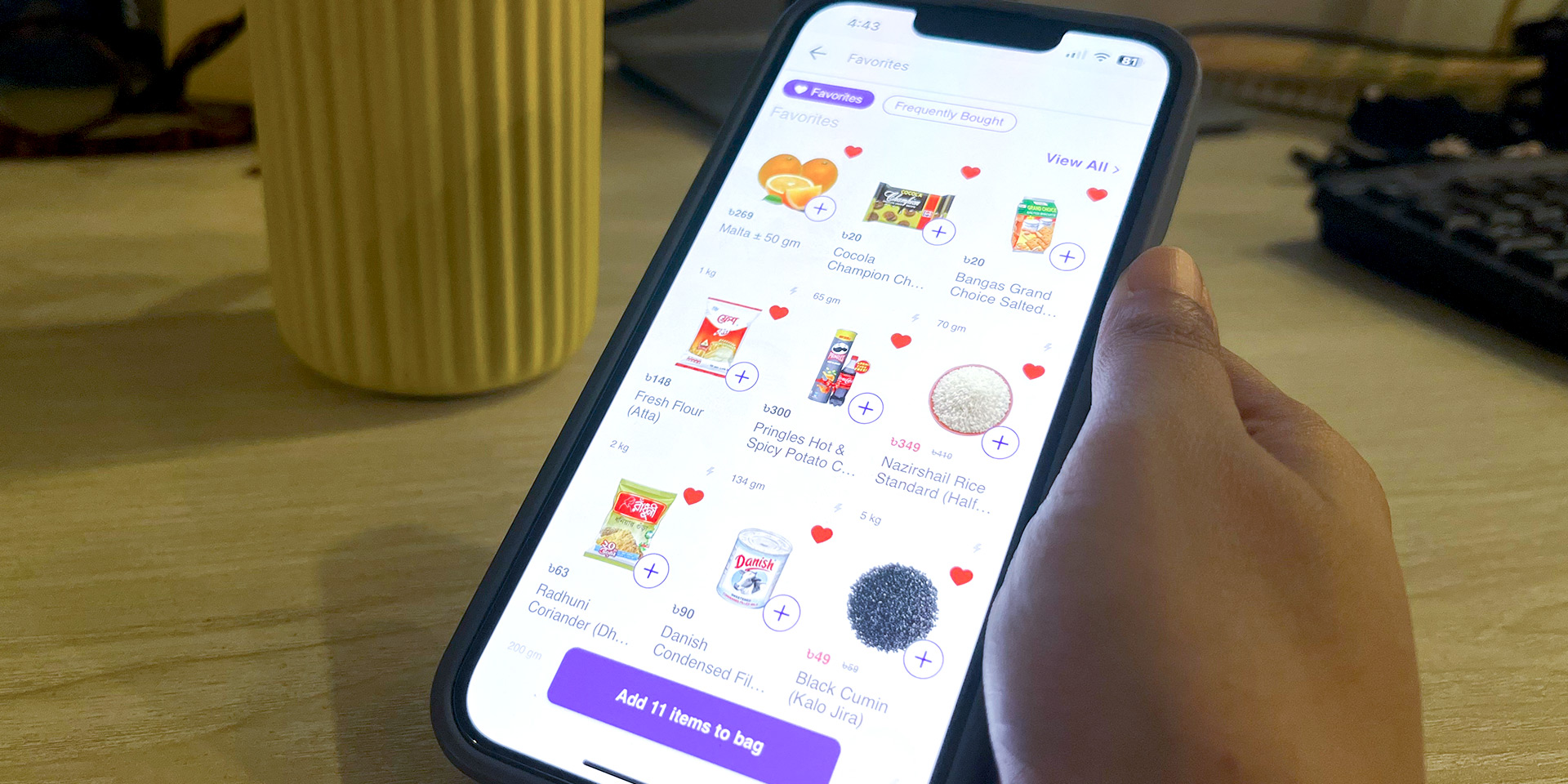 Chaldal Feature: Favorites, Frequently Bought

6 August, 2022
Chaldal introduced an upgraded feature for the customer to check their favorites and frequently bought products. This lets the customer choose and make a list of their convenient grocery items, so they don't have to always search for what they need. Also, they can get a comprehensive overview on what kind of products they are purchasing on a regular basis.
---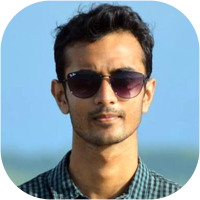 At Chaldal, customer convenience is of the utmost importance. When introducing new features, we strive to ensure that they will enhance the overall user experience. As a result, it may take longer than expected to implement even small improvements.


—
Ashiqur Rahman Rifat
Software Engineer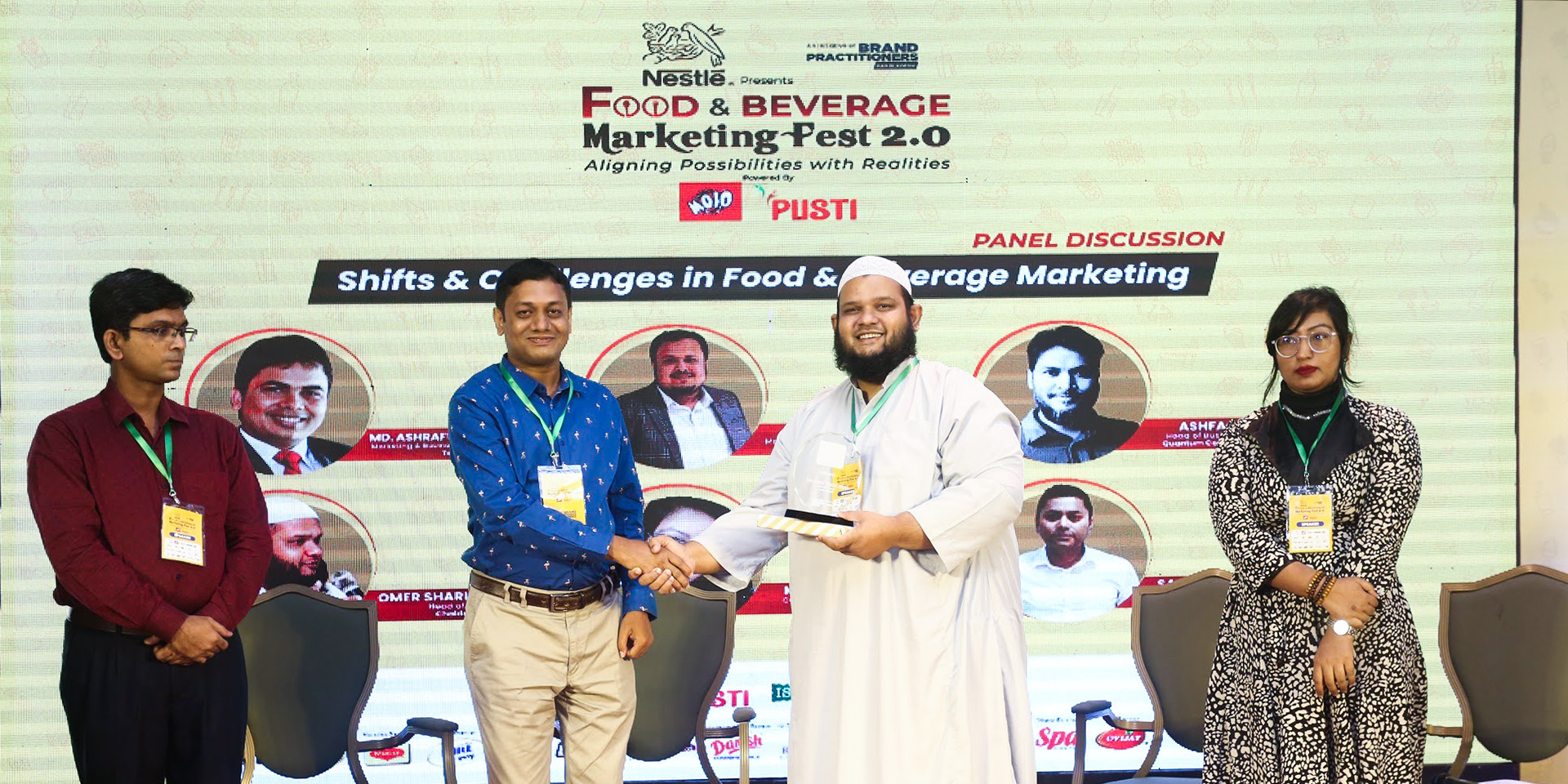 Food & Beverage Marketing Fest 2.0

7 August, 2022
Omer Sharif Ibney Hai, the Head of Growth at Chaldal, was a special guest and speaker at the Food & Beverage Marketing Fest 2.0. The event brought together industry experts for an interactive discussion on the development and effective marketing of Bangladesh's food and beverage industry.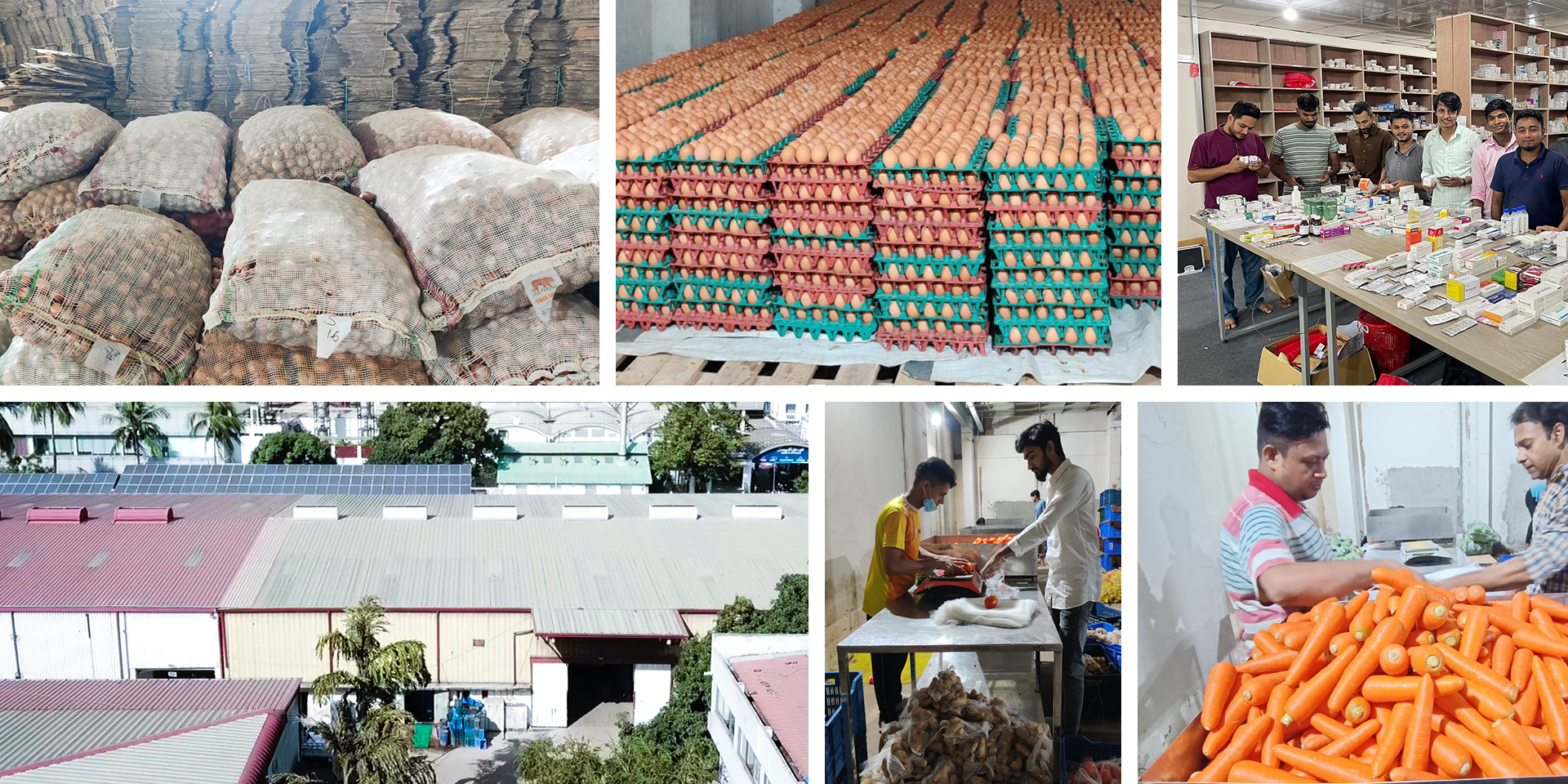 Launching of 2nd Mothership Warehouse at SKS Tower

10 August, 2022
Our mothership warehouses serve as the core of our operations, and their strength and proximity directly impact our efficiency. The recent launch of a second mothership warehouse on the other side of the city is a key strategic move that will enable new services, including Chaldal Pharmacy.
---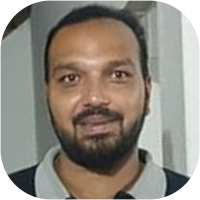 The tireless efforts of the Chaldal team ensure the seamless functioning of the supply chain, allowing customers to access their desired products with just a tap on their phone. We are thrilled to have this vast and expansive space as our new home base, where our team works around the clock, 24/7, to maintain this level of service.


—
Raisul Islam Shion
Director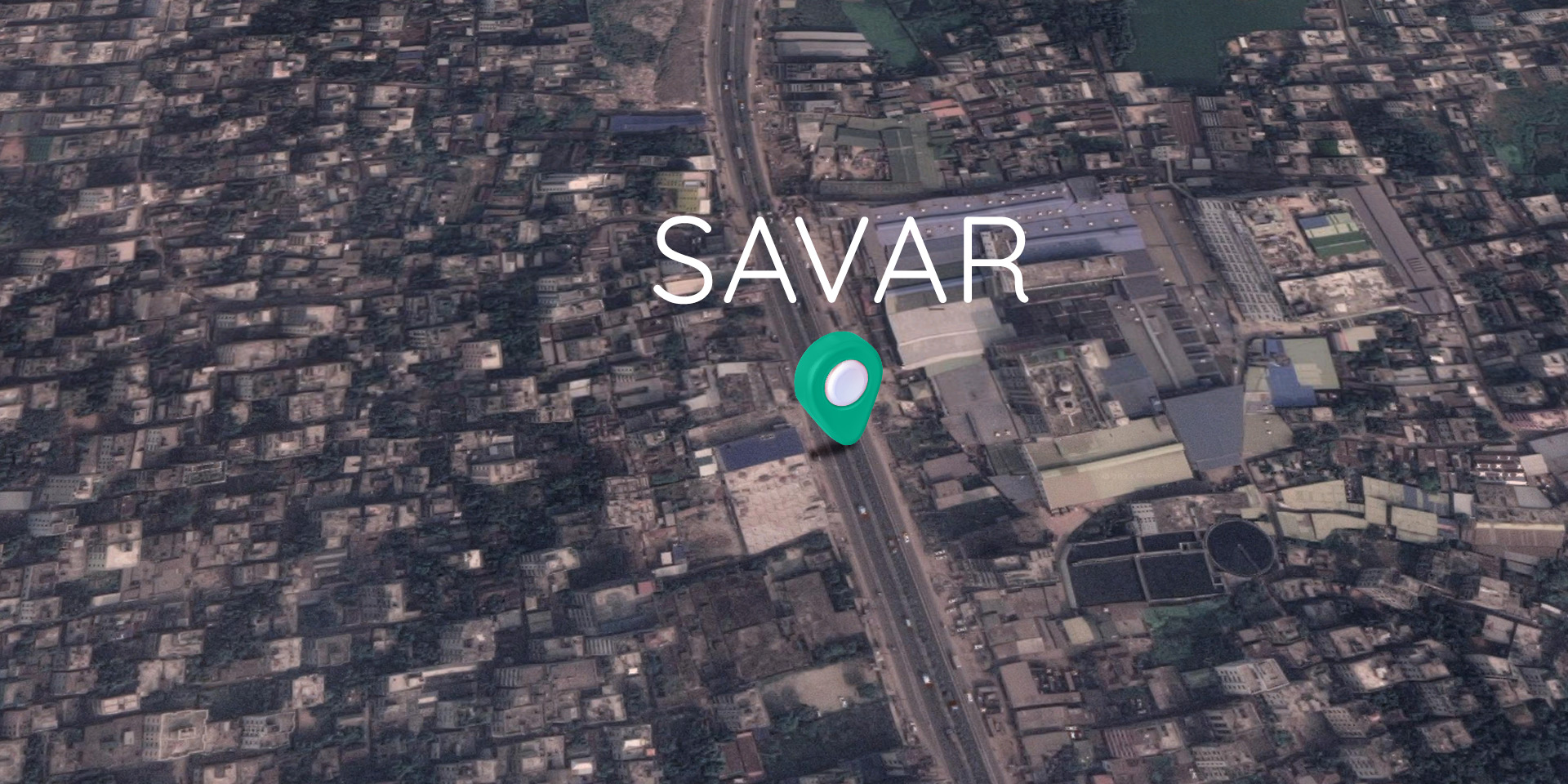 GGB Started Delivering in Savar

12 August, 2022
Savar, though located near the capital city, presents the same logistical challenges as other areas. In order to serve this region, GGB had to create a separate process, separate from Chaldal's core logistics operations. This new development marks the start of expanding our services to other challenging locations.
---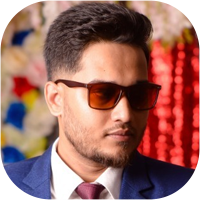 Recently, we have made significant advancements in the areas of technology, logistics, and operations. This has made it easier to expand our business and launch in new locations. Launching in Savar was a pivotal decision for our growth and it has increased our confidence in making our services available to a wider audience.


—
Mahfujur Rahman Abid
Managing Director, GogoBangla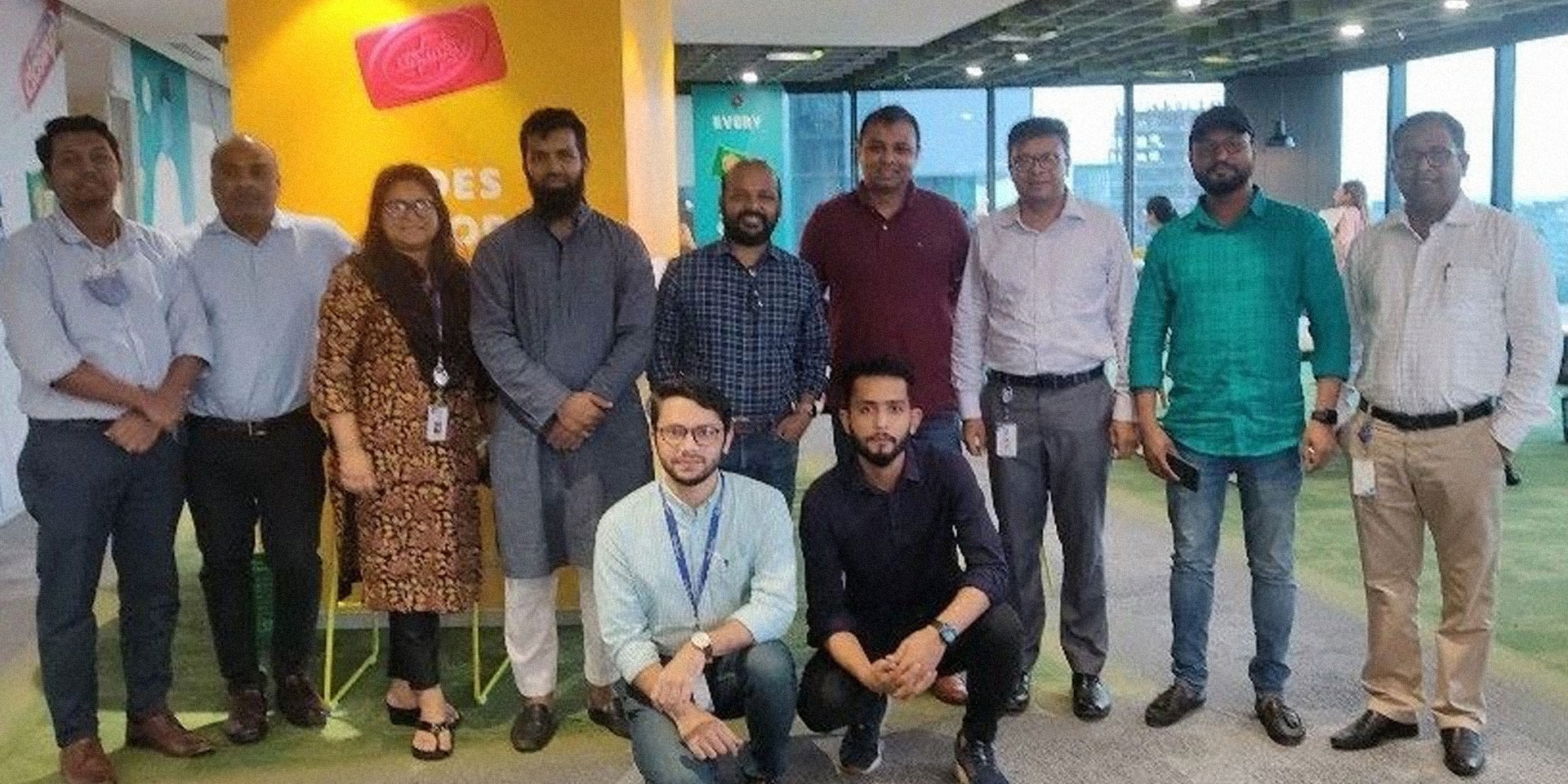 Chaldal Visiting Unilever

18 August, 2022
Chaldal and Unilever had a productive conversation about how they could join forces and push the boundaries of the e‐commerce industry in Bangladesh. The discussion provided both companies with a chance to exchange their thoughts and observations on the market and pinpoint opportunities for growth and improvement. With the partnership between these two companies, it is believed that the e‐commerce industry in Bangladesh will undergo positive changes and reach new heights.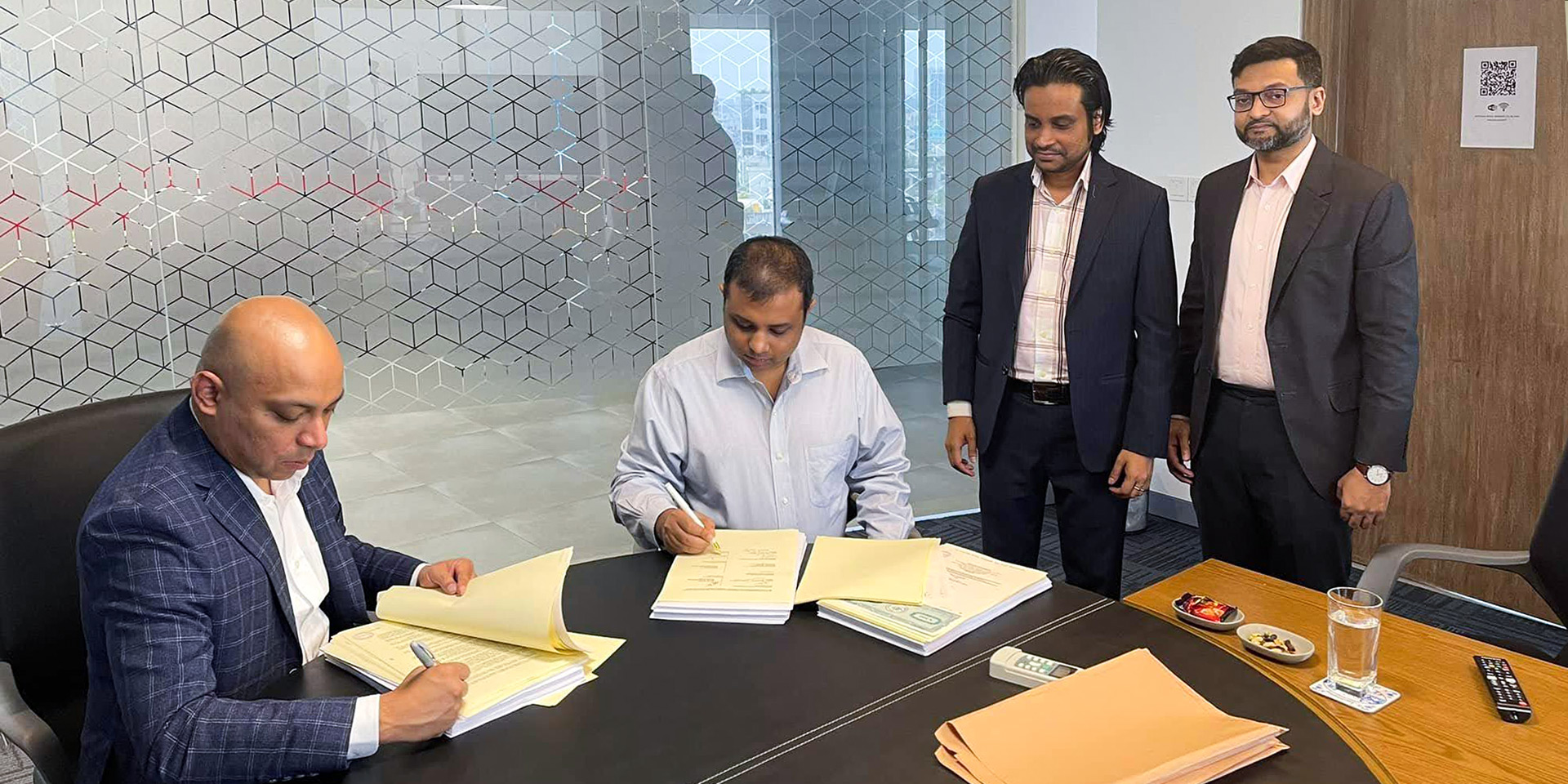 Chaldal Raised Series C+ Investment

24 August, 2022
Startup Bangladesh Limited, the first Government‐backed and flagship VC fund, has invested in Chaldal Limited in their Series C Plus fundraising round. Startup Bangladesh has co‐led the round with Taavet+Sten and invested BDT 5 Crore.
---
By raising this fund, we will be able to invest it in our technical improvement, expand our operations further and venture into logistics, online pharmacy, and payments to make them accessible to everyone all over Bangladesh.


—
Tanveer Rashid
Senior Director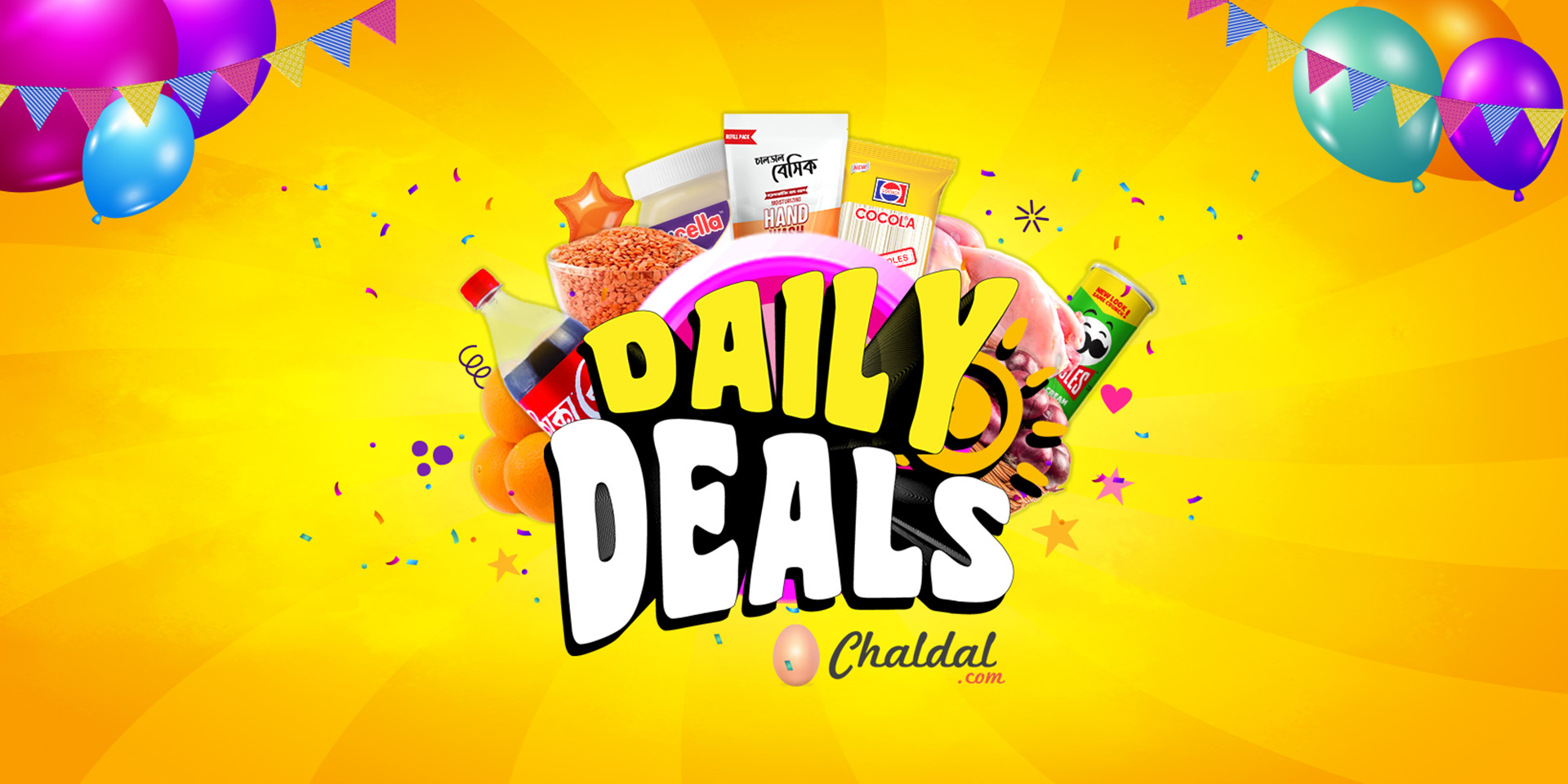 Daily Deals Launch

1 September, 2022
Chaldal launched Daily Deals, a special program for customers which offers daily one product at a lower price and with limited availability. Customers have to place a minimum order value to activate this deal. The Chaldal team is actively working with the partners to bring more exciting deals for the customers.
---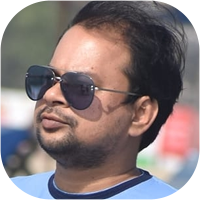 I am pleased to be a participant in such a fascinating program. This program not only helps the customers to get a product at a lucrative price but also allows our partners to get valuable customer insights. We are working really hard to make this feature more exciting and useful for the customers.


—
Nayef Ahmed Chowdhury
Executive Director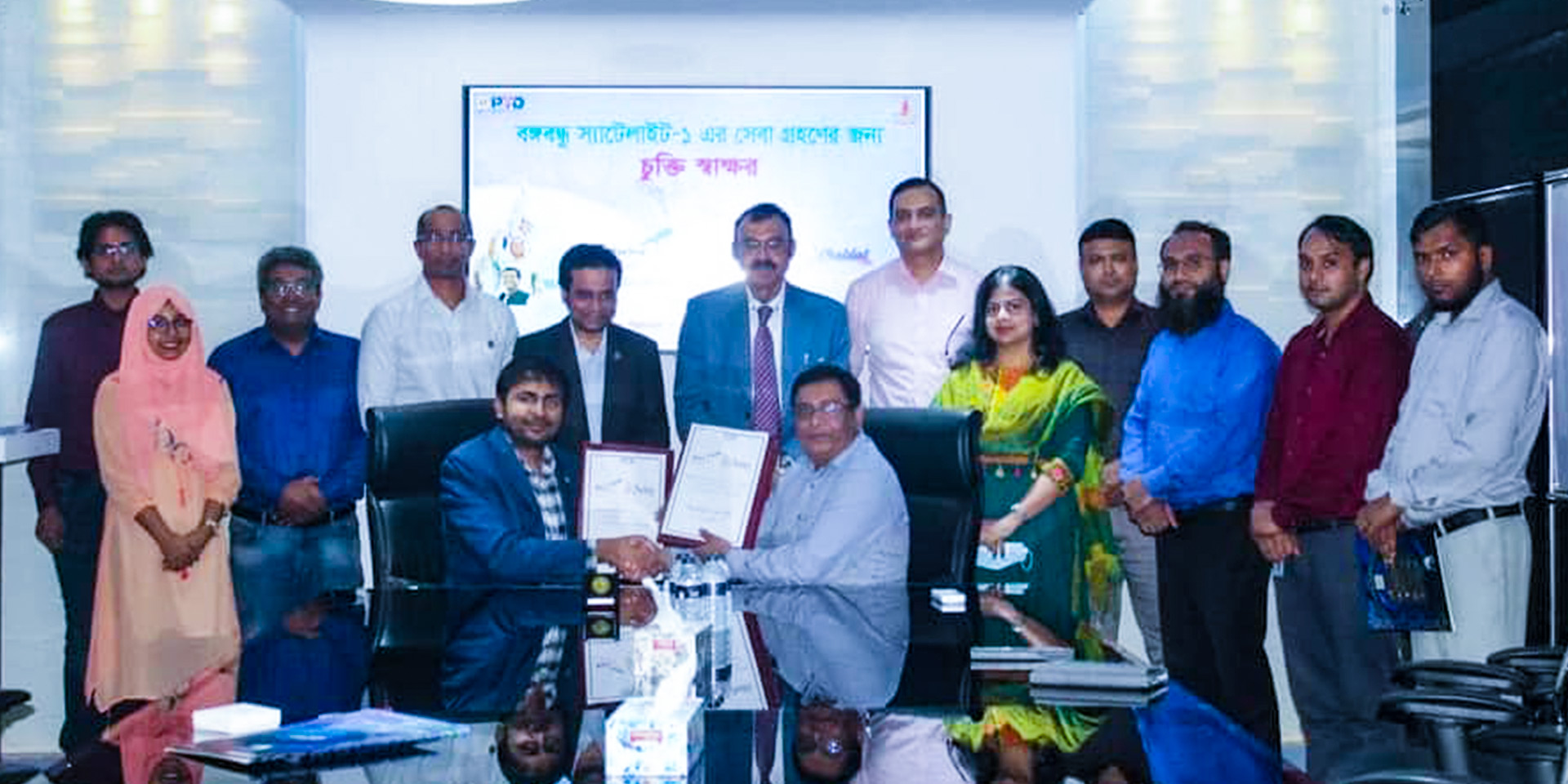 Agreement Signing with Bangladesh Satellite Company Limited

13 September, 2022
As a part of the nationwide expansion plan, Chaldal is building a reliable, robust, and complex network of technologies that combine supply chain management, warehousing, payments, accounting, and last-mile delivery. Utilizing Bangabandhu Satellite-1 is expected to ensure seamless connectivity across its large network of warehouses, both in urban and rural areas. Mr. Md Shafikul Islam, the Managing Director of BSCL, and Mr. Tejas Viswanath, the Founder & CTO of Chaldal have signed the agreement on behalf of their respective organizations.
---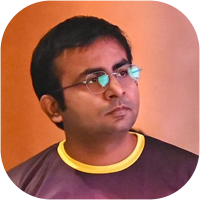 It is a wonderful initiative taken by the government to invest in technologies such as satellites and invite private enterprises to make use of them. None of our grocery delivery counterparts in other countries have this privilege. For this, I thank the Bangladesh Government and BSCL.


—
Tejas Viswanath
Founder & CTO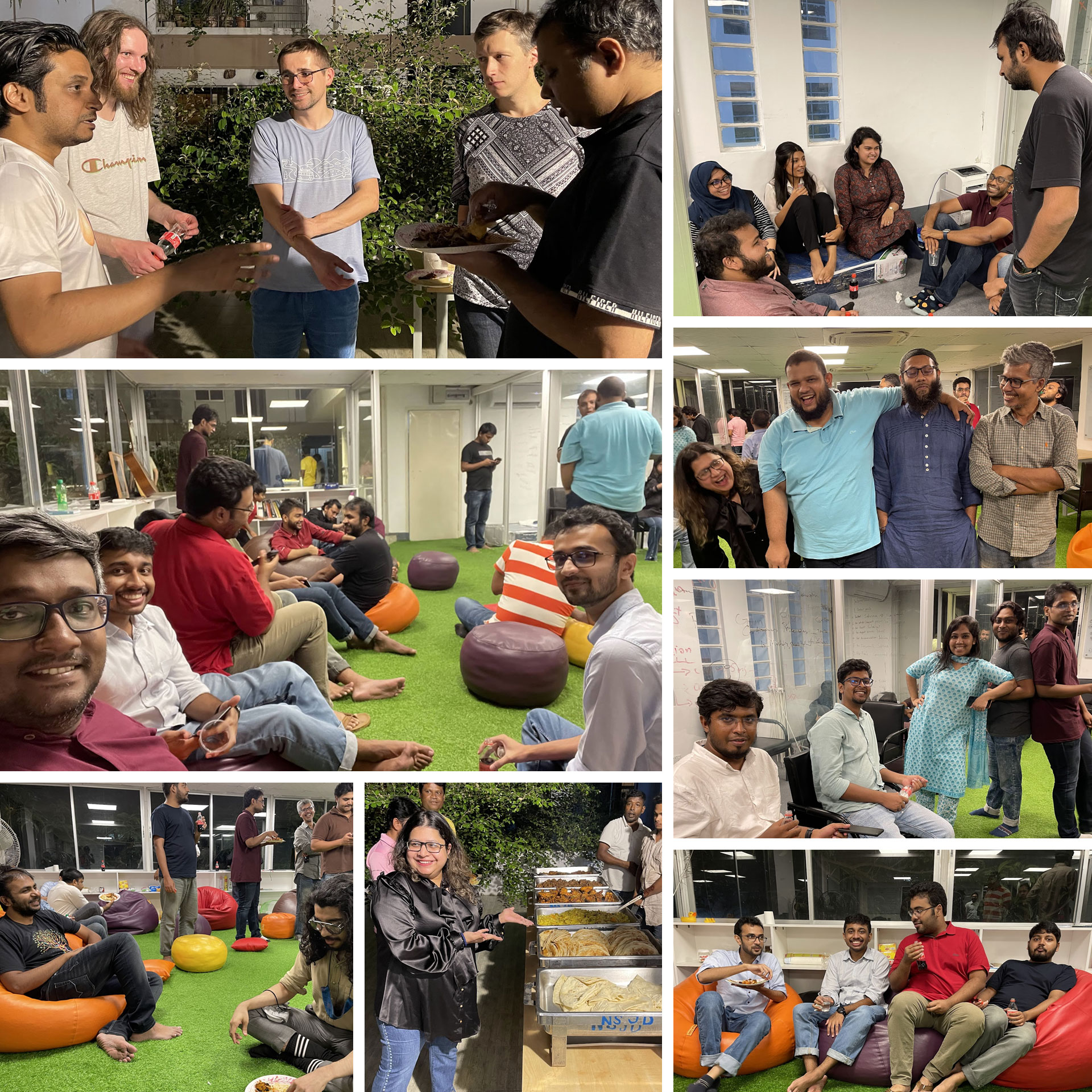 The Chaldal Barbecue Night

22 September, 2022
This barbecue night was a fun and delicious way for the team to bond and enjoy some quality time together. The event was attended by both local and overseas engineers, making for a diverse and inclusive gathering. The delicious food sizzled on the grill as team members chatted and laughed, creating a warm and welcoming atmosphere.

As everyone indulged in mouth-watering dishes, it was clear that the barbecue night was a much-needed opportunity for the Chaldal team to come together, relax, and celebrate their hard work and successes. Overall, the barbecue night was a memorable and enjoyable experience that brought the team closer and fostered a positive working environment.
---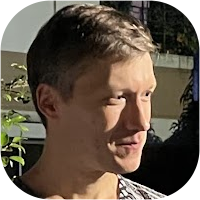 It was great to finally get back to Dhaka and meet my colleagues face-to-face after the years of Covid enforced remote work. Catching up over the delicious breakfast, being able to brainstorm and ask questions in person by walking over to people's desks, getting a lot of work done together, and unwinding after a productive day on the rooftop balcony with some tasty barbecue made the trip worthwhile and memorable!


—
Anton Zolotkov
Principal Engineer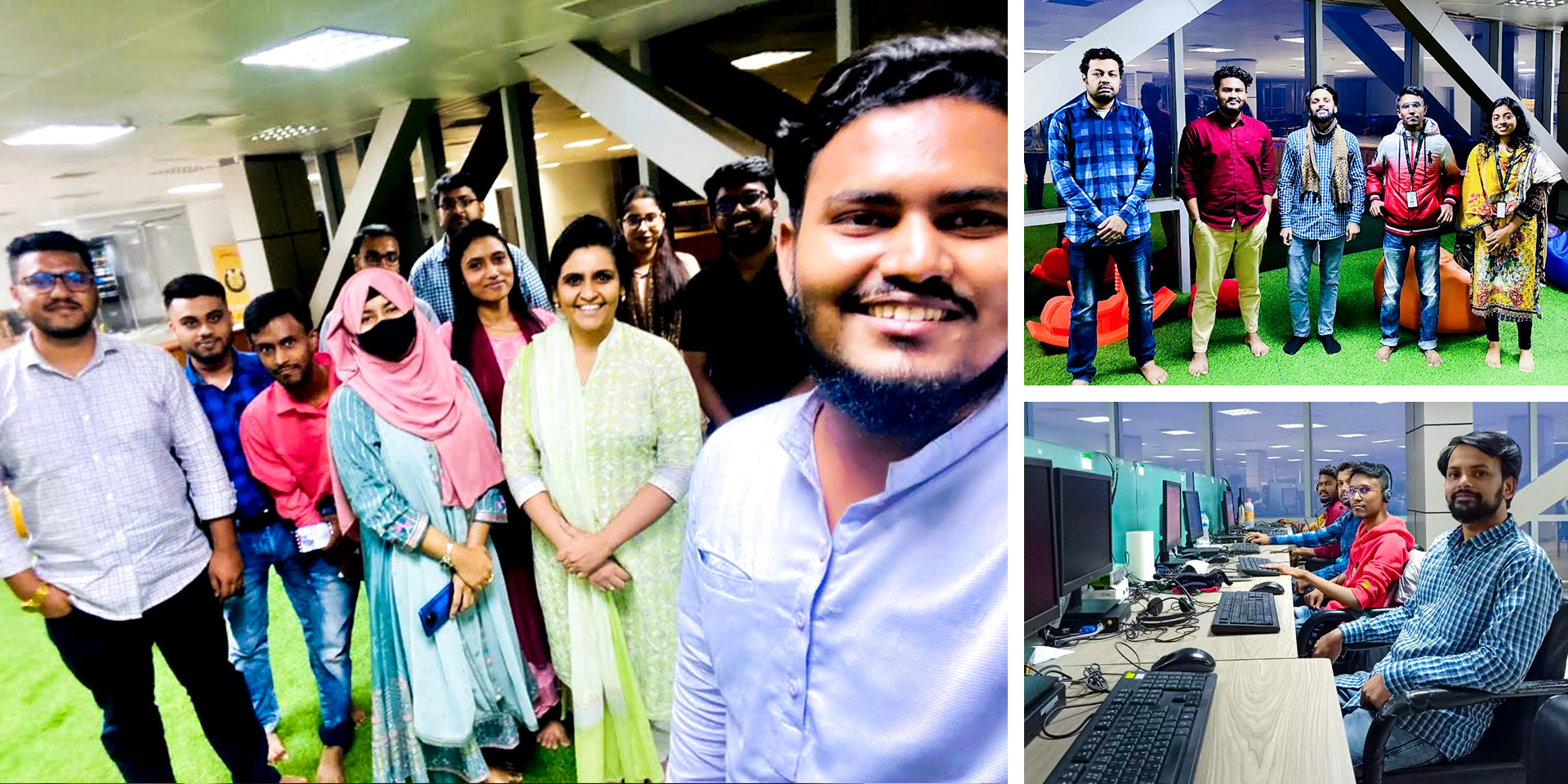 Cookups Built Team at Jashore

27 September, 2022
Cookups launched Customer Service Operations in Jashore with 5 members! The team, beside other activities, will handle all customer queries, manage all manual orders, and upload all cook offers on app! This will reduce dependency on Dhaka staff and will form a core base in a divisional town with lower overheads.
---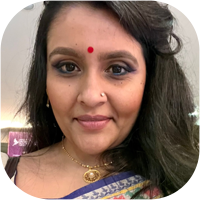 2022 has been a momentous year for Cookups. We moved our customer service, quality assurance, and accounting to Jashore High-Tech park to increase efficiency and reduce costs. The team has undergone multiple pieces of training and now has 2 female members working the evening shift!


—
Nahita Nishmin
CEO, Cookups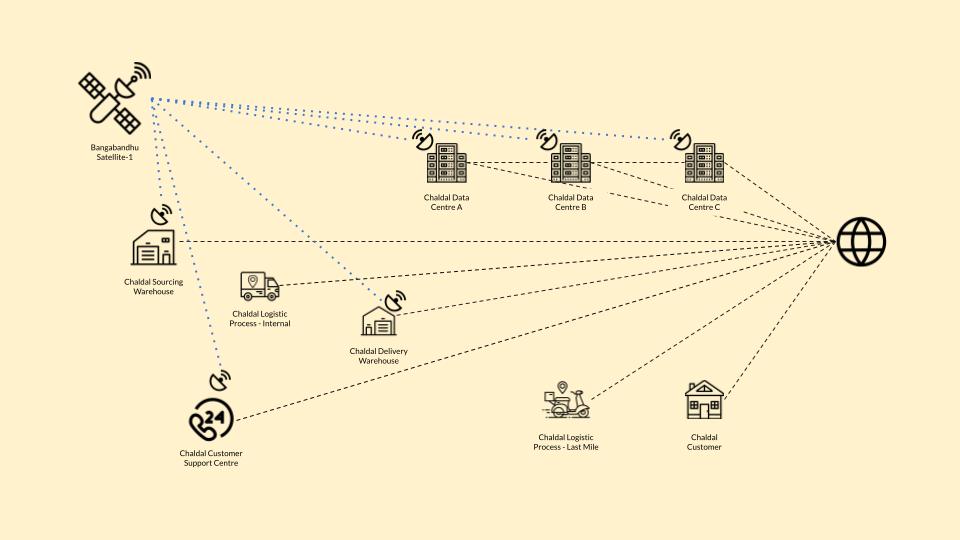 First Chaldal Order Through Bangabandhu Satellite-1

28 September, 2022
On this day Chaldal HQ was able to connect to Bangabandhu Satellite-1 and complete the order through this new connection. Hundreds of thousands of families around the nation, especially working families who do not have much time, rely on our grocery delivery service. It is paramount that our communication infrastructure is resilient to failures so we can provide this critical service.
---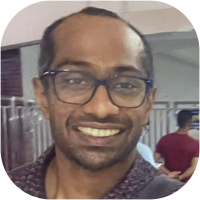 Adding a satellite to our communications network also allows us to expand our service offering deeper into rural areas. Chaldal provided the world's first 1-hour grocery delivery service, back in 2015, a model that is now used all around the world. With the advent of our satellite connectivity, we are continuing to maintain our position as the leader of warehousing and grocery delivery technologies worldwide.


—
Arun Ramamurthy
Principal Engineer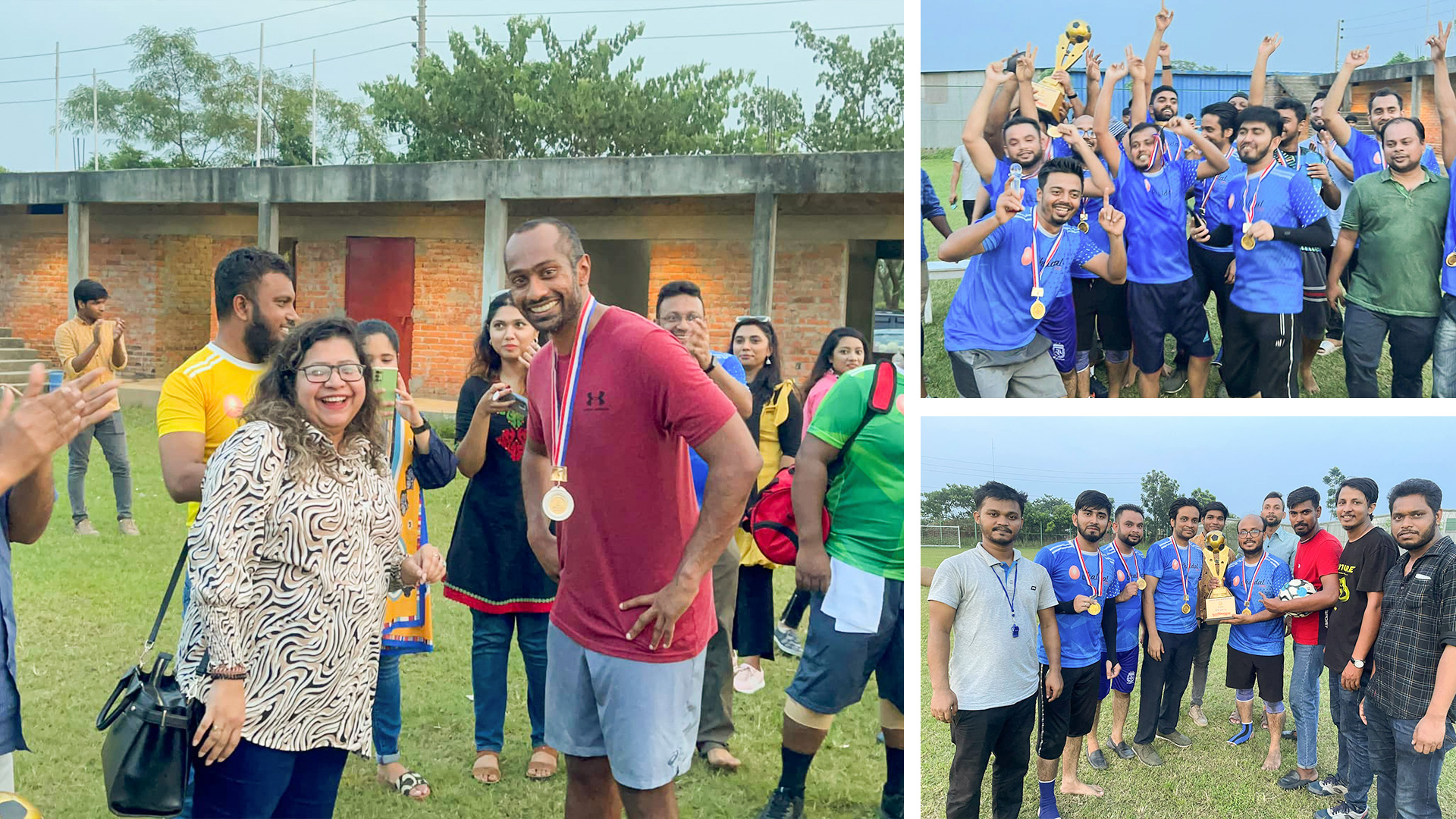 Chaldal Football Tournament 2022

29 September, 2022
Chaldal organized a football tournament on a real ground, which was a highly anticipated, competitive friendly match between the management teams. Despite some disputes, interruptions, and grievances, the two teams played a strong game. It was a fun and enjoyable experience that helped to enhance communication, trust, and collaboration among the players and the spectators.
---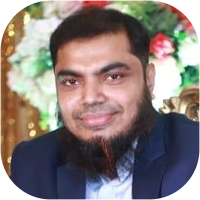 I was honored to have the opportunity to serve as the referee for this game. It was a memorable experience for me, particularly due to the complexity of the complaints that arose. It was enjoyable to see my colleagues display their talents and sportsmanship. Overall, it was a refreshing and enjoyable experience for everyone involved.


—
Mizan Rahman
Chief Accounts Officer
NASA Space Apps Challenge 2022

1 October, 2022
Zia Ashraf, COO of Chaldal was invited as one of the mentors and the judges of NASA Space Apps Challenge 2022. The event took place at the Independent University, Bangladesh, and was organized by BASIS with the purpose of exploring young and innovative ideas.
Callback to the Customers

4 October, 2022
Chaldal is dedicated to providing exceptional customer service, and to make it even more accessible and convenient, we introduced the callback service. When a customer calls our hotline, we hang up and call back immediately, thus reducing the customer's phone bill.
---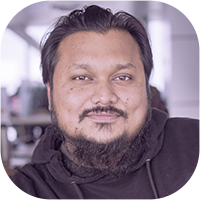 By implementing this process, we were able to save customers thousands of money and 97% of them found it to be beneficial. It gives me a sense of satisfaction knowing that I was able to contribute to the development of this process that enhances the shopping experience.


—
Shad Mohammad
Assistant Director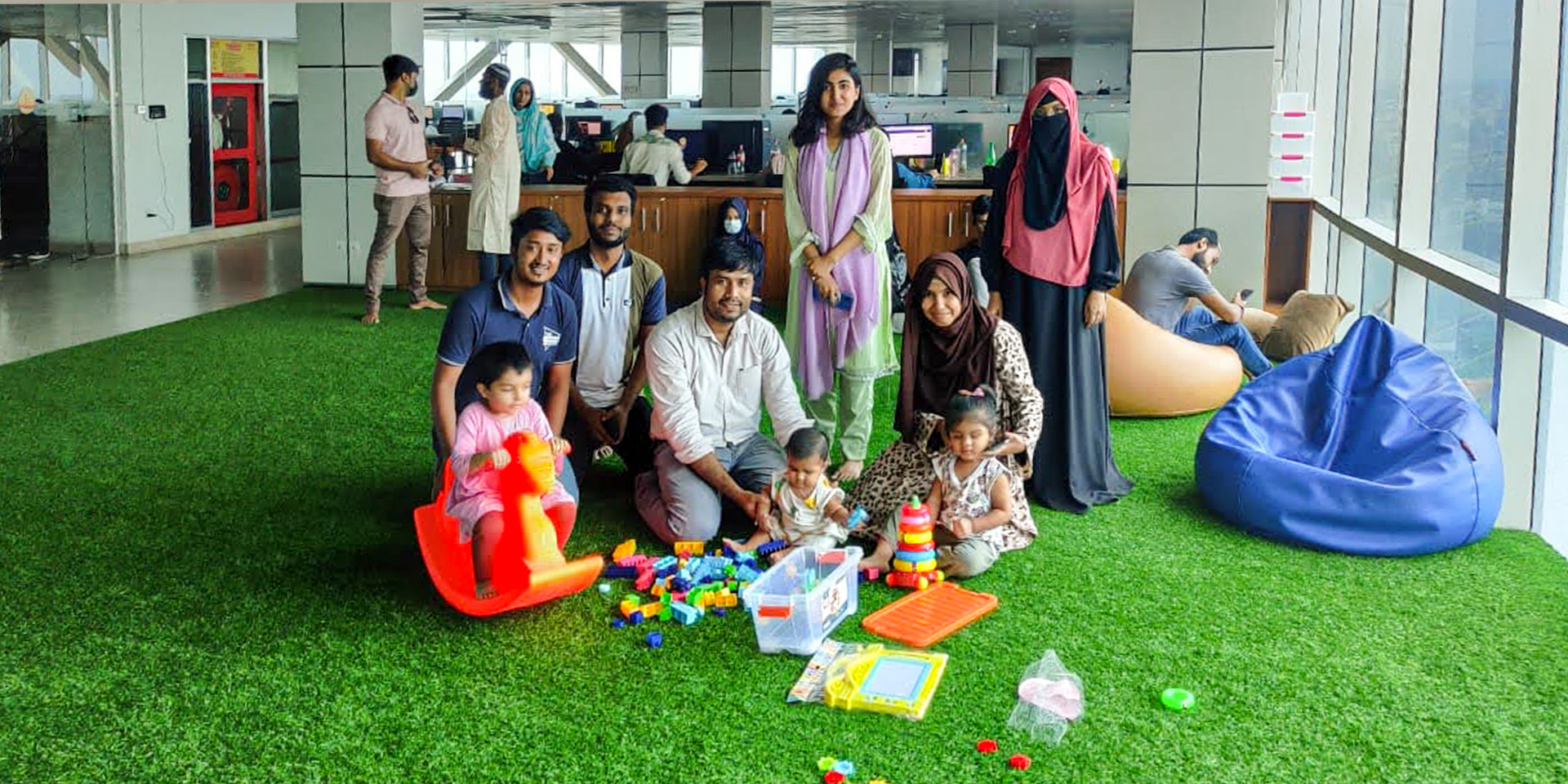 Opening of Kids Playground at Jashore Office

10 October, 2022
Chaldal Jashore office took the initiative to provide an indoor playground for the kids of employees. This is convenient for working parents as they can focus on their work without worrying about their kids and also allows them to easily monitor their children.
---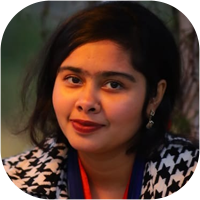 Being a mother having a designated space for children is really helpful for me. I can spend more quality time with my child during breaks and focus on my work while I am at the office.


—
Nishat Tasnim
Marketing Executive
10,000,000 Orders in Chaldal

13 October, 2022
Chaldal reached a significant milestone on this day by receiving 10,000,000 orders. This achievement took over 9 years to accomplish, and it would not have been possible without the support of our customers and the tireless efforts of the entire team.
---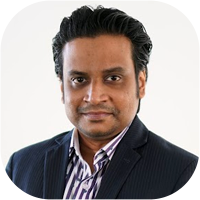 Since delivering our first order on July 1, 2013, our customers have been the driving force behind our growth and success. We started small and never could have imagined reaching this point. I am grateful to our customers, investors, partners, teams, industry colleagues, and family members for their unwavering support throughout this journey.


—
Zia Ashraf
Founder & COO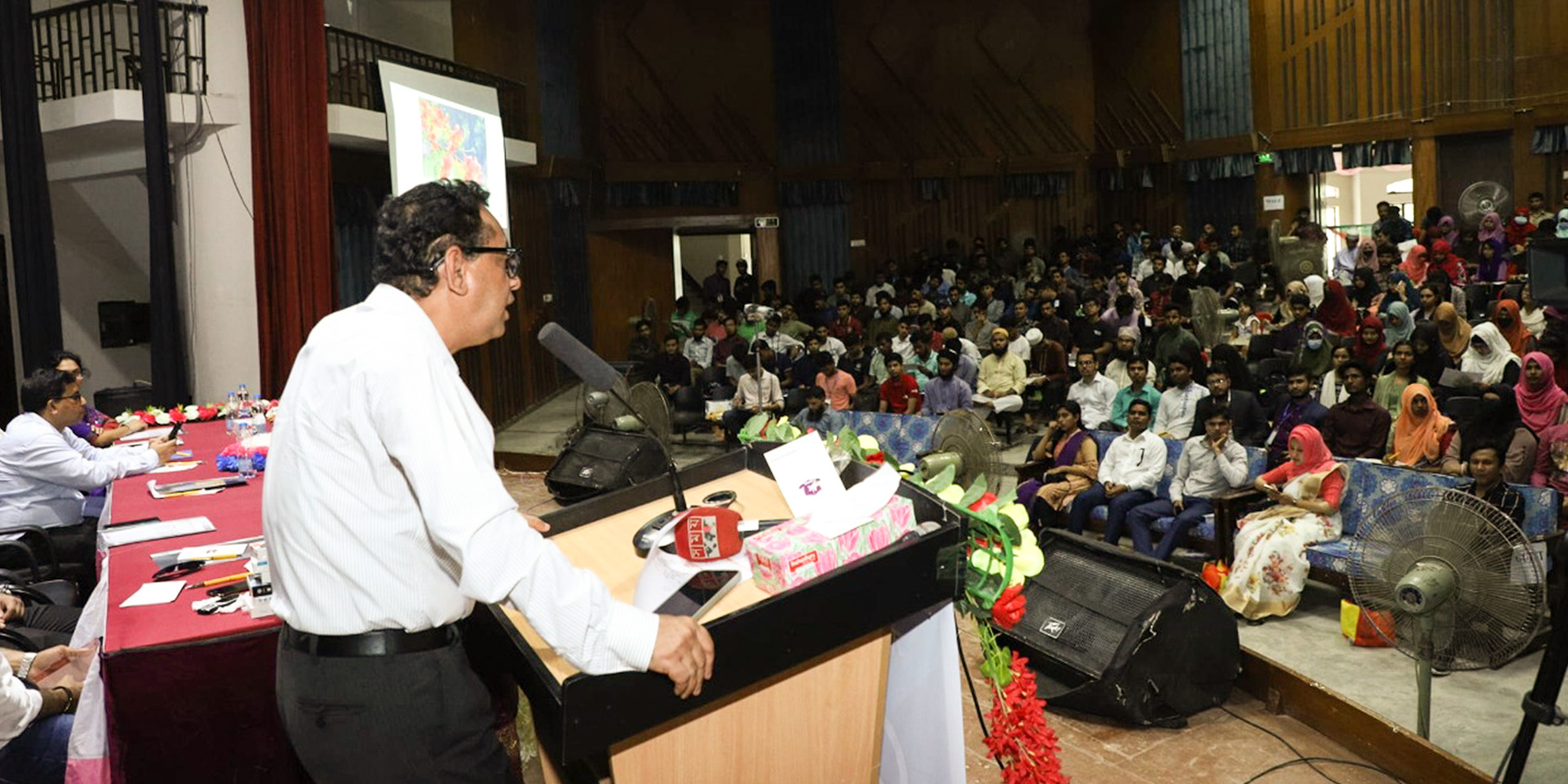 Public Hearing on Vokta Odhikar Shongrokkhon Ain 2009

18 October, 2022
Chaldal was invited by the Vokta Odhikar Shongrokkhon Odhidoptor at TCB Bhaban for a public hearing on Vokta Odhikar Shongrokkhon Aain 2009. This public hearing was arranged to create awareness among business organizations and the general public about consumer rights and the laws that protect them, in order to create a consumer‐friendly economic environment.
---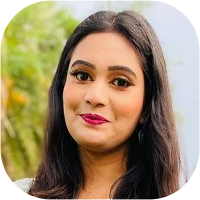 It was my first experience attending such a public hearing. I think this has enhanced my understanding of the rights of customers and the laws related to them.


—
Amina Yesmin
Marketing Executive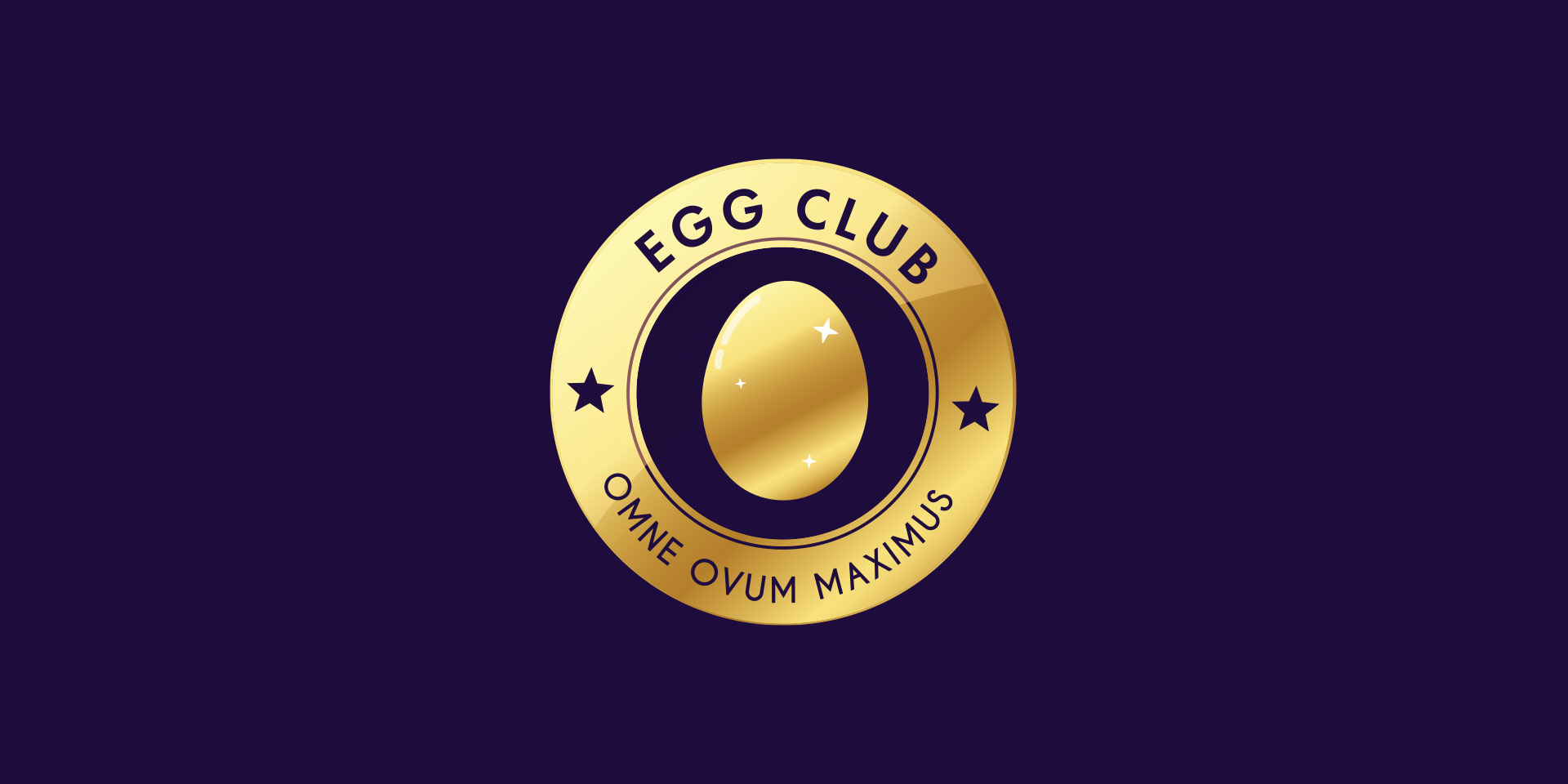 Launching of Egg Club

22 October, 2022
Egg Club is a reward‐based loyalty program launched by Chaldal for customers. Through this program, customers can earn points and enjoy other special benefits such as free deliveries. When customers keep shopping with us, their level goes up and they earn more Egg Club points which are convertible as Chaldal Credit.
---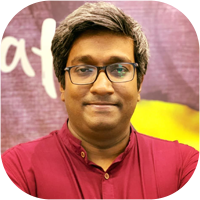 Our community is highly active and regularly orders from Chaldal, they are the backbone of our business. We always strive to treat them better and Egg Club is a small step in that direction to show our appreciation for their loyalty.


—
Rezaur Rahman
Principal Engineer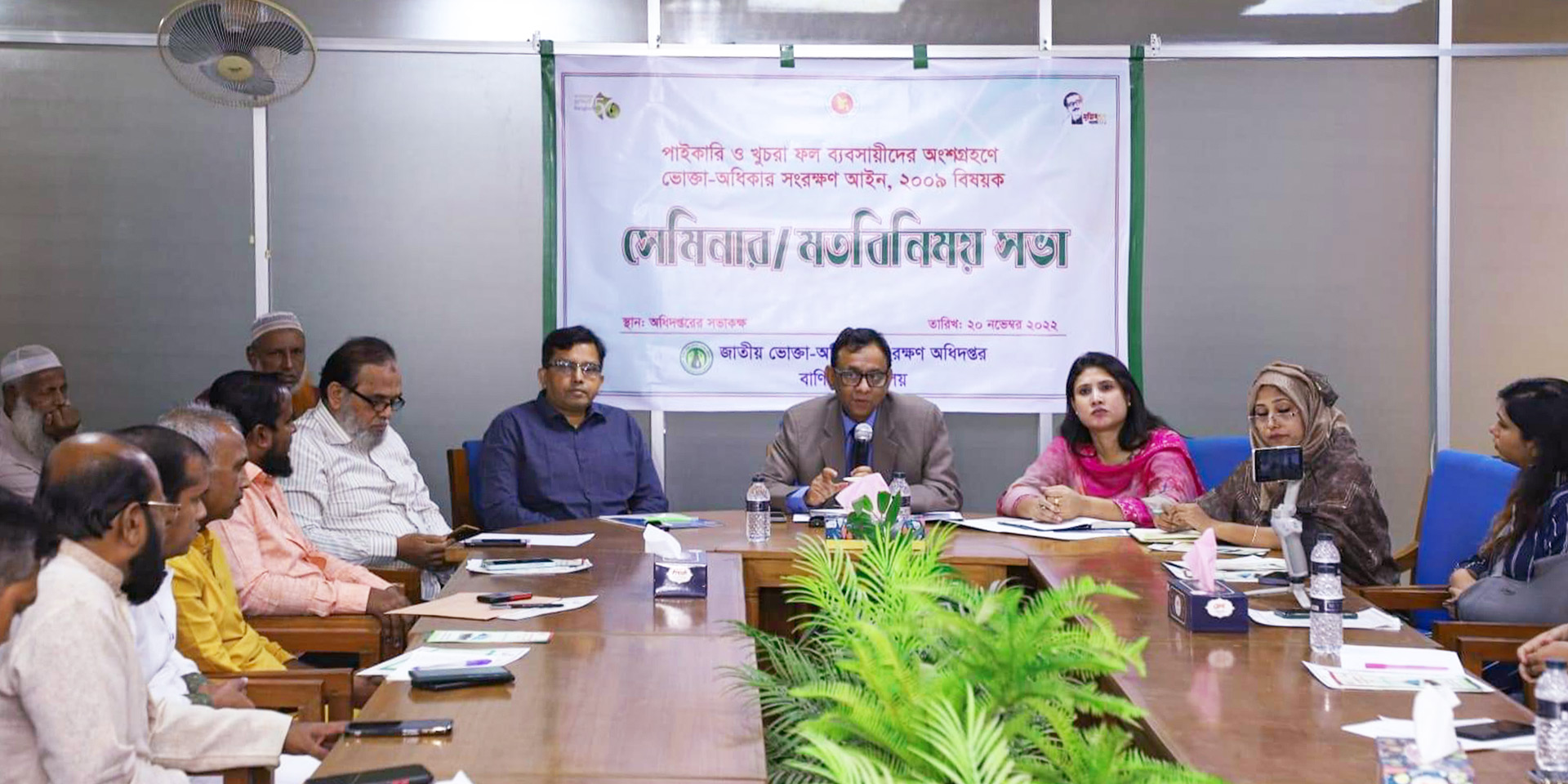 Seminar on Fruit Pricing & Packaging

20 November, 2022
Chaldal was invited to participate in a seminar organized by the Vokta Odhikar Shongrokkhon Odhidoptor which focused on discussing the pricing and packaging concerns of fruits. The seminar covered various challenges faced by both locally grown and imported fruits. The session was interactive and aimed at finding solutions for companies and governing bodies to enhance the fruit experience for customers.
---
Chaldal is dedicated to improving the delivery of high‐quality fruits at affordable prices, which requires a collaborative effort between businesses and authorities. Ongoing monitoring is essential to ensure the process is working effectively. To achieve this goal, Chaldal is focused on optimizing fruit packaging and storage, which will help reduce waste and ensure more stable pricing.


—
Mahbub M M Muntasin
Director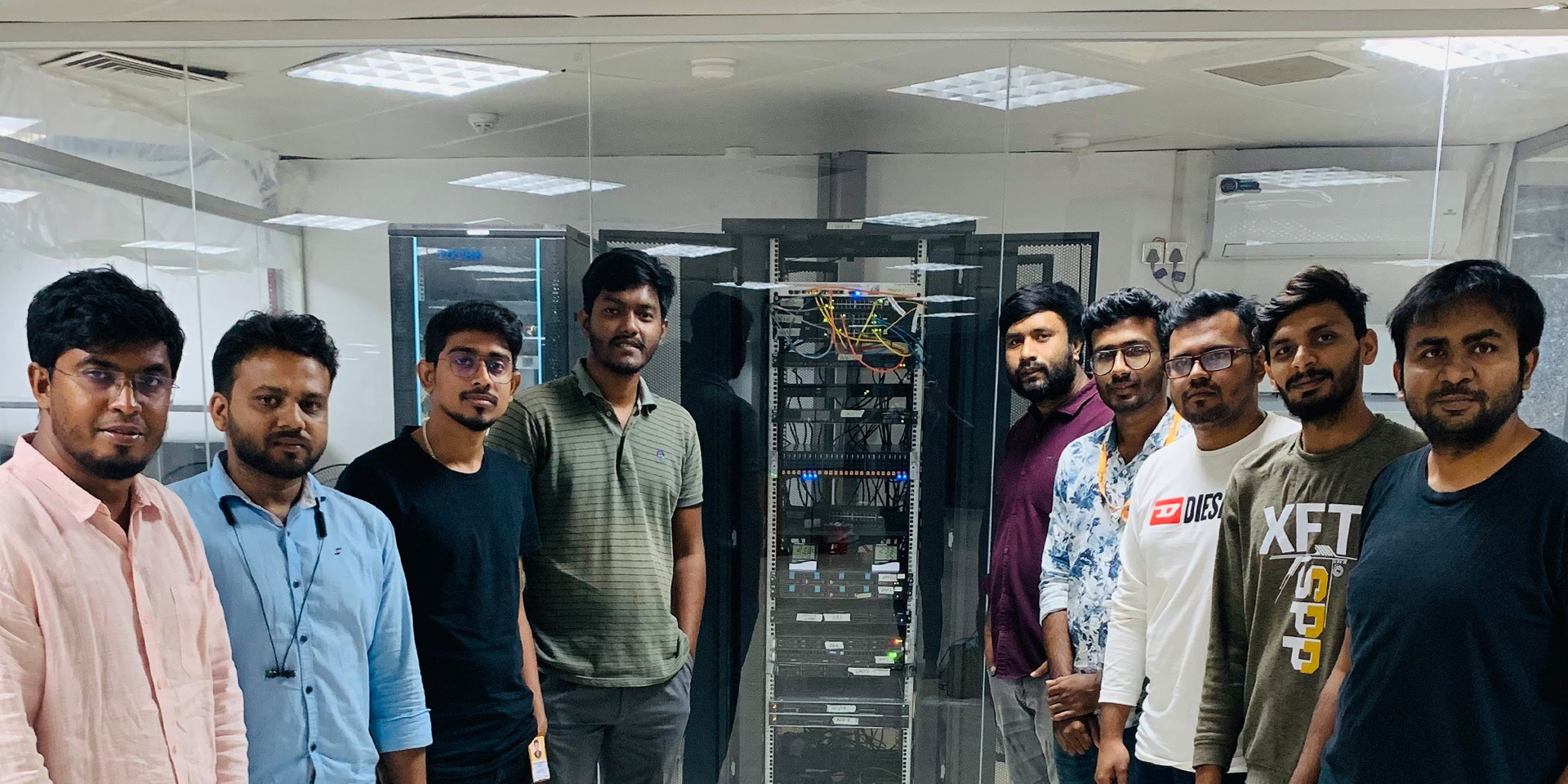 Enabling Server Station at Jashore

24 November, 2022
Chaldal has established a new server station in Jashore to enhance technology and data security control. This move will improve Chaldal's compliance and bring in new offerings such as payment services. The setup of this station was a joint effort by Chaldal's infrastructure team, technology and maintenance personnel who worked tirelessly to build it from the ground up.
---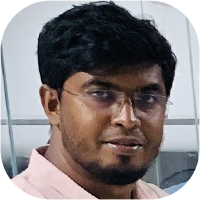 Working on this project at Chaldal was a unique and rewarding experience for me. Surrounded by talented individuals, I was able to expand my knowledge and contribute to the growth of our business. With multiple new ventures and a growing presence across the country, building a strong technological infrastructure was crucial. I am grateful for the opportunity to be a part of this journey.


—
Shahadat Hossain
Joint Director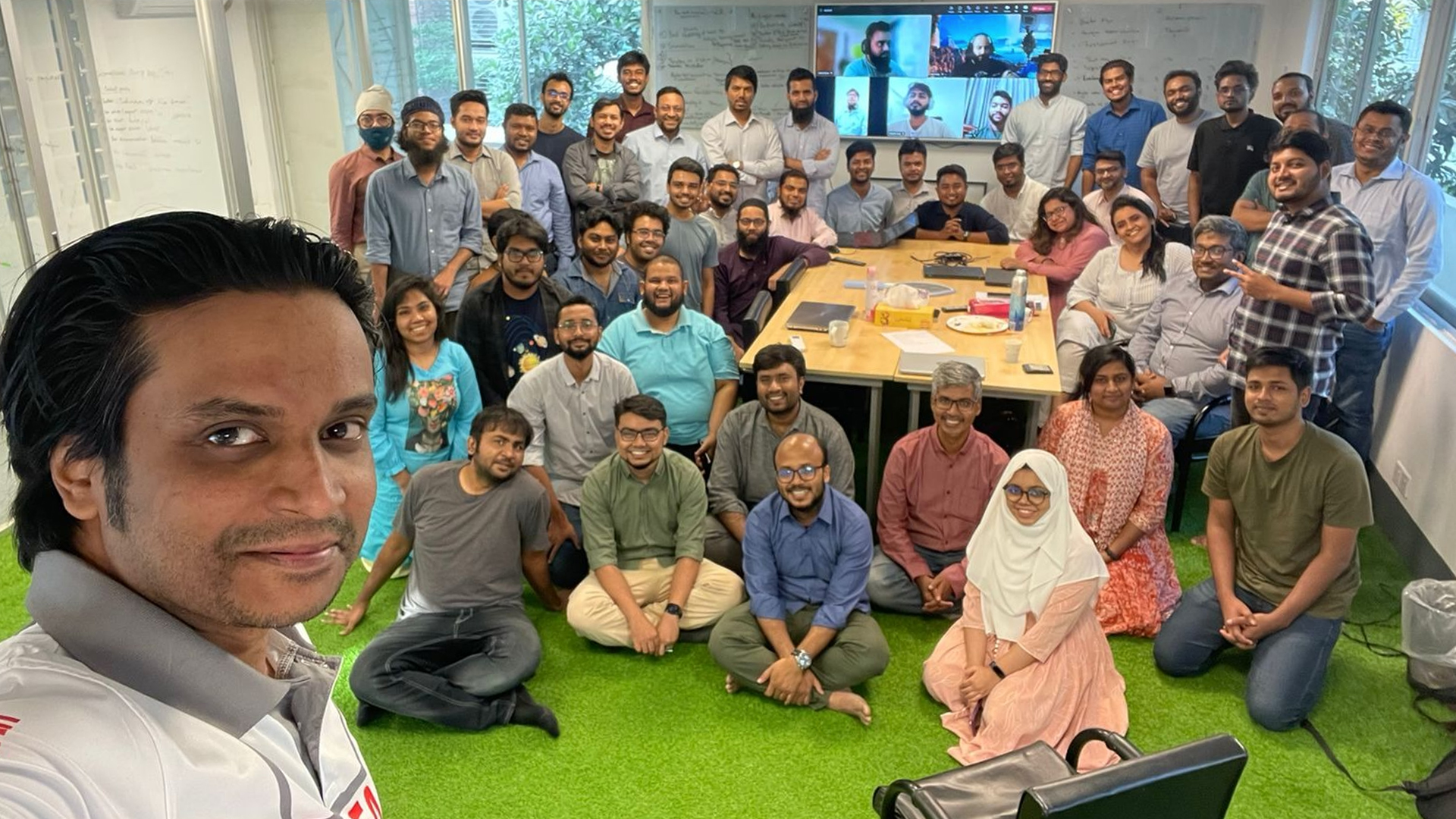 The End of the War Mode

27 November, 2022
The War Mode sprint came to an end with a sense of achievement and pride among the Chaldal team. The hard work and dedication of the team paid off as they successfully streamlined internal processes and prepared for the challenges ahead in the rapidly changing world. The end of the War Mode marked a significant milestone for Chaldal, and the team celebrated their success with a sense of unity and accomplishment.
---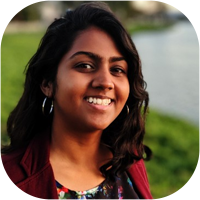 The biggest impact of war‐mode was that we stepped up our collaborative efforts. We moved into an era where we could pool in ideas from a variety of minds to solve the organization's critical problems. Despite the end of the war‐mode, we continue to take the learnings with us as we work towards the same vision.


—
Lavanya Sudharsanam
Director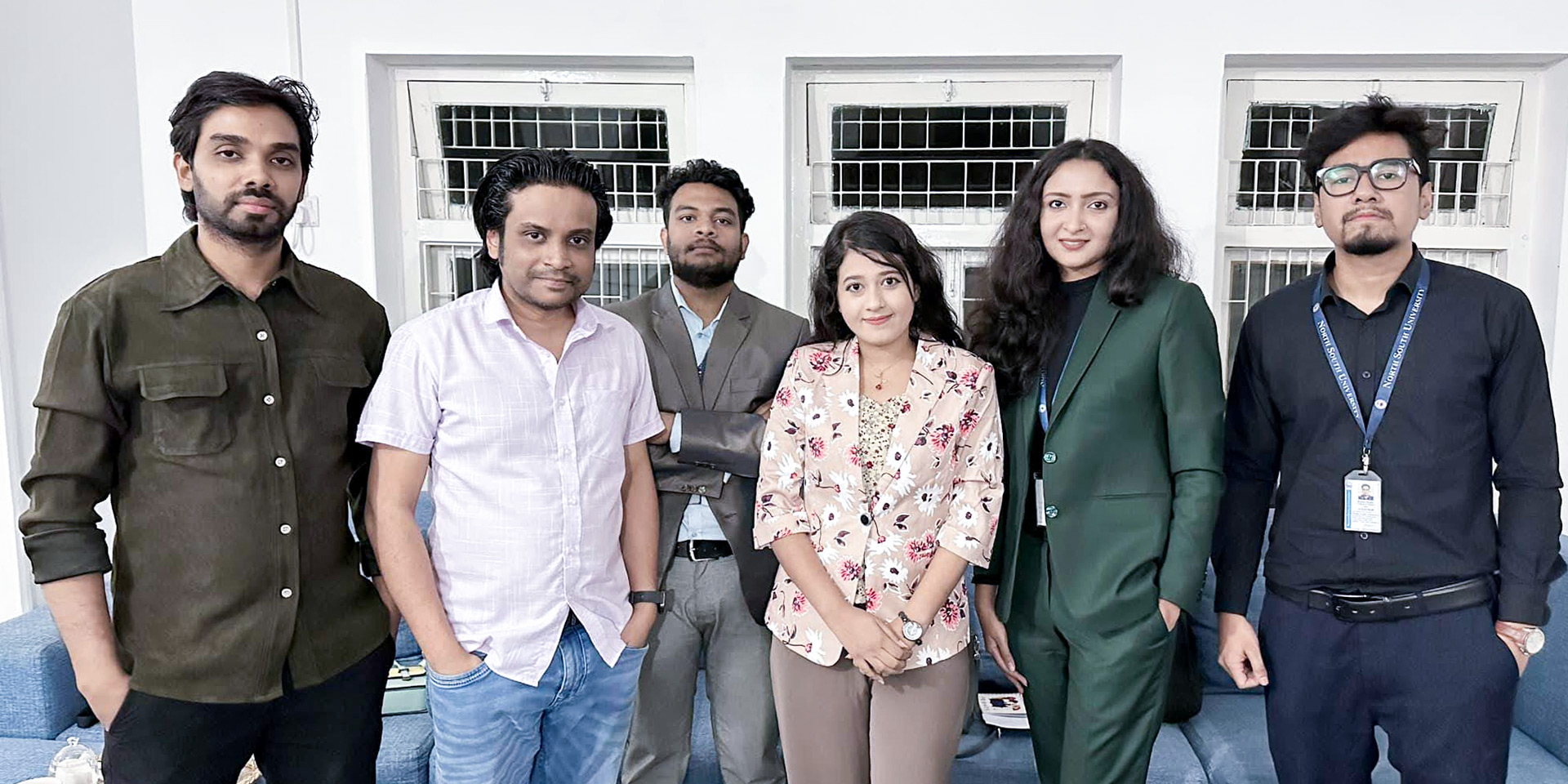 NSU Students at Chaldal

10 December, 2022
A group of business students from North South University (NSU) visited Chaldal where they interviewed the COO of Chaldal for their research assignment. Furthermore, they observed Chaldal's operations from the HQ in order to understand the entire process.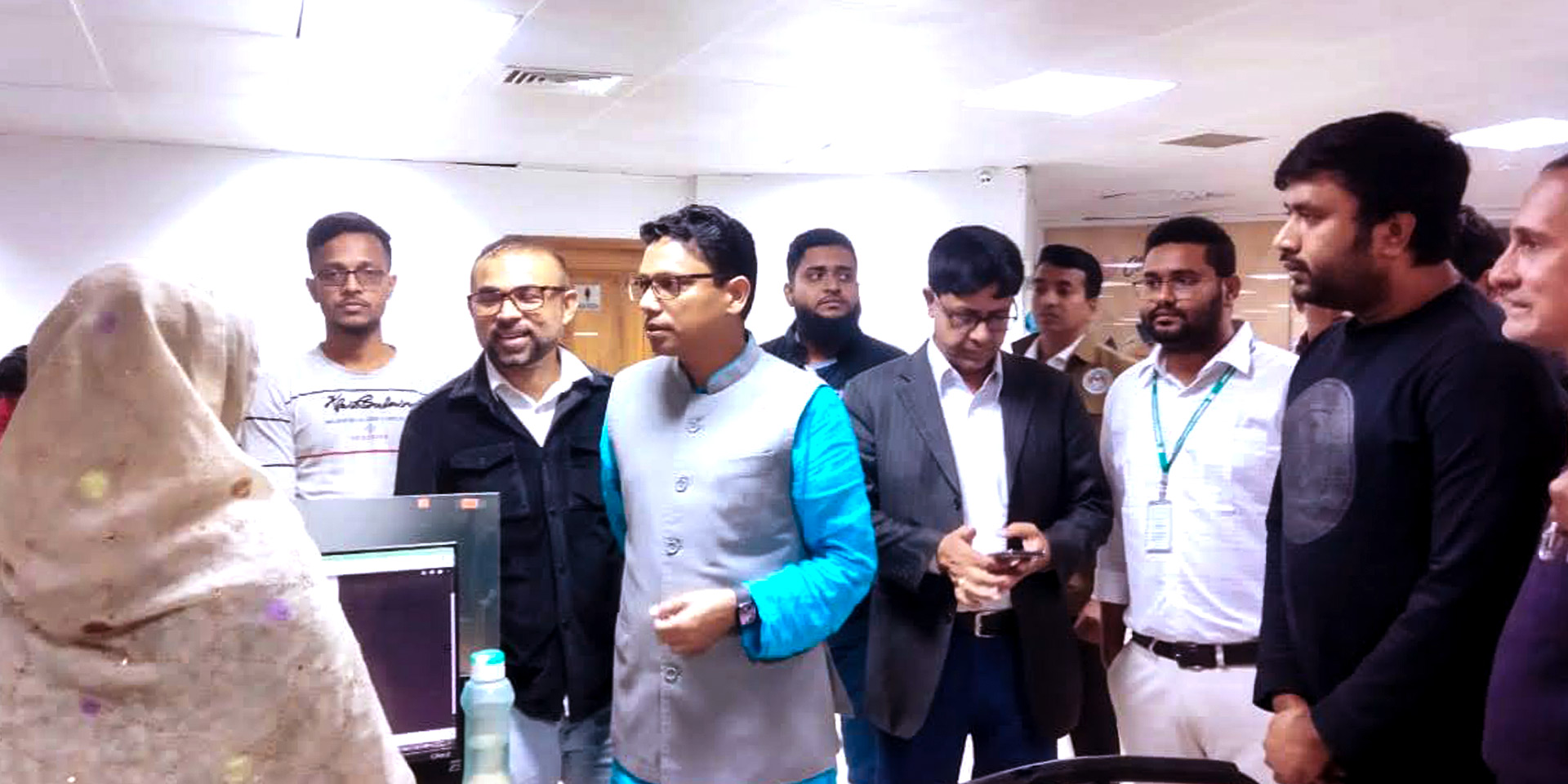 The State Minister Visiting Chaldal Jashore Office

11 December, 2022
The honorable State Minister of the ICT Division of Bangladesh, Zunaid Ahmed Palak visited the Chaldal office at the HI‐Tech Park, Jashore. While looking around the office our team briefed him on how Chaldal operates from HI‐Tech Park.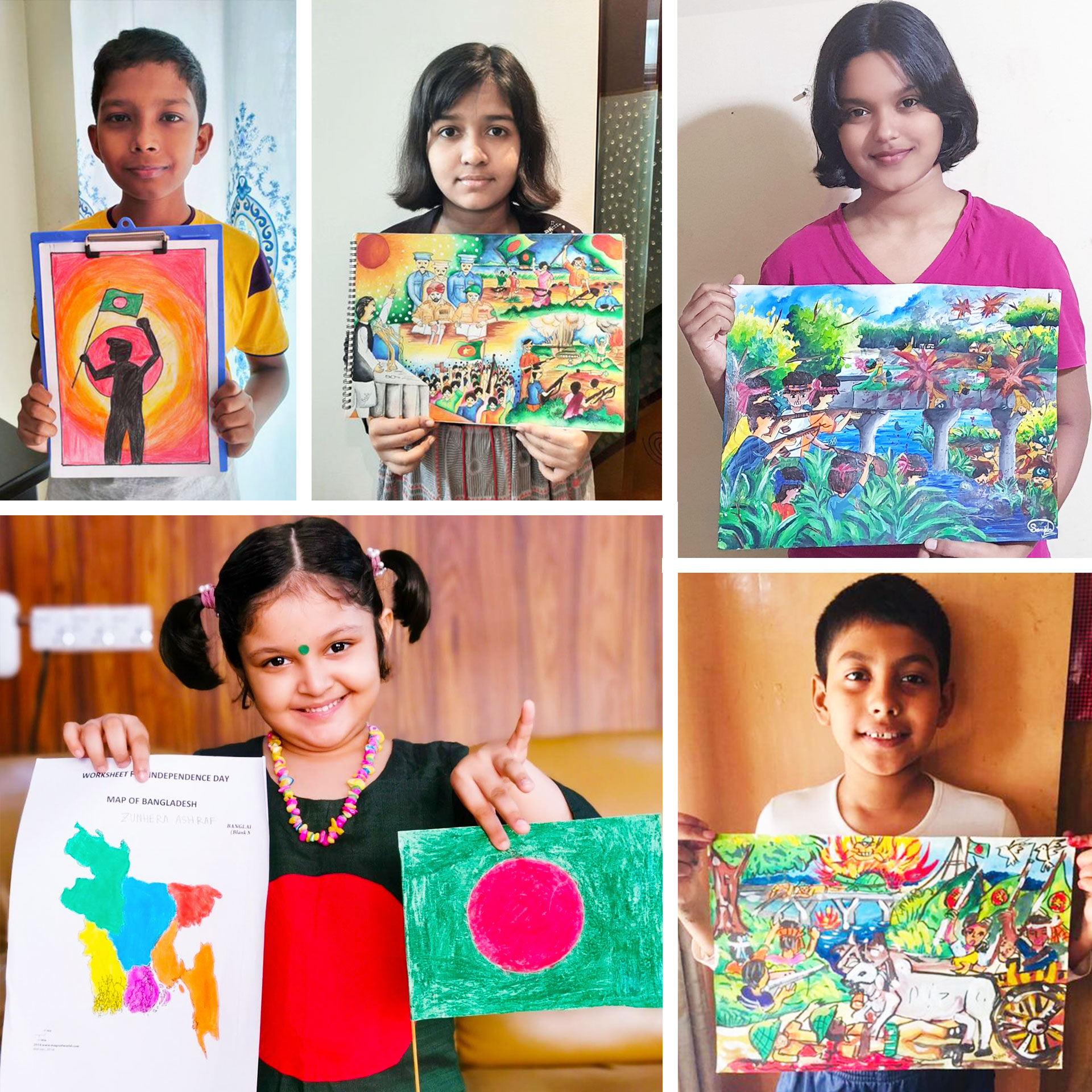 Launching of the Campaign Bijoyer Rong

15 December, 2022
Chaldal launched a campaign called "Bijoyer Rong" to commemorate the Victory Day of Bangladesh. The campaign, which took place over a two‐week period, was an art competition centered around the theme of victory or success. Individuals from various groups participated by sharing their creative works on social media. Chaldal rewarded those with exceptional creativity by sending them gift packs.
---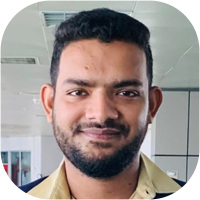 I am passionate about providing our customers with the best possible service. Organizing this campaign was a valuable experience as it allowed me to see our customers from a new perspective and understand them better.


—
Titu Sultan
Marketing Planner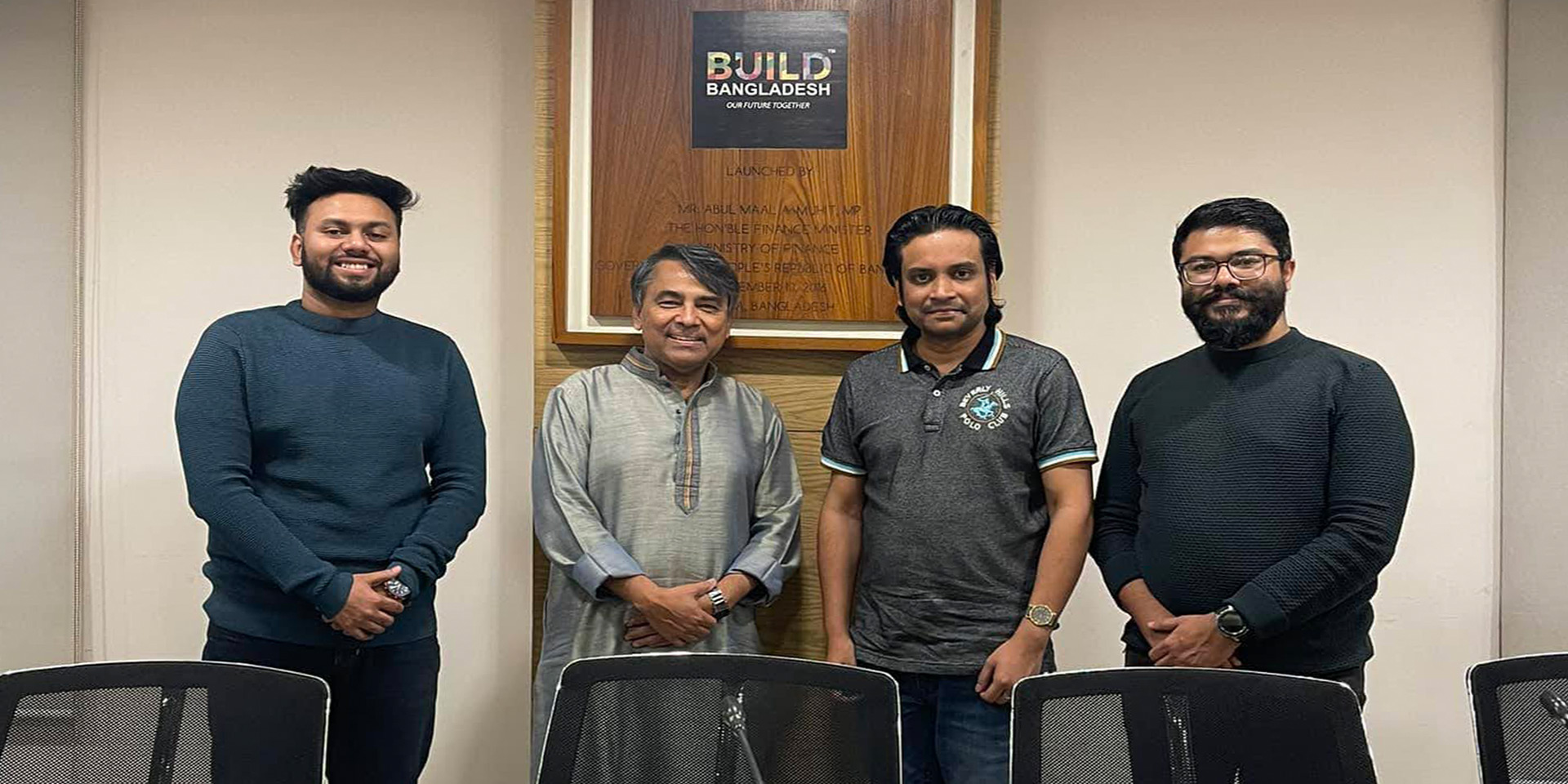 Meeting with BUILD Bangladesh

28 December, 2022
Chaldal's team met with BUILD Bangladesh to share their journey and insights. The session was interactive, and Chaldal shared their experience on how they have gained the trust of customers.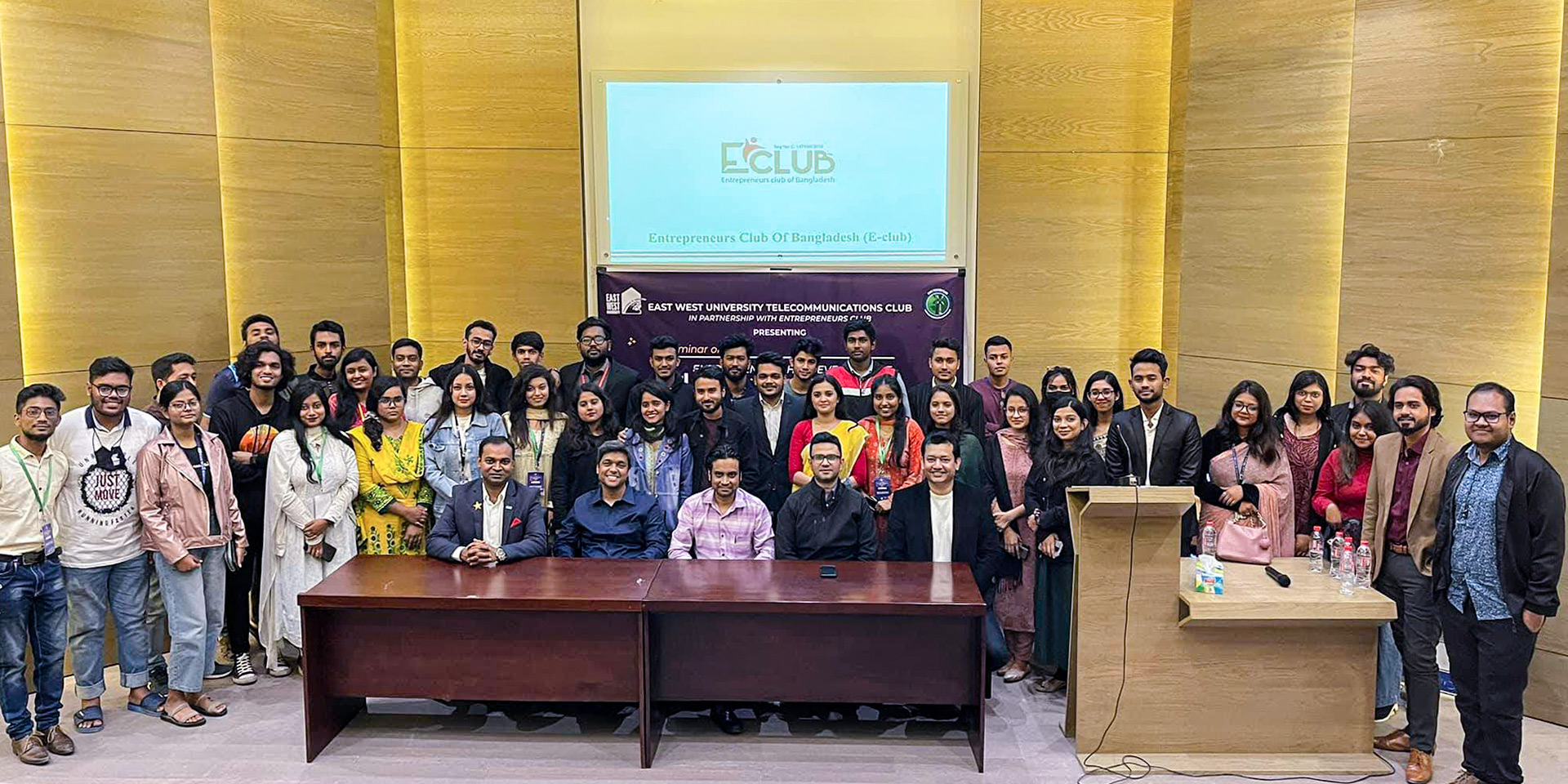 Chaldal at East West University

29 December, 2022
A student group from East West University organized a seminar on Entrepreneurship, and Chaldal was invited to share their experiences. Zia Ashraf from Chaldal, along with other e‐commerce industry experts, discussed the significance of fostering opportunities for aspiring entrepreneurs to promote sustainable growth in the business sector of the country.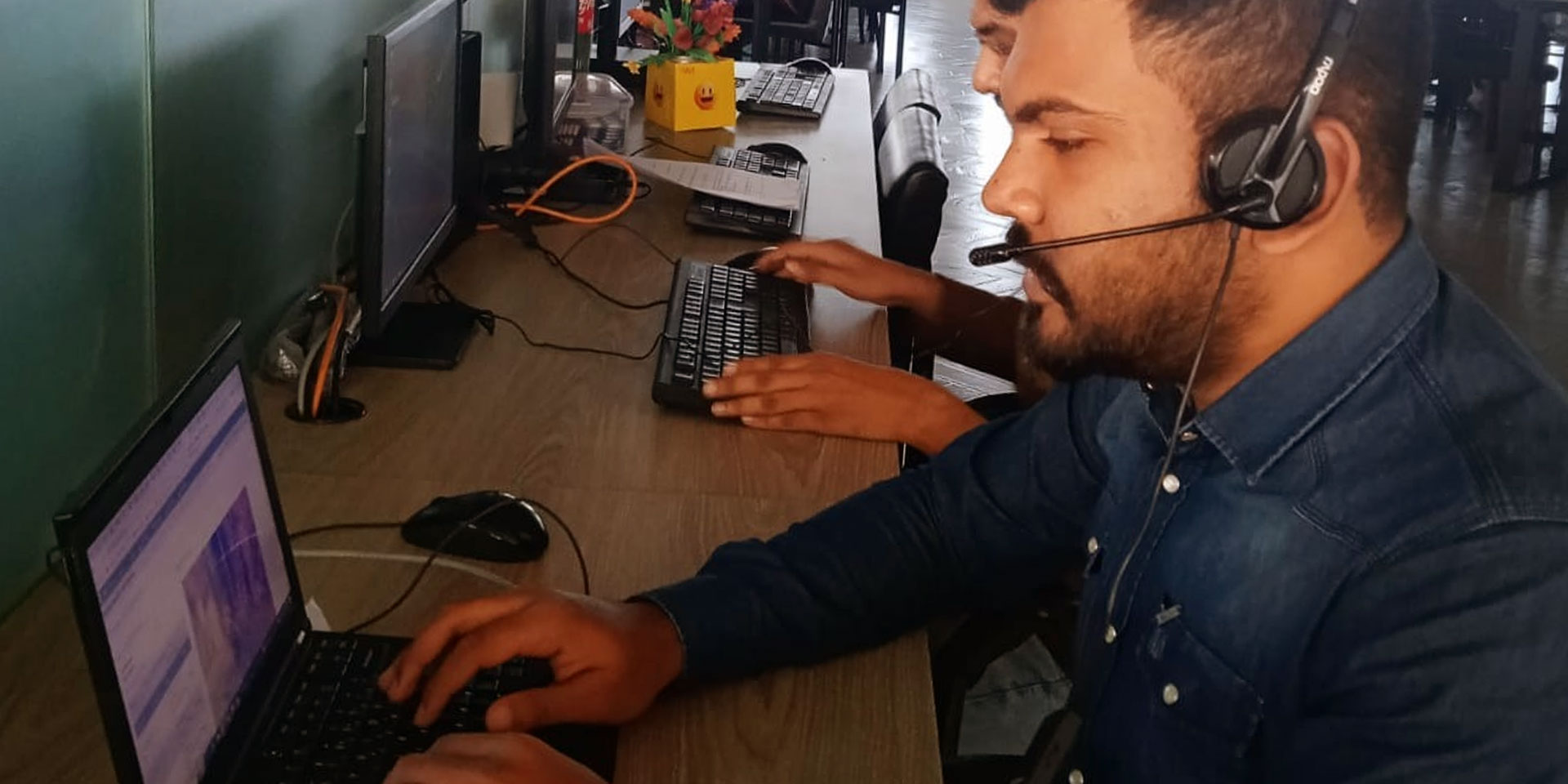 Customer Complaint Management System

29 December, 2022
Chaldal redesigned the customer complaint system and platform. The purpose of the redesign was so that the customers' complaints and issues are properly managed and dealt with to provide the customers satisfying service they are looking for.
---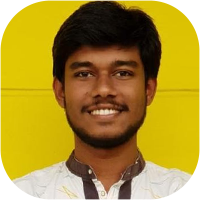 Customer support is an integral process that drives many process directions. As customer happiness is the core priority, we built it as systematically flexible.


—
Muktadirul Islam
Software Engineer
Chaldal Launched the New Year Gift Campaign for the Year 2023

31 December, 2022
Chaldal organized a New Year Gift Campaign for the customers to celebrate the new year of 2023 with Chaldal. This year Chaldal offered 100,000 gift items for the customers to enjoy their new year. Chaldal always believes in customer satisfaction and this is one of the campaigns to make the customers feel happy and special.
---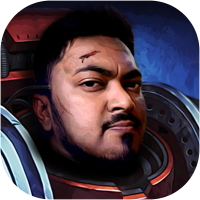 Through this campaign, we like to show our gratitude for our customers which is why we never miss a year to organize the new year campaign. I am happy that we successfully manage to provide gifts to our customers to celebrate this new year.


—
Ashiqur Rahman Khan
Assistant Director